The use of e-cigarettes – or electronic cigarettes if you prefer – has become very popular in recent years as smokers have sought to reduce the risk to their health or perhaps use e-cigarettes as a stepping stone to quitting completely. And though the number of people vaping (as the use of e-cigarettes is known) still makes up a relatively small number compared to the World Health Organization's estimate of a billion smokers of tobacco, there were still around 41 million people vaping in 2018. But the question we are addressing here is, are e-cigarettes vegan?
The good news for those who are partial to vaping is that most e-cigarettes are indeed vegan friendly in that they do not contain any animal-derived ingredients. It is sometimes a little more complicated than that (as tends to be the way when assessing the vegan credentials of just about anything!). There are always exceptions to the rule, but we'll get to that in due course.
Please note, in the United Kingdom, it is illegal to sell electronic cigarettes or e-liquid to anyone under the age of 18, and those under that age should not attempt to purchase them. If you are seeking help to quit smoking, contact your GP or visit the
NHS Smokefree site
.
What Is Vaping & Is It Vegan?
Vaping simply describes the use of e-cigarettes, in the same way that smoking refers to the use of tobacco products. The term vaping refers to the fact that e-cigarettes produce an aerosol (or vapour) rather than smoke. The vapour is created from the e-liquid (also known as e-juice or vaping fluid) that is generally heated by some kind of heating process.
Of course, the e-cigarettes themselves are strictly speaking just the devices through which someone would vape, and so they are not likely to be anything other than vegan. Rather, it is the e-liquid that is vaporised in the e-cigarette that is really the focus here. We'll have a brief section on the e-cigarette devices themselves later in the article, but first let's delve into what might lurk within the vape juice.
Is E-Liquid Vegan?
When we assess whether vaping or using e-cigarettes is vegan, we are essentially looking at whether the e-liquid used within e-cigarettes is vegan. Available in all manner of flavours from the relatively conventional such as mint or apple, to the more "out there" flavours, such as bubble gum or even caramel macchiato, it is often the case that natural ingredients are used, and in most cases (but not all) that would mean those derived from plants. There are various artificial additives or flavourings that can be added to e-liquid, but from our investigations, it is rare for them to be of animal origin.
Ingredients of E-Cigarettes: Vegan Or Non-Vegan?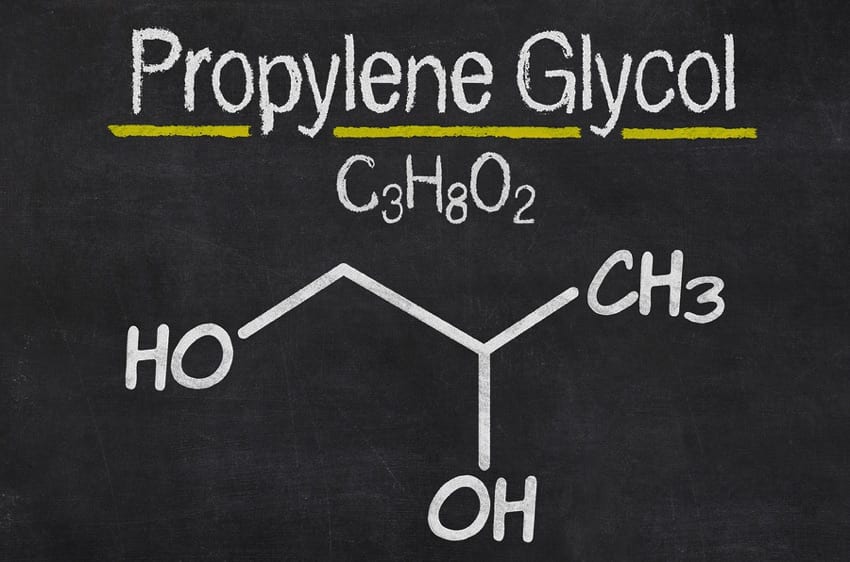 The UK government must be given notification of any ingredients used in e-liquid under the Tobacco and Related Products Regulations 2016, but there is no legal requirement to list them on the packaging of e-liquid/e-cigarettes. There are essentially five main ingredients of most e-liquids available in the UK:
Propylene Glycol (PG)
A synthetic chemical produced from propylene oxide which in turn is produced from propylene (also known as propene), one of the simplest compounds to be produced from crude oil.
While the use of a petrochemical might not be the most environmentally friendly option, it doesn't technically contravene the principles of veganism.
Vegetable Glycerine (VG)
Also known as glycerol, which can be made from animal or plant sources, but many manufacturers of e-liquid make a point of highlighting the specifically vegetable origins of their product. It is often made from some kind of vegetable oil, with soy, coconut or Palm Oil being common choices.
Flavourings
These can vary wildly and could be vegan or non-vegan. Most tend to be vegan friendly, thankfully, as they are often fruit in nature, but some flavours might ring alarm bells.
For instance, anything with honey listed as the flavour (or one of the flavours) should give vegans pause for though. This could due to the addition of honey or even beeswax, neither of which are vegan.
Nicotine
This is what vaping is all about for many: the nicotine hit. This stimulant, which comes most commonly from cultivated tobacco (or Nicotiana tabacum) is both addictive and potentially detrimental to health.
From a vegan point of view, it comes from a plant so is technically vegan friendly. Note that some e-liquid doesn't actually contain any nicotine.
Water
Water, as far as our research reveals, is definitely vegan friendly! Phew!
Other Considerations
Note that most vaping fluids have a mix of VG and PG, though given that both are technically vegan there is no issue on that front (at least from a vegan perspective – some people prefer to stick to 100% VG liquids for the perception they are not as damaging to their health or because they are less "chemical", however valid or otherwise such an argument may be).
There might also be non-vegan food colours added to the e-liquid, for example E120, also known as cochineal or carmine, a red colour that is produced using cochineal insects. See our Which E Numbers Are Vegan? article for other possibly non-vegan additives.
Given that ingredients of the vape fluid are not usually made apparent at the point of sale, it is often a good idea to contact the manufacturers in question to ascertain exactly what has been added. You can also seek assurances that no animal products have been used and indeed that the liquid (or their other products) have not been tested on animals.
Is E-Liquid Tested on Animals?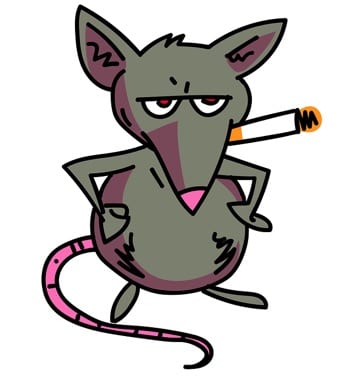 Speaking of testing on animals, this is where e-liquid might fall down, depending on the exact chemicals and ingredients used and the processes employed by a given manufacturer. While conventional cigarettes and the tobacco industry in general have a long and undoubtedly cruel history of testing on animals, the same is not the case for many manufacturers in the e-cigarette market.
Many will go out of their way to push the fact they use natural, non-GMO, even organic ingredients in their e-liquids, and also that they have not tested their products on animals.
Government Controlled
Under the aforementioned Tobacco and Related Products Regulations 2016, the UK Government requires notification of:
…any available toxicological data regarding each ingredient in burnt or unburnt form as appropriate, referring in particular to the effect of the ingredient on the health of consumers and taking into account, among other things, any addictive effects.
In most cases, however, ingredients of e-liquids are not new or novel substances and their safety has been well-established for years or they are already recognised as a foodstuff or a permitted food additive, and hence no animal testing would be required anyway to ascertain such toxicology data.
Clearly using well-established ingredients that would not be required to go through a costly testing regime would be preferable for manufacturers of e-liquid. To be on the safe side, contacting a manufacturer for clarification can't hurt, though there are plenty of e-liquids who state explicitly they have not used animal testing.
Types of E-Cigarette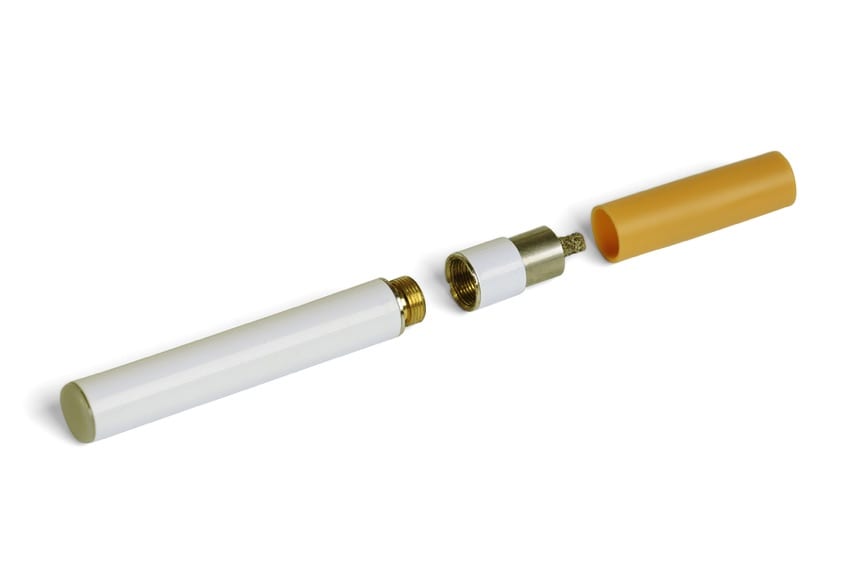 There are various types of electronic cigarettes that are available in the UK, which basically differ in size. The larger they are the greater their capacity in terms of both battery life and e-liquid. Here are the main options available:
Cig-a-Like (or Mini)
As the names suggest, these are relatively small and look quite like conventional cigarettes. These can be purchased as disposable options (which isn't too good for the environment!) or in a rechargeable form.
These are small and hence more discreet than the other options, but they tend to have relatively short battery lives and can carry less e-liquid.
Vape Pen or Mid-Size
A middle ground option often utilised by those who require a more regular nicotine hit, the vape pens are around the size of a standard cigar, or a thick fountain pen, and they can there contain larger, or just more, batteries and a greater volume of e-liquid.
Vape Pod
These are slightly more compact devices, often oval-shaped or having the appearance of a USB stick. These usually have refillable or replaceable pods in which the e-liquid resides.
Advanced Personal Vaporiser (AVP) or Mod
Some APVs can be chunky to say the least, and these are aimed at those who desire (or require!) a device with a very long battery life and the capacity to store a large volume of e-liquid.
Whilst they come in a range of shapes, sizes and colours, these are definitely the least subtle of the options available. That said, some love the variety of designs on offer and slightly ostentatious nature of such devices.
E-Cigarettes Versus Tobacco Cigarettes (For Vegans)
As we discuss in our article that focusses on the question of whether or not cigarettes are vegan, conventional cigarettes are not vegan friendly – or health friendly, for that matter, but that bit is obvious. This is due to a combination of the various animal-derived ingredients that are usually added to cigarettes, and also due to the long and quite obscene history of cigarettes having been tested on animals – something that still goes on today!
We won't focus on the health implications of vaping in this article as the science is as yet a little inconclusive in some people's eyes. There appears to be a strong suggestion that vaping is certainly better than conventional smoking from a health point of view. A report commissioned by Public Health England that was published in 2018 stated that:
Most toxins responsible for health damage from smoking are absent in EC aerosol and that those that are present are there at much lower levels (below 5% and mostly below 1%) than in tobacco cigarettes.
But there have also been various carcinogens and irritants found to be present in the vapours of e-cigarettes and indeed in the urine of users of e-cigarettes (as reported by the American Urological Association).
Considering that conventional tobacco cigarettes can contain all sorts of ingredients and nasty additives, including such things as castoreum (obtained from the castor sacs of beavers!), the often fruit-based flavourings in most e-liquids seem a lot more attractive!
Possible Environmental Reasons Smoking E-Cigarettes Is Not Vegan
Given that some people are initially drawn towards veganism for environmental reasons, it is often worth looking at the environmental implications of a given product when assessing its vegan credentials. When it comes to tobacco, deforestation to make way for tobacco plantations is an environmental concern to many vegans as it limits habitat and hence could be seen to be causing harm to animals. The same could be said for e-cigarettes given that some tobacco is used to produce the nicotine added to the e-liquid.
The same applies when looking at the environmental impacts of producing vegetable glycerine (especially if it is made from palm oil). Indeed, the petrochemical industry – that produces the chemicals used to make propylene glycol – has massive environmental questions to answer, not only in terms of habitat destruction, but also air, sea and land pollution, all of which has had negative impacts on animal life. Of course, if someone drives a car or uses air travel, the effect of the occasional vape will pale into almost insignificance in comparison.
E-Cigarettes & Veganism: Conclusions
On the face of things, based on all the information available at the time of writing, we have to conclude that the vast majority of e-cigarettes (and e-liquids) are vegan friendly. With very few exceptions it is true to say that electronic cigarettes and vaping fluids:
Are not generally tested on animals
Rarely contain any animal-derived ingredients
Have far fewer negative health implications than tobacco smoking
The fact that vaping is significantly better for one's health and than conventional cigarettes are generally not vegan anyway, means that, for vegans, vaping really is the lesser of two evils when it is compared to tobacco smoking.