Carnauba wax is a versatile substance than has many applications including use in car wax and shoe polish, as an ingredient in various cosmetics and foods, as a coating for pharmaceutical pills and as an effective wax for surf boards. But whatever you might be using it for or wherever you have encountered it amongst the ingredients, the question is bound to crop up: is carnauba wax vegan?
Thankfully, on the face of it at least, carnauba wax is indeed vegan as it is obtained from the carnauba palm, which is grown in various north-eastern states of Brazil. Given that veganism is all about plants, and the palm in question (Copernicia prunifera, if you prefer its Latin name) is, of course, a plant, it stands to reason that the wax acquired from it must also be vegan. But… (and there is often a "but" in articles published in the Is It Vegan? section of our site) unfortunately, there are one or two things that might muddy the waters here.
What Could Stop Carnauba Wax Being Vegan?
If you are buying 100% carnauba wax, then it is going to be vegan – at least based on the most literal sense of the term: it comes from plants and no animals have been exploited or harmed to make it. The problem is, a lot of products that are marketed as carnauba wax often contain other substances that might not be vegan friendly, most notably (and most regularly) beeswax.
As we explain in our Is Beeswax Vegan? article, because it comes from bees and both exploits them and potentially causes them harm, beeswax is not vegan friendly. Therefore, any carnauba wax-rich products that also contain beeswax will thus be deemed non-vegan.
Possible Ethical & Environmental Issues with Carnauba Wax
As well as avoiding all products that are made using animal products, many people who are vegan for ethical reasons or environmental reasons will delve deeper into the ethical and environmental consequences that come into play when a particular product is farmed or created.
This is particularly the case with something like palm oil, which has been in the news a lot in recent years because of the habitat destruction caused by farming it. Other mass-farmed crops, such as soy, have also been questioned but are there similar issues with carnauba wax?
Ethical Issues
From an ethical perspective, there are certainly some concerns. A German documentary made by ARD and entitled Markencheck (which means "Brand Check") asserts that carnauba wax plantation owners are guilty of exploiting workers to the point where they could be considered to be engaged in modern slavery.
Environmental Issues
From an environmental perspective, the fact that carnauba palms are grown in north-eastern Brazil is bound to ring alarm bells for the eco-minded given the mass destruction of the Brazilian Amazon over recent decades. While this is hard to completely avoid (or indeed police), there are at least initiatives – such as the Initiative for Responsible Carnauba – to help producers and consumers move towards more ethical and environmentally sustainable choices in relation to carnauba wax.
For many vegans, these are essentially side issues; the fact that carnauba wax comes from a plant and that no animals are directly harmed when it is made will be enough to satisfy them that the wax is vegan friendly. For others, perhaps those at the more ethical end of the vegan spectrum, there is bound to be concern about any products containing carnauba wax in a similar way there is to products containing palm oil.
Stick to Fair Trade
The main advice for those concerned about these issues is to only buy carnauba wax products from ethically minded producers and whose products are marked as fair trade, sustainable and similar. Ultimately, it is very difficult to verify such claims on products, but contacting producers directly can give you a good idea about whether or not they take these things seriously or whether they simply try to palm you off with a stock answer to your questions and concerns.
Be Wary of Synthetic Wax & Polish
If people opt for synthetic wax and polish products instead of carnauba wax for environmental reasons, it is worth noting that such alternatives will probably have been made from fossil fuels and/or various chemicals and so will have their own environmental impact. For instance, some so-called mineral waxes are made from coal and shale, while paraffin waxes are ultimately made from petroleum (crude oil).
What Is Carnauba Wax Used For?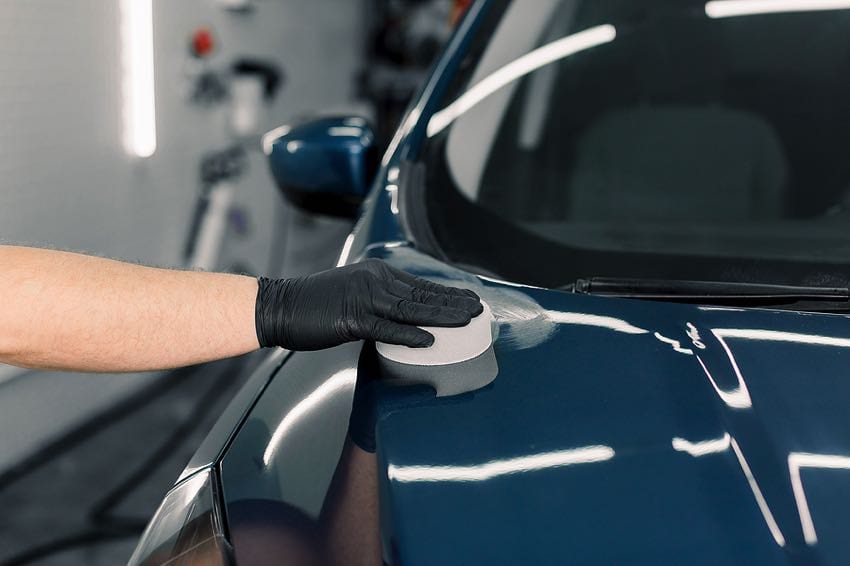 As we touched on earlier, carnauba wax can be used in a wide range of products. It its refined form it usually comes as yellow or light brown flakes and it can be purchased like this (for instance if you want to make your own candles or food wraps). But in most products you might buy it will have been combined with other substances.
Here are some of the most common uses for carnauba wax (note that not all products in these categories will be vegan friendly so always check specific ingredients or contact manufacturers to check):
Musical Instrument Polish
Carnauba wax can be used as a polish for guitars, violins and other musical instruments. It is chosen by many musicians because of the relatively hard protective coating it provides compared to other waxes.
Boat Coatings
The same properties are valued when it comes to providing a hardwearing coating for boats and also one that offers good resistance against salt water, though it was more popular for this purpose a few decades ago before synthetic options became more common.
Car Wax
Carnauba wax is an ingredient in many leading brand car waxes, though it is worth contacting manufacturers to ensure they contain no animal ingredients and that the products have not been tested on animals.
Candles
Carnauba wax is naturally quite hard – the hardest natural wax in fact – and has a high melting point (82-86 degrees Celsius, compared to 62-64 degrees Celsius for beeswax), so it is not the ideal substance from which to make candles.
However, if it is mixed with coconut oil at a ratio of 1:1, it can be a very useful material from which to make vegan-friendly candles.
Furniture Polish
Carnauba wax is used in a range of multi-purpose household polishes.
Food Wraps
Carnauba wax can be used to make wraps for food (as an environmentally friendly alternative to cling film and a vegan alternative to beeswax wraps). The carnauba wax can be melted and combined with pine resin and tea tree oil/jojoba oil or similar and spread onto cuts of clean 100% cotton fabric. Once dry, after a bit of trial and error, you will have your own food wraps (or you can just buy some of course!).
Pharmaceuticals
The outer casing of pharmaceutical pills is sometimes made with the use of carnauba wax. It is likely (in the UK at least) that any medicines you have been prescribed or that you buy over the counter will have been tested on animals at some stage.
As we explore in detail in our Vegan Medicine article, however, it is perfectly justifiable for vegans to take medicines they need for health reasons under the "possible and practicable" section of the accepted definition of veganism (which we further explore in our article, What Is a Vegan?)
Food Additive (E903)
Carnauba wax is a food additive that is added to various products, most commonly as a coating for certain confectionary, including for some vegan-friendly sweets.
Cosmetics
Carnauba wax is also used in various vegan cosmetics, including nail polish and various skin care products.
The above is not a definitive list of uses of carnauba wax, but it gives an idea of the versatility of this plant-based substance, and also how it could be used as a substitute for similar products (e.g. beeswax) in a range of scenarios.
Carnauba Conclusions
Overall, carnauba wax can be seen as a vegan-friendly alternative to beeswax in a wide number of situations. The main thing to be aware of is that in some applications it may be combined with non-vegan substances, although in and of itself, most would class it as vegan.
We say "most", because there are clear concerns over the farming of carnauba palms from both an ethical and an environmental perspective. However, if consumers do all they can to source products that use sustainable and ethical practices, these concerns can hopefully be mitigated (at least to an extent).
While no product will come without some environmental cost, carnauba seems like a more environmentally sound option than opting for synthetic waxes or polishes that maybe have been produced from various chemical polymers that have originated from fossil fuels.