It is very possible you are not familiar with pectin, but if you've even eaten any shop-bought jam or preserve then chances are you have consumed it. But do not panic. If you are concerned about having inadvertently scoffed some animal-derived ingredient, you have nothing to fear: given that it is produced from fruit and vegetables, pectin is 100% vegan friendly.
In this article, we'll explain the basic facts about what pectin is, how it's made and what foods contain pectin – both those in which it occurs naturally and those to which it is added. We'll also look at the possible health implications or benefits that might come from consuming pectin.
What Is Pectin?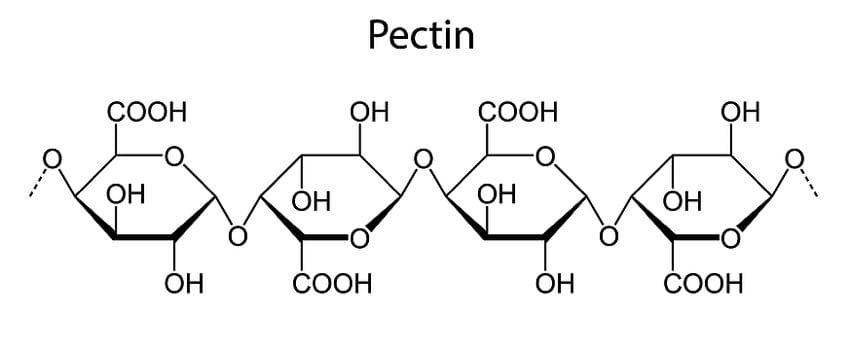 There are many substances that are added to food that can be made from either plants or animals (such as collagen, glycerol or lactic acid); but the good news for vegans is that pectin is only ever produced from plants. Usually it is made from citrus peels or apple material (pomace) that has been left over from fruit juice production. It can also be produced from sugar beet pomace, though this is less common.
To don our lab coats for a moment, pectin is technically a heteropolysaccharide, meaning that it is a long chain molecule made up of carbohydrates in the form of monosaccharides (the fact that more than one type of monosaccharide is present in the molecule gives it the "hetero" prefix).
Pectin is one of the substances that makes up dietary fibre (along with cellulose, resistant dextrins and other substances), which the human body cannot completely break down. This gives it some potential health benefits, which we shall explore later. It is present in the cell walls of a wide range of plants and the amounts will vary from plant to plant with apples, carrots, pears, plums and citrus fruits (and particularly citrus peels) being some of the fruits and vegetables that have particularly high levels of pectin.
How Is Pectin Made?
To produce pectin, the fruit materials are treated with diluted acid that has been heated, drawing the pectin out of the fruit and into the solution. The solution is then concentrated and precipitated using an alcohol (such as ethanol), after which the pectin is washed and dried when it forms a white or light brown powder that is ready to sell or use commercially.
What Is Pectin Used For?
Pectin is used as a food additive (E number E440) and can be utilised as a gelling or thickening agent, an emulsifier or a stabiliser. The fact that pectin is produced from materials that might otherwise be considered to be waste products (i.e. by-products of the fruit juice or sugar industries on the whole) means there is an environmental appeal to using pectin over some alternatives.
And, no doubt the fact that the plant materials used to produce pectin are by-products of the fruit juice industry also mean they are not too expensive either. Pectin has also been used in medications and health supplements that we will discuss in our health benefits and costs section below.
Which Foods Contain Pectin?
While it can be used for various purposes within the food industry, the primary use of pectin is as a gelling agent for jams, marmalades and preserves and anyone who has given jam-making a go will probably be familiar with it.
Depending on the fruit used to make the jam (or other similar product), without the addition of pectin, the consistency would be far too thin and watery.
Jams
There are plenty of jam recipes that do not include pectin. Whether or not you include it comes down to what consistency you are seeking from the end product and what base fruit you use. Pectin-free jams and preserves will be runnier in general, although if the base fruit happens to be one already naturally high in this useful substance it is typically not added.
Other Foods
Some of the other food-related uses of pectin include:
Canned Fruit – It is also sometimes added to canned fruit to act as a thickener and preservative
Emulsifier – It can be used as an emulsifier for things like mayonnaise (which can be made using vegan friendly ingredients!)
Glaze – Pectin can be used (along with other ingredients) to make glazes for various pastry products and desserts
Mouthfeel – Pectin is added to various drinks, soups and yoghurt-type products to improve the mouthfeel
Confectionery – Pectin is used as thickening agent in various confectionary products, including some vegan sweets
Which Fruits & Vegetables Contain the Most Pectin?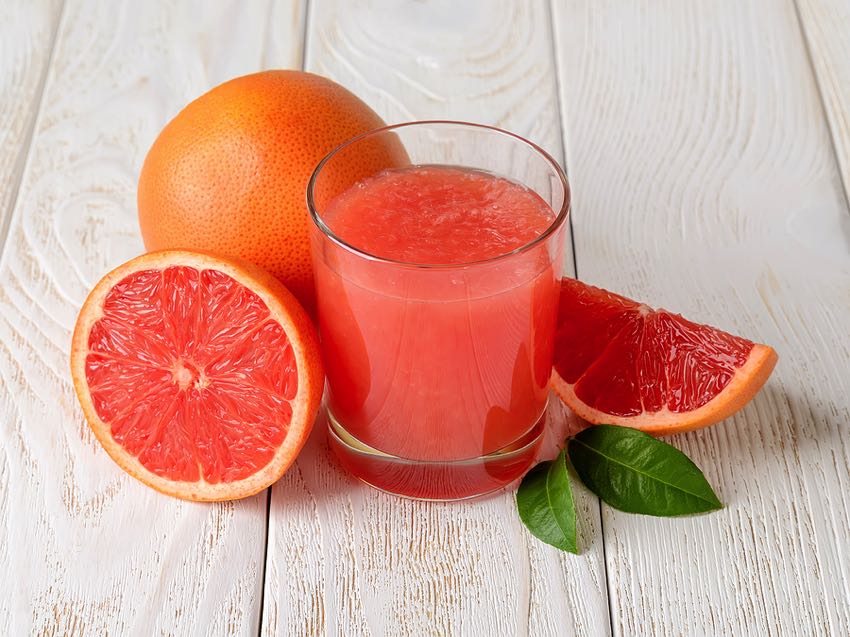 As you can see from the table below, despite apples being one of the main sources of pectin when it comes to producing it for food additives and other products, there are a number of other fruits and vegetable that contain a higher proportion of the substance, with citrus fruits and carrots standing out as very good sources.
Fresh Weight Pectin Content (%)
| Product | Range | Average |
| --- | --- | --- |
| Apples | 0.71–0.84 | 0.78 |
| Apricots | 0.71–1.32 | 1.02 |
| Bananas | 0.59–1.28 | 0.94 |
| Beans | 0.27–1.11 | 0.69 |
| Blackberries | 0.68–1.19 | 0.94 |
| Carrots | 1.17–2.92 | 2.04 |
| Cherries | 0.24–0.54 | 0.39 |
| Dewberries | 0.51–1.00 | 0.76 |
| Grapes | 0.09–0.28 | 0.19 |
| Grapefruit | 3.30–4.50 | 3.9 |
| Lemons | 2.80–2.99 | 2.9 |
| Loganberries | 0.59 | 0.59 |
| Oranges | 2.34–2.38 | 2.36 |
| Raspberries | 0.97 | 0.97 |
| Squash | 1.00–2.00 | 1.5 |
| Sweet potatoes | 0.78 | 0.78 |
Source: USDA
Does Pectin Have Any Health Benefits (Or Costs)?
Pectin has also been used in medications and health supplements in the past and though it was used as a treatment for diarrhoea, the US Food and Drug Administration found in 2003 that there was insufficient evidence that it worked for that purpose.
It has also been also been used as a treatment for high cholesterol, to help people lose weight, to promote gut health, to help control blood sugar (which can be useful for those with diabetes), and even as a prevention for colon and prostate cancer; but how does the science stack up?
Stimulating Growth of Useful Bacteria
There is some evidence to support the claim that pectin (specifically that from apples) can stimulate the growth of useful bacteria in the gut, as well as inhibiting the growth of potentially damaging bacteria. This is also thought to have a positive knock-on effect on cardiovascular health too.
Helping with Weight Loss
Other studies have found that apple pectin may help weight loss by helping people feel full for longer, though the evidence is based on a short study with a small sample of 74 participants. Given the small sample size, further research in this area would be required to draw any truly robust conclusions. The evidence is equally inconclusive when it comes to the regulation of blood sugar.
Reducing Cholesterol
There have been promising results from a meta-analysis study looking at the cholesterol-lowering effects of dietary fibre, of which pectin is one of the constituent substances. It found that pectin could lower total cholesterol in the participants by up to 16%.
But, Don't Just Go Eating Jam!
Of course, given that the pectin a lot of people consume is in sugar-rich jams and marmalades, there is every possibility that some of these health benefits might be negated somewhat (especially, for instance, if someone is trying to consume pectin to regulate blood sugar).
But of course, gaining pectin from its source – i.e. apples and other pectin-rich fruits mentioned above – is likely to bring health benefits as it will be combined with the other key micronutrients such foods offer.
Pectin Is Vegan
When it comes to pectin, the most pertinent conclusion to draw is that it is definitely vegan friendly. It occurs naturally in plants and is only ever produced from plant sources, most regularly apple pomace and citrus peel. There is also evidence to suggest that pectin might have some health benefits, though these are likely to be bestowed most effectively only when eaten in their natural state, that is as part of the fresh fruit or vegetable from which they come, rather than when added to something like strawberry jam (which often contains upwards of 50% sugar!).
Whether you are considering making vegan-friendly jam (as almost all jams are!) and want to ensure the viscosity is just right but are concerned about whether pectin might come from animals, or you were just curious about whether pectin was fine to consume when following a plant-based diet, rest-assured: pectin is vegan.