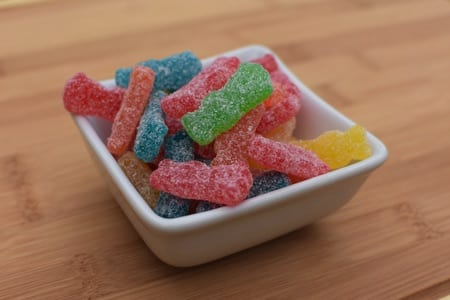 Sour Patch Kids are a tangy jelly sweet that look a little like sugar-coated jelly babies. The multi-coloured sweets are similar in style and flavour to some of the sour sweets produced by Haribo. They have been around in the current guise since 1985 and were previously sold in the UK as "Maynards Sour Patch Kids". But whether or not you are familiar with this confectionary creation is neither here nor there. For we are here to answer the simple question: are Sour Patch Kids vegan? And, for once, we have a very simple answer: no, Sour Patch Kids, in the UK at least, are not vegan.
In the Is It Vegan? section of our site, we rarely encounter such cut and dried queries as we have with Sour Patch Kids, which is something of a relief as there is no ambiguity here. The main reason Sour Patch Kids are not vegan (and indeed not even vegetarian) is that they contain gelatine, which is derived from the collagen of animals, usually from the bones or skin of pigs or cows.
If that is all you wanted to know, great, you have your answer: if you're vegan, you should avoid Sour Patch Kids. Thankfully, as we detail below and also in our article on vegan sweets, there are plenty of vegan-friendly alternatives to Sour Patch Kids, even if you are specifically seeking that sour-sweet-jelly combo.
Please Note that in this article we are focussing on the Sour Patch Kids sold in the United Kingdom. It is possible that some Sour Patch Kids sweets sold in the US and Canada and possibly other areas of the world have been made containing different ingredients (for instance, without gelatine).
What Are Sour Patch Kids?
As mentioned, the standard Sour Patch Kids sweets are jelly sweets that are covered in sugar. They were created by American, Frank Galatolie, in the early 1970s while he was working for a confectioner called Jaret International.
The sweets where then known as "Mars Men", but they were changed to Sour Patch Kids in 1985 (perhaps to take advantage of the subconscious association with the Xavier Roberts-created Cabbage Patch Kids dolls, which were extremely popular at the time).
In the UK, the sweets were produced by Maynards, of wine gum fame, who are now owned by food and drink behemoth Mondelez International (who also own Cadbury, among many other brands).
Ingredients in Sour Patch Kids
Previously sold as Maynards Sour Patch Kids, before the Maynards was dropped, here are the ingredients of the standard Sour Patch Kids sweets in the UK as of 2020:
Sugar – Whilst sugar can sometimes be non-vegan (because of occasional use of bone char during refinement), much sugar these days is vegan friendly.
Glucose Syrup – As with sugar.
Water – Water is vegan!
Starch – Starch comes from plants and is vegan.
Gelatine – Uh oh! Gelatine is definitely not vegan! Used as an additive to create a jelly-like texture in foods, gelatine is produced from pig skins, cow hides, animal bones and sometimes other animal parts. Grim.
Acid (Malic Acid) – A naturally occurring substance in all living organisms, it almost always originates from plant sources for use in food.
Concentrated Apple Juice – Apples… definitely vegan!
Colours (Anthocyanins, Vegetable Carbon, Paprika Extract, Lutein, Curcumin) – Without delving too deeply into the details, whilst some colourings are animal-derived, all of these come from plant sources.
Acidity Regulator (Calcium Citrates) – A mixtures of calcium (that comes from rocks) and citric acid (that comes from citrus fruits), this is vegan friendly.
Palm Oil – Palm oil comes from plants, but some vegans suggest it does not fit with vegan ethics (see more below).
Flavourings – This is a little vague to say the least so, without getting the lowdown from the manufacturer, it's hard to be definitive about whether their "flavourings" might be non-vegan. Given that it isn't the make or break ingredient in this case, we don't think it's worth asking for clarification though.
Ultimately, it is really just gelatine letting the side down here, depending where you stand on the palm oil front. But don't worry too much, vegan sweet lovers, there are plenty of other options available to you.
A Note About About Palm Oil
Palm oil is something of a contentious issue when it comes to assessing whether or not it is vegan. On the face of it, given that it comes from plants, it is indeed, technically, vegan. But the environmental implications (including the destruction of the habitat of endangered animals) mean that many vegans view palm oil as non-vegan, especially those drawn to veganism for environmental reasons.
The problem is where the line is drawn in the vegan sand. Some people would not consider avocados and many other intensively farmed fruits, nuts and vegetables to be vegan because of the use of commercially managed bee colonies which are used to pollinate the crops. But where you draw your particular lines depends on your personal ethics.
The more information you read about the various issues, the better informed you will be when making such decisions. You could certainly do worse than checking out some of the many fine vegan documentaries that are out there during that research, many of which are eye-opening to say the least.
Best Vegan Alternatives to Sour Patch Kids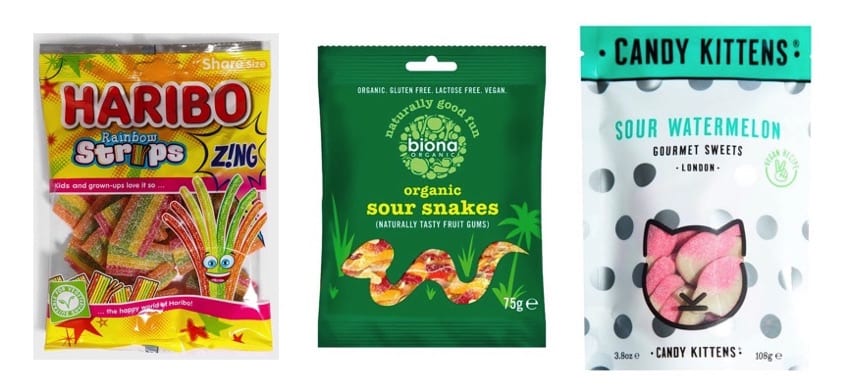 We go into a lot of detail about the best vegan sweets in our dedicated article on the subject. But if you are simply seeking a sugar-coated jelly sweet that is vegan friendly, here are some of the best options for you to consider:
| Sweet (Company/Brand) | Notes | Where to Buy |
| --- | --- | --- |
| Tangy Worms (Jealous Sweets) | Clearly labelled as vegan (so don't worry about the lactic acid in there, it will be from non-animal sources), these tasty, gluten free worms are not quite as sour as Sour Patch Kids, but they are certainly tangy enough. | TheVeganKind Supermarket |
| Sour Rainbow Strips (Haribo) | Arguably the closest to Sour Patch Kids in terms of the tangy sourness, but in strips, rather than in the shape of 'kids'. | Amazon, various |
| Sour Rainbow Spaghetti (Haribo) | As above… for those who prefer their sour jelly sweets in spaghetti-like form rather than strips. | Amazon, various |
| Fizzy Multicolour Sweet Belt (Tesco) | Some might say these are almost a direct copy of Haribo's Sour Rainbow Strips, but our lawyers suggest we simply say they are very, very similar. | Tesco |
| Organic Sour Snakes (Biona) | Another nice enough option that ticks the sour jelly sweet boxes and which are indisputably vegan friendly. | TheVeganKind Supermarket |
| Sour Watermelon Gourmet Sweets (Candy Kittens) | Less tangy and sour than the other options, but they also have more fruity flavour coming through when chewed, something helped by the fact that watermelon juice (from concentrate) makes up 10% of the sweets. They are certainly worth trying if you haven't already. | TheVeganKind Supermarket, Waitrose |
Are Other Sour Patch Products Non-Vegan?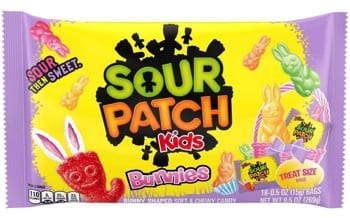 There have been various Sour Patch products brought to market over the years, including the Halloween-themed Sour Patch Kids Heads & Bodies, Sour Patch Kids Bunnies (for Easter), and even Sour Patch Kids Ice Cream. As far as we are aware, none of these spin off products have been vegan friendly.
Having said that, it is possible future products might be fine for vegans, but be sure to check the ingredients and look out for gelatine initially and any of the other possibly non-vegan ingredients mentioned above. As ever, if in doubt, get in touch with the manufacturer who should be able to clarify the situation.
Sour Patch Kids Conclusions: Find a Vegan Alternative
As we have seen, Sour Patch Kids contain gelatine and hence they are not vegan. Even if they managed to replace the gelatine with a non-animal alternative, their vegan credentials would not be completely convincing.
In short, if you are a vegan or aspire to follow a plant-based lifestyle, Sour Patch Kids are off the menu. As we also pointed out, though, there are plenty of sour jelly sweets that are vegan friendly that should fill the gap left by the absence of Sour Patch Kids. So, vegans with a sweet (and sour) tooth need not miss out.