Contact lenses are used as an alternative to wearing glasses for an estimated 150 million people around the globe and around four million people in the UK alone. They are made from various materials and come in different sizes, shapes and even colours! But the big question for regular visitors to this site and indeed anyone interested in avoiding animal products is: are contact lenses vegan?
The good news is that there are some vegan-friendly contact lenses available. And, also that contact lenses themselves are not produced using any animal products, with most being silicon-based materials or synthetic materials that have been produced in the lab.
The bad news is that most contact lenses have been tested on animals at some point during their development or are manufactured by companies that still test on animals in general. The same goes for contact lens solution. There are exceptions to this (detailed below), but they are few and far between.
For people who simply don't want animal products touching their eyeballs, but understand that many products have been tested on animals at some point during their development, contact lenses may be seen as acceptable. Any vegans who want to do all they can to avoid any products that have been tested on animals or which are produced by companies that still test on animals, will need to be very careful when selecting their contact lenses.
Does Vegan Have to Mean Cruelty Free?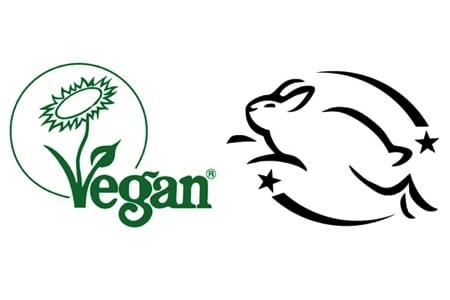 Of course there are some people who identify themselves as vegan who might – knowingly or unknowingly – still use products that are not categorised as cruelty free, which means they may have been tested on animals. This is in relation to household products, cosmetics and pharmaceutical or medical products primarily, rather than foodstuffs.
As we discus in out article on the difference between vegan and cruelty free products, there are many products that are labelled as vegan but which have been tested on animals or contain ingredients that have been tested on animals.
Ambiguity
There is also the slight ambiguity when it comes to what even constitutes a vegan product in the first place. The caveat within the Vegan Society's definition of veganism states that veganism is "is a way of living which seeks to exclude, as far as is possible and practicable, all forms of exploitation of, and cruelty to, animals for food, clothing or any other purpose."
This "possible and practicable" part of the definition can come into play in many areas of life, most notably when it comes to medicines and vaccines, which by law must have been tested on animals in the UK.
Medical Devices
Contact lenses are classified as medical devices, as they are designed to benefit the health of people who use them, but they do not fall into the same regulatory framework as medicines and vaccines. As such, they do not necessarily need to be tested on animals, but they do need to be approved by the relevant regulatory authorities who assess the safety profile of the materials used and the environment in which they are manufactured.
In many cases, when it comes to contact lenses, the materials are generally well-established and have likely been tested on animals in the past and/or been used by humans and hence have been deemed safe for use.
Vegan-Friendly Contact Lenses
Many contact lenses are made by large medical/consumer companies, such as Johnson & Johnson, who tend to opt for animal testing of products even when they are not necessarily legally required to do so.
This might be because they have over the decades become institutional animal testers and it could be costly or challenging to change to more ethical processes of testing. Or it might just be the quickest, cheapest and possibly even safest way to get a given product to market.
Daysoft: Vegan Friendly & Cruelty Free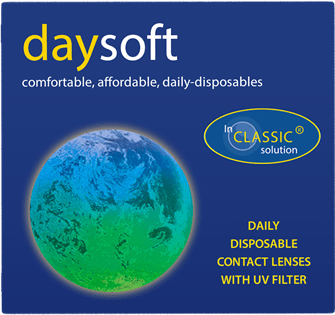 There are not too many contact lens manufacturers who are taking on the bigger players in the market, and of the more independent of the ones that are, there appears to be only one in the UK who is clear that their products are vegan friendly and cruelty free. One that we are very confident fits into that bracket is Glasgow-based company, Daysoft.
As the company's website doesn't exactly shout about their vegan/cruelty free credentials, to be on the safe side we decided to contact them directly. They responded swiftly to tell us the following:
We can confirm that daysoft® lenses, the lens material and the solutions that they are supplied in, have not been tested on animals. All daysoft® lenses are made by Daysoft Limited at its hi-tech contact lens laboratory in Blantyre, Scotland. It is an independently owned company with complete control of the manufacturing processes. This includes making the solutions in which daysoft contact lenses are packed. We can therefore also assure you that none of the materials used in any daysoft product or packing material are of animal origin.
Contact the Manufacturers If Unsure
All that should definitely put the mind of even the strictest vegan at rest when it comes to this particular brand of contact lenses. It is possible there are more contact lens manufacturers out there who also do not test on animals but who are not certified as cruelty free.
As more vegans seek cruelty free eye products, it is possible that more manufacturers will seek to gain accreditation with the Leaping Bunny Standard. In the meantime though, the best course of action would be to contact a manufacturer directly if you are considering purchasing their lenses and double check with them; most will be more than happy to let you know of their vegan and cruelty free credentials.
Vegan-Friendly Contact Lens Solution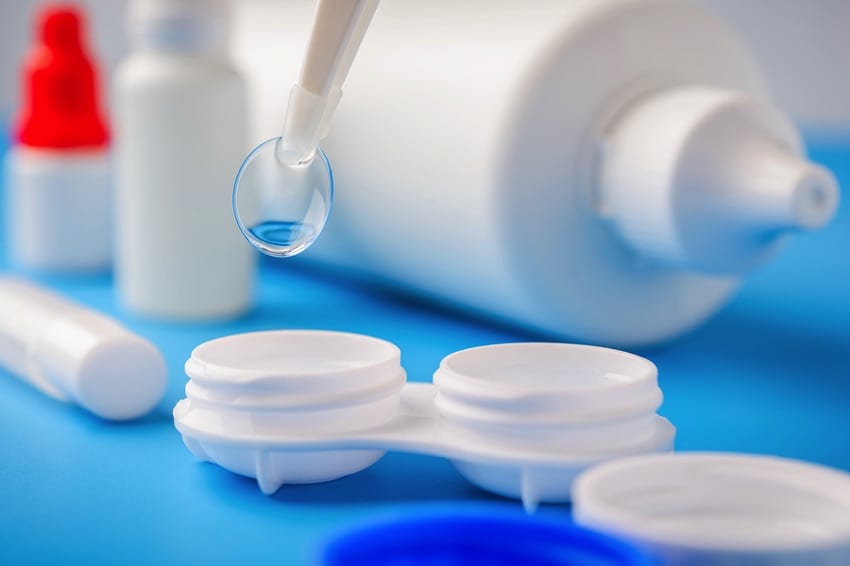 As with contact lenses, there are very few vegan-friendly contact lens solutions available – that is, ones that are completely cruelty free. There is a United States-based manufacturer of eye drops and contact lens solution called Clear Conscience who would fit into this category, and at the time of writing, you can order their solution through Amazon.co.uk. Other than that, there appears to be no readily available option in the UK for a contact lens solution that is explicitly labelled or marketed as cruelty free.
What Are Contact Lenses?
Just in case you have no real idea what we are talking about here, we had better explain a little more about what contact lenses are. Basically, they are visual aids that are placed directly onto a person's eyes (as opposed to glasses which perch on the nose with the lenses in front of the eyes but not touching them).
We're pretty sure you would have known that, but if you're one of the lucky folk who have never had to consider such things because you've always have perfect vision, the clarification might be useful (and don't worry… your time will come!).
Types of Contact Lenses
Contact lenses can come in various types but essentially fall into one of three categories:
Hard or Rigid Lenses – Also known as rigid gas permeable lenses (because they allow a certain amount of oxygen to permeate them), these made-to-measure lenses can be designed to correct a wide range of eye problems. In the past, hard lenses were made of glass, but these would stop the cornea being exposed to oxygen which had potentially serious health consequences.
Soft Lenses – Also known as "hydrophilic" or "hydrogel", are soft, flexible lenses that often disposable (though not necessarily every day). They are characterised by their convenience and comfort, and can be used for various eye issues, including astigmatism.
Hybrid Lenses – Hybrid lenses are an amalgamation of the two aforementioned options, with a rigid central area and a softer outer area in an attempt to get the best of both worlds: the potentially more customisable visual benefits of the rigid lenses coupled with the greater comfort of the soft lenses.
How Do Contact Lenses Actually Work?
Contact lenses work in much the same way as the lenses of our eyes in that they act to focus or direct light towards the retina at the back of the eye. This is also how conventional glasses work, and just like with glasses the shape of the contact lens will differ depending on the specific problem with a person's version.
People who are short-sighted require lenses that diverge the light to correct the issue and to move the focus back to the retina. For long-sighted people, the required lens would converge the rays of light, essentially giving the eye extra focussing ability, again ensuring that the focus point is directed to the retina.
What Materials Are Used to Make Contact Lenses?
As mentioned earlier, contact lenses are not general made from materials that originated from animals. Initially, from 1888 onwards, contact lenses were made of glass, with Perspex being added as an option in 1938. When soft lenses were first developed in 1961 by the Czech chemist, Otto Wichterle, the rather snappily named polymer, polyhydroxyethylmethacrylate, was the option of choice.
The most common materials used to make contact lenses these days are also polymers (including silicone hydrogels) that vary in the amount of oxygen they allow to permeate through to the eye's surface, and the amount of water they contain.
As far as we can ascertain, none of the polymers currently used in the production of contact lenses has been directly produced using animal-derived materials. Having said that, most will have been tested on animals at some point during their development.
Are Cosmetic (Or Novelty) Contact Lenses Vegan?
Cosmetic contact lenses – also known as "plano" or "zero-powered" lenses – are lenses that are used for novelty or cosmetic purposes, whether to add a bit of pizzazz to a fancy dress costume, for use in film or the theatre or just because someone fancies trying out a different eye colour. In the UK, such lenses can only legally be "supplied by, or under the supervision of, a registered optometrist, dispensing optician or medical practitioner".
As with conventional contact lenses, it is very difficult to find explicitly vegan-friendly coloured lenses. So, once again, the best course of action is to contact the manufacturer of the contact lenses you are thinking of buying and to ask them to confirm whether or not their products are vegan friendly and ideally cruelty free as well.
Vegan Contact Lens Conclusions
As with many products in the Is It Vegan? area of our site, there is no one-size-fits-all answer to whether or not all contact lenses are vegan or not. We have ascertained however that most contact lenses are not strictly vegan on the basis that they have been tested on animals. But we have also identified one British contact lens manufacturer whose contact lenses and solution definitely are vegan (along with an American-produced vegan-friendly contact lens solution).
As the materials used to make contact lenses are not from animals, there will be vegans out there who are happy enough to wear contact lenses even if there is a chance they have at some stage been tested on animals. If you are concerned about historic testing though, it is worth noting that there might well be more contact lens makers out there who simply hadn't really considered shouting about their cruelty free credentials. In which case, it's always a good idea to contact manufacturers directly to get the lowdown before you purchase your lenses.