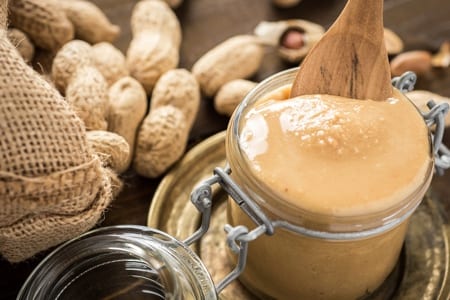 Peanut butter is a versatile ingredient that can be used in sandwiches, sauces, dips or simply spread on a slice of hot toast. Versatile as it is, that's not much use if it isn't vegan, so let's cut right to the chase faster than ever and say that, yes, peanut butter is indeed vegan!
Now, if you've read any of the many articles in our Is It Vegan? section, you'll know that there is always a "but". Or an "except". Or, at the very least, a "sometimes". Even with seemingly stone cold vegan certainties like the green gold that is the avocado or the grape-filled goodness of wine, there just always has to be something to keep vegans on their toes. And, so yes, so too is that the case with peanut butter…
Is Peanut Butter Made From Butter?
Some people might think that peanut butter isn't vegan and that the clue is very much in the name – butter. Traditional butter made from dairy milk is, of course, non-vegan. But, in actual fact, peanut butter isn't just butter with the addition of peanuts, and is one of many nut butters, such as almond and cashew, that are made more or less from nuts alone.
So, what might we expect to find in a typical jar of peanut butter? The phrase "more or less" sounds like it could lead to "but" at some stage so a little further examination is needed. The best quality peanut butters will usually be made from 100% peanuts. Nut butters are made simply by grinding nuts into a smooth paste and products made this way will be as healthy, wholesome and vegan as the nuts themselves.
However, as with many mass produced food items in the modern world, there are potentially a whole host of other ingredients that can find their way into the jar. Such unnecessary additions are usually employed to preserve the shelf-life or stability of the product, make it cheaper, make it easier to produce or make it taste nicer (where "taste nicer" usually equates to more sugar, salt or fat, nutrients humans are primed to like by the full force of evolution).
Common additions include sugar, oil and salt but you might also find E numbers in there as well, usually used to stabilise the peanut butter. Of the items that might sneak into your favourite nutty spread, are there any that would trouble a vegan?
Non-Vegan Peanut Butter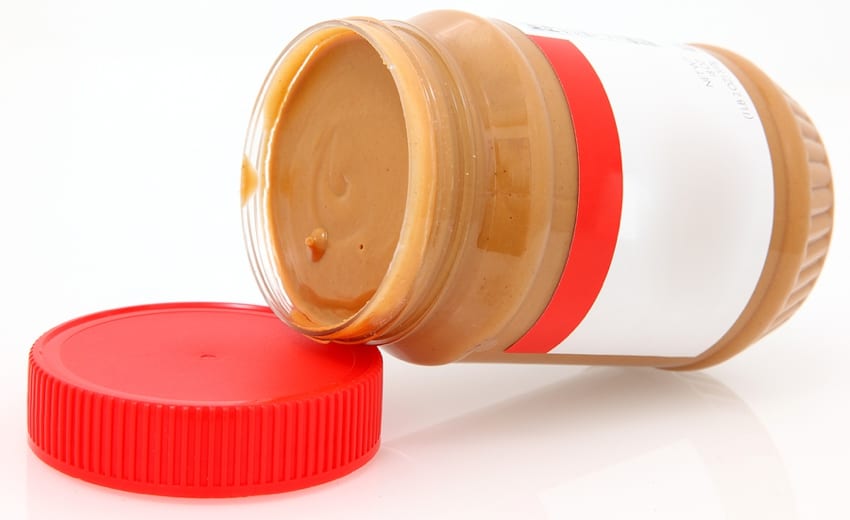 As discussed, the following items are among the most common ingredients that could end up in peanut butter (aside from the peanuts themselves):
There are so many different peanut butters out there that some also include other extras too. We have seen some that have used honey instead of sugar and as we explain elsewhere on the site, honey isn't vegan, and so peanut butters using it are equally unsuitable for vegans. However, here we'll focus on the more frequently seen additions.
When it comes to salt, thankfully, this is an easy one. Salt is vegan! Hurrah! It's not necessarily the healthiest ingredient to see on a label but, from a vegan point of view, it is absolutely fine.
Sugar
Sugar is one of the most problematic ingredients out there because there is the possibility that it has come into contact with bone char. Strange as it may sound, animal bones are sometimes used to purify and whiten sugar. Check out our Is Sugar Vegan? piece for the lowdown.
When it comes to the sugar used in processed foods, finding out whether it is vegan or not is rarely easy. If the item is labelled, certified or marketed as vegan you can assume you're in the clear. Otherwise, we'd recommend contacting the manufacturer or, better still, switching to a brand that doesn't add these empty calories to their product.
Oil
We've looked at a wide range of peanut butters and have seen a selection of different oils used. These are usually added to bulk the product out, effectively making it cheaper to produce, although manufacturers may claim they add oil to improve the consistency and/or shelf-life.
Sunflower oil and rapeseed oil are sometimes used, whilst some brands rather more logically use peanut oil, which at least has the benefit of adding some peanut flavour. None of these oils represent a problem for vegans, although those following a vegan diet for health reasons may question adding pure fat to a food that is naturally high in lipids.
However, if you were bulking a product out with an oil, which oil would you use? Many peanut butter-makers opt for the cheapest suitable oil and, given its ubiquity, it should come as no surprise that the oil of choice is often palm oil. Palm oil may or may not be vegan depending on your point of view but it isn't healthy and few believe it is ethical, even when it is acquired from supposedly sustainable sources.
E Numbers
When it comes to artificial additives to peanut butter (and other nut butters), the most frequently used one is E471, which is a stabiliser. It is a fatty acid that helps emulsify the product and whilst it is usually made from plant sources, such as vegetable oil, it can be produced from animal fats.
We haven't seen any labelling that clarifies whether or not the E471 in any given food is vegan or not and this makes things tricky for vegans. E471 is definitely an E number vegans should be aware of and should treat with caution unless the product is otherwise labelled as being vegan.
Any other E numbers you might see should be treated in the same way. Whilst many are vegan, some are not. Most annoyingly, as we have seen, there are many that are sometimes vegan and sometimes not.
Vegan Peanut Butter
As we have said, the easiest way to ensure that your peanut butter is 100% vegan is to buy a product that is 100% peanuts. There are loads of great vegan peanut butters, some of which are organic, and these are readily available in vegan specialist shops including online at PlanetOrganic. This great shop offers their own brand peanut butter, as well as the ever-reliable and very tasty Meridian.
Of course, you don't need to head to such shops to find a suitable peanut butter. Meridian and Whole Earth are widely available in major supermarkets, whilst Morrisons offer their own 100% peanut version. In addition, Sun-Pat, whilst only being 94% peanuts and containing E471, is also marketed as suitable for vegans.
Are Other Nut Butters Vegan?
As we have touched on, the wonderful world of nut butter embraces the peanut (actually a legume, not a nut, though usually classed as the latter nutritionally), as well as many more nuts besides.
Almond butter is a vegan staple, popular with vegan bodybuilders, whilst cashew butter is also fairly mainstream. Similar products are made from most commercially farmed nuts, including walnuts, pistachios, hazelnuts, pecans and macadamias, although you are far less likely to see these in the main supermarkets.
There are also a range of seed-based butters, with tahini probably the most well-known, largely for its use in hummus. Whether nut or seed, peanut or almond, the same rules apply when it comes to the different butters that are available.
Tips for Finding Vegan Nut Butters
In short, that means that they should usually be vegan but the following tips will help make sure you don't come a nutty cropper: