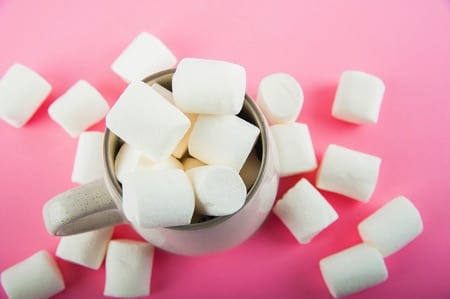 Whether marshmallows evoke memories of nights sitting round the campfire, trips to the cinema or are just a sweet treat you enjoy, from a vegan perspective the first question, as ever, is: are marshmallows vegan? Well, as is often the case, there is no simple answer here other than the fact that some marshmallows are vegan and some are not. On the plus side, that means plant-based eaters who love these fluffy treats can still get their fill but, on the downside, they must be careful when selecting their marshmallows.
Here we look at why some marshmallows are not vegan friendly and explain what ingredients to look out for. We also explain what a marshmallow is, how they have evolved and which brands vegans should be buying.
What Is a Marshmallow?
Most people know what a marshmallow is but do they know what it is made from, how it is made or where they originate? Well, a marshmallow is a French concoction, originally called pâte de guimauve. Whilst some suggest the roots of this confection go all the way back to ancient Egypt, the marshmallow as we would recognise it today was really invented in the early 1800s in France.
Traditional Recipes
Traditional recipes used the viscous juice from the roots of the marsh mallow plant, Althaea officinalis. Sometimes referred to as the marshmallow plant or the marsh-mallow plant, this flowering plant can be foraged in the UK and is indigenous to Europe, as well as parts of Africa and Asia. It is a member of the Malvaceae family, which also includes cotton and cacao and has long been used in herbal medicine.
Traditionally the juice from the plant would be combined with sugar and egg whites, the latter being used to aerate the mixture. Most mass produced marshmallows no longer use juice from the eponymous plant and even artisanal producers rarely use it. There are a range of recipes used, as we shall see, with flavourings (artificial and/or natural) replacing the marsh-mallow and gelatine often used instead of eggs.
Calorific
No matter what recipe is used, almost all of the marshmallow's calories and most of its mass will be made up of sugar. So, vegan or not and however you eat them (they have to be toasted in our opinion and are a perfect way to end a vegan BBQ), marshmallows are certainly something to be enjoyed in moderation! But can vegans enjoy them at all? Not if they contain egg whites or gelatine.
What Makes Marshmallows Not Vegan?
Well, we've already looked at this in passing, having mentioned that lots of marshmallows use either egg white or gelatine. If you are looking at the ingredients and see either of these products listed you can put the packet right back.
Thankfully, these items will be quite obvious on the label and so it is easy enough for a vegan to avoid. That said, as ever when it comes to egg and egg derivatives, sometimes a slightly different term may be used, with albumen, protein from egg and egg protein just some of the ones to be on the lookout for.
Gelatine
Where gelatine is used it typically accounts for around 2.5% of the marshmallow and tends to create a more rubbery, elastic end product. Some manufacturers use fish gelatine in order to ensure their confectionary is halal and kosher.
Of course, whilst this may be relevant to certain religious groups, and indeed to pescetarians, it doesn't matter to vegans whether it is fish, pig, beef or any other gelatine – all would render the marshmallow non-vegan.
Egg Whites
Egg whites are probably more likely to be used if you are consuming a higher class marshmallow, such as in a patisserie or a fine dining restaurant. Egg whites create fluffier, lighter marshmallow but, of course, once again, they are non-vegan.
Most restaurants are pretty good these days with regards making it clear which dishes are vegan. However, if you do see marshmallow in a dessert and it is not labelled as being vegan we strongly advise checking with the staff.
Sugar
One last thing that some vegans might want to think about is the sugar that is used. Some sugar, thankfully a decreasing amount, is still processed using bone char and is non-vegan. We suspect that any marshmallow that contains neither eggs nor gelatine is highly likely to be vegan.
If the makers have gone to the trouble of excluding those two animal-based ingredients it seems unlikely they would use non-vegan sugar. Nonetheless, unless the marshmallows are labelled as being vegan then super-strict plant-based eaters should check with the manufacturer to be 100% sure.
How Are Vegan Marshmallows Made?
There are a range of methods and ingredients used in vegan marshmallows. However, most of the mass of the finished product is identical to a non-vegan one, with sugar providing almost all the energy these treats deliver. So, vegan or not, sugar and flavourings are going to be key elements of the sweet.
Plant Based Ingredients
Where vegan marshmallows differ is that rather than use egg protein to stabilise the bubbles that create the required pillow-like texture or gelatine to set them, they use alternative plant-based ingredients. Different gelling agents such as agar or carrageenan (both derived from seaweed), or carob bean gum are often used, whilst various combinations of plant-derived starches and proteins are added to complete the recipe.
Whilst it may not be true of all vegan marshmallows, many tend to use more ingredients that are natural when it comes to flavours and colours. In addition they tend to be more ethical, avoid GM and, in our experience, use greener packaging too. So, vegan marshmallows are out there, but where do you find them?
Vegan Marshmallows
There are a good number of vegan options when it comes to marshmallows and here are just some of them. Many are only available either directly or through smaller retailers, although some are available in some of the bigger supermarkets.
We haven't tasted all of these but based on the ones that we have tried and reviews of the others, marshmallows are one food where vegans really don't have to miss out. Whilst vegan cheese may have some way to go to get vegans really excited or to fool omnivores, the best plant-based marshmallows definitely hold up very well against traditional non-vegan ones.
Dandies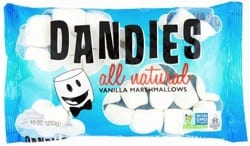 Dandies are a US firm that produces excellent plant-based mallows using a combination of carrageenan, soy protein and tapioca starch. These are available at TheVeganKind Supermarket, as well as GreenBay, Amazon and other retailers.
Freedom Mallows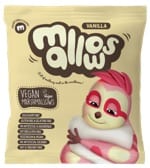 Freedom Mallows are marketed as being vegetarian but they are 100% suitable for vegans and have become a hit with everyone we know who has tried them. Another carrageenan-based product, they use all-natural flavourings and are available in strawberry or vanilla flavours. These are widely available, including at Sainsbury's, and are soy-free.
Ananda Foods

Ananda Foods are a little harder to track down than the two brands above but it is worth doing. This family-owned sweet-maker is based in Derbyshire and all their products are vegan-certified by the Vegan Society. You can buy all of their products direct online, or through TheVeganKind Supermarket.
In addition ,they are stocked at a selection of great independent shops in and around the Peak District and the north of England. These use agar rather than carrageenan so these are a decent option if you have any concerns about the latter.
Trader Joe's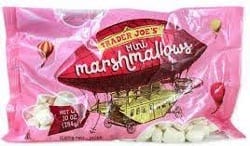 This is a US brand, which is available to buy online, but isn't too widely known. If you can find an importer or a deal where the postage is reasonable, they are one of the cheapest options around and use natural colours, as well as being free of GMO.
Marshmallow Conclusions
Whilst marshmallows have traditionally been non-vegan, more and more confectioners are producing vegan marshmallows that will fool just about any marshmallow fan out there. These really are an excellent vegan product so if you love toasting marshmallows or dipping them in vegan chocolate fear not!
Stick to one of the brands mentioned above to be sure you are getting a vegan treat but otherwise check the label for animal-derived ingredients, and gelatine and egg in particular. Sugar processed with bone char may also be an issue in rare cases, whilst some of the mass-produced marshmallows may also use non-vegan additives, such as colouring. With vegan options so readily available though, that really is the best and safest bet.