Golden syrup isn't the healthiest food item going but that's not really our concern here. Instead, the one real question we want to answer is, unsurprisingly, is golden syrup vegan? Well, when it comes to this sugary treat, we can categorically state that the Lyle's Golden Syrup, the market-leader, is indeed vegan.
For many people, when they think of golden syrup, they think of the famous green and gold tin of Lyle's and so it is good to know that their product is fully vegan friendly. But what about other versions of this gooey, sugary product that is commonly used in baking? We'll take a look at that in due course, but first let us examine Lyle's in a little more detail.
Lyle's Golden Syrup is 100% Vegan
In 1881, Abram Lyle set up a sugar refinery in east London and began selling his rich syrup, which was almost a by-product, under the name Goldie. Sold from wooden casks in those days it soon became incredibly popular and the rest, as they (whoever they are) say is history.
No Animal Products
The rather helpful and informative website of the syrup contains an excellent FAQs sections which contains the following crucial questions along with the even more crucial answers:
Do any of the Lyle's products contain milk? – Only Lyle's Dessert Syrup – Chocolate flavour contains skimmed milk powder and sweetened condensed milk. No other Lyle's products contain milk or milk derivatives.
Do any of the Lyle's products contain fish oil or gelatin? – No Lyle's products contain fish oil or gelatin.
All Products Suitable Except Lyle's Dessert Syrup – Chocolate
Of course, by far the most important question is one that is also helpfully part of their FAQ. If only all companies, products and websites were so good!
Are the Lyle's products suitable for vegetarians and vegans? – Yes, all Lyle's products are suitable for vegetarians. All Lyle's products are suitable for vegans except Lyle's Dessert Syrup – Chocolate flavour, which contains skimmed milk powder and sweetened condensed milk.
So, that's that, Lyle's Golden Syrup is 100% vegan and, as we detail in our feature explaining that honey is not vegan, it is an excellent plant-based substitute for most recipes where honey is needed.
About Lyle's Golden Syrup
Some tabloid publications we would rather not link to or even mention by name reported in 2018 that some fans of the syrup were "shocked to find Lyle's logo is a dead lion", we can report that this is not because old Abram was partial to hunting glorious animals.
Among the interesting information on the Lyle's site (can you tell we were impressed?!) is that of the founder's strong Christian beliefs. The company logo is in actual fact a Biblical depiction of a passage from the Old Testament, with the slogan "Out of the strong came forth sweetness" also referencing this.
Fun Facts
Here are some other interesting Lyle's Golden Syrup facts to entertain you whilst you ponder what glorious vegan cake to make next with this unctuous nectar.
1883 – The good stuff was first tinned way back in the year 1883.
Scott of the Antarctic – Scott of the Antactic was a fan and took some on his failed 1910 expedition. 46 years later, the explorer's supplies were found with the tin of Lyle's, and the syrup within, still in good shape!
War Stops Play – The iconic tin was taken out of action in 1914 and replaced by cardboard to help the war effort.
Royal Approval – In 1922, the syrup got a Royal Warrant due to King George V's approval and that remains, now of course By Appointment to Her Majesty the Queen.
Guinness World Record – In 2007, the classic tin is recognised by Guinness as the oldest unchanged branded packaging, more or less unchanged since the 19th century.
What About Other Brands of Syrup?
Lyle's may have been the first but the company, which merged with sugar rival, Tate, to form Tate and Lyle's in 1921, is not the only company to produce golden syrup. Golden syrup was first made by brothers, Charles and John Eastwick, who worked at Abram Lyle & Sons. It is produced when sugar is refined but can now also be made in other ways too and is classed as an inverted sugar syrup.
That means that it is a combination of two simple sugars, glucose and fructose, and as it retains moisture better than "normal" sugar, it is often used in baking. All that is rather beside the point though; what does matter is that various other companies produce golden syrup in the UK, with many more doing so internationally.
Silver Spoon Golden Syrup: Vegan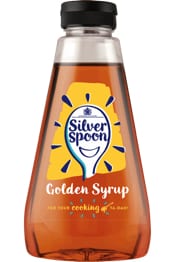 Owned by British Sugar, Silver Spoon is, of course, another major sugar brand in the UK and, not to be outdone, they too have a helpful, though very garish, FAQ. They state that,
All Silver Spoon products are suitable for vegans apart from Royal Icing Sugar, Fondant Icing Sugar, Icing Sugar, Granulated Sweetener, Sweetener Tablets and Truvia Tablets. Royal Icing Sugar contains egg. Fondant Icing Sugar and Icing Sugar may contain egg. Granulated Sweetener and Sweetener Tablets may contain milk from lactose as a result of packing in the factory.
That means that we can be sure their standard sugars have not been processed using bone char (read more about sugar and bone char). Most pertinently to this piece though, it means that their golden syrup is also totally vegan.
Ragus Golden Syrup: Vegan
The final major UK player worth mentioning is Ragus. Perhaps not as well-known as Lyle's (or Tate and Lyle's), or Silver Spoon, this company was actually founded by the man who invented golden syrup in the first place, Charles Eastwick. Who knew the sugar trade was quite so incestuous?
We won't bore you with the details of the company's formation but they state: "The current rise in veganism has also seen golden syrup increasingly utilised as a substitute for honey in a variety of products." Needless to say, their product is also perfectly suitable for vegans.
Golden Syrup Conclusion
Golden syrup is essentially a golden, treacly by-product of the sugar refinement process. It contains nothing but sugar and is not processed using any animal products or derivatives. We can't 100% confirm that every single golden syrup ever made is vegan but what we can categorically confirm is that the ones produced by Lyle's, Silver Spoon and Ragus are.
Given those three are the major producers, we suspect that they have the majority of the market cornered. On the off chance your favoured syrup isn't one of those three we would be highly surprised if it wasn't vegan but it may be best to check with the manufacturer just to be certain.