A full English/Scottish/Welsh/Irish breakfast – oh, shall we just call it a fry-up? – might not be something hugely associated with vegans. But a "veggie fry", as it is known here at Vegan Friendly, is a great way to start the weekend and most certainly doesn't need to include any animal products.
One can debate what components should make the perfect fry-up but for many the hash brown is worthy of inclusion. However, whether you eat it as part of a breakfast feast, alone as a snack, or as an element in any other meal of the day (well, perhaps not afternoon tea), the question remains: are hash browns vegan?
Most Hash Browns Are Vegan
Hash browns, for us, are part of the perfect veggie fry and, so yes, they are vegan. Great news for fans of this delicious, crunchy, potato snack. As with many foods, there are some caveats to that statement and they are the same ones that apply to many other apparently vegan items we have written about.
There is no law that states what can and can't go into a hash brown. Other products have protected status, for example, some wines (be they vegan wines or not) can only be made with certain grapes in a certain way. But there is no single recipe for hash browns, no Platonic ideal or archetype that allows us to categorically state that all hash browns are definitely vegan.
In the same way that we cannot say that all bagels (to give just one example from the Is It Vegan? section of our site), are vegan per se, we cannot say that all hash browns are. What we can say, however, is that a hash brown made at home to a traditional recipe is vegan. Moreover, we can go further and state that most hash browns one might encounter will also be vegan, be they pre-made frozen ones or items eaten in a restaurant (probably more of a café than a Gordon Ramsay affair!).
What Is a Hash Brown?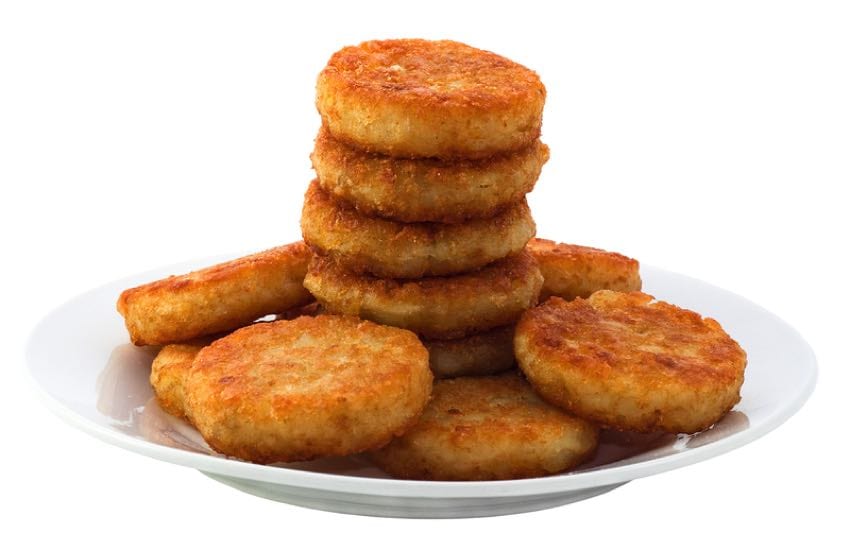 What, exactly, is a hash brown? They take many guises but we can be sure they are of American origin and that they are a relatively new addition to the world's potato-based options, having been most likely "invented" in the 19th century. We can also proffer that they are most typically eaten at breakfast, which in many ways differentiates them from other similar potato dishes.
According to the Online Etymology Dictionary, the name is thought to derive from the French verb hacher, meaning to chop up, which gives us a range of other hashes, including the French steak haché, which is essentially an upmarket burger that has lost its bun.
Versions Around the World
Initially called hashed browned potatoes, the Oxford Companion to Food states that hash browns are "small rissole-like cakes of cooked and finely chopped potato". There are many, many similar variations of the fried potato cake spanning a range of countries, cultures and religions. Such versions of the hash brown include the Swiss rosti, the Jewish (or should we say Polish?) latke, and the Irish boxty.
What's more, even when people agree on the name, there can still be significant differences. Some takes on the hash brown may use cooked, mashed potato, others use par-boiled cubes of potatoes (though these are as likely to be called home fries in the US as they are hash browns) and others start with finely julienned or grated potato that hasn't been pre-cooked at all.
Essentially though, two things unite just about all versions of the hash brown. First, they are either exclusively or predominantly made from potatoes. Second, said tubers are fried. So, whilst the hash brown picture is about as clear as mud, we can say they are: American (though possibly via France!), made from potatoes, usually eaten with breakfast and are fried.
Hash Brown Ingredients
Whilst defining what exactly a hash brown is takes a lot of effort, the ingredients used in almost all recipes are incredibly simple and limited. As we have essentially already touched on, hash browns are a very basic recipe that consists of little more than cooked potato, although more modern formulations do often contain onion, as well.
On top of that, you need an agent to cook them in and some seasoning, whilst some recipes do add flavourings, such as herbs or spices. In short, the ingredients for a hash brown are potatoes and fat, plus salt, with onions and certain flavourings as optional extras.
What Would Make a Hash Brown Non Vegan?
As such, they certainly appear to be vegan but the one obvious stumbling block, whether you opt to add onions or any other veg, and whether you add cayenne pepper or any other flavour, is the fat. Almost all recipes call for the potatoes to be fried but cooked in this way or baked/roast, many traditional recipes use an animal fat to impart flavour and richness.
Animal Fats
Using traditional butter, bacon fat, clarified butter or, as Nigel Slater favours, duck fat, will all lend the finished hash brown extra flavour but clearly all are unsuitable for vegans. Favourite of middle aged men everywhere, celebrity chef Nigella Lawson opts for a neutral vegetable oil and this is clearly the best bet for any vegans making their own hash browns at home.
If you like and want the particular flavour of olive oil that is also an option but that may be a little strong for some. As such, our pick is one of the healthiest vegan cooking oils, rapeseed, with a vegan butter substitute added to give a little of the buttery richness that helps make the perfect hash brown.
Milk & Cream
One other inclusion, that we find a little strange purely from a culinary perspective, is dairy. A small number of the hash brown recipes we have looked at, usually slightly older ones (though not traditional, 19th century ones), add either milk or cream to the potato mix. Clearly, as we explain in our Is Milk Vegan? article, this is a no-no for vegans. However, even for none vegans we don't really see the point as it seems counterintuitive to add liquid to a recipe where the aim is a crisp, crunchy end product.
So, given there is no need for dairy and there are plenty of vegan oils to choose from, if you are making these brilliant breakfast/brunch beauties yourself there really should be no doubt you'll have the perfect addition to a fully vegan veggie fry. But what about the hash browns available in supermarkets?
Are Shop-Bought Hash Browns Vegan?
Hash browns are not top of the list of items sold by specialist vegan and health food shops. In fact, to the best of our knowledge there are no hash browns specifically marketed as vegan, nor that target the vegan market.
The simple reason for that, though, is that the vast majority of pre-made, typically frozen, hash browns, are accidentally vegan. Because the hash brown is such a simple product and because they are ideally suited to being stored frozen, there is no real need to use any unusual flavourings, preservatives, emulsifiers or other additives that could possibly trigger any vegan alarm bells.
Moreover, the vast majority of frozen hash browns, in fact all but some speciality, supposedly "luxurious" ones, use a vegetable oil in their production. We suspect this is for reasons of pricing and possibly also the shelf life but either way, it means that the fat used to part-fry or bake the hash browns, is not usually a worry for followers of a plant-based diet.
Are McDonald's Hash Browns Vegan?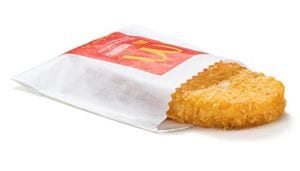 McDonald's do offer some vegan items and whilst many vegans would probably rather eat their own (vegan-friendly) pants than head to the Golden Arches, many others are quite partial to a bit of what Ronald offers. McDonald's shift a lot of hash browns and if you wanted to know whether or not their fried potato snack is vegan, the answer is… complicated.
There is conflicting information circulating on the Internet (is it not always thus?) and so we contacted McDonald's directly. Surprisingly, they were less than authoritative. Given they turnover around $20bn a year we might have expected a simple answer, either on their website or at least from the customer support team.
The website is of little use, stating that "Veggie Dippers, Happy Meal Veggie Dippers and some drinks and sides, including our French Fries, are certified as being suitable for vegans. Please see product pages for more information." Elsewhere their questions section states, "We are continuously reviewing our menu and product offering. We have a range of products approved by the Vegetarian Society, and have recently had our Fries and Veggie Goujons approved as suitable for vegans."
Unfortunately, the product pages offer no real help and so we gave them a call (on 3rd February 2020). The person we spoke to said that McDonald's hash browns are certified as vegetarian but not vegan but she couldn't tell us why they might not be vegan. When pushed she looked into and said it was down to the potential for cross contamination but we were left rather unconvinced.
Ingredients in a McDonald's Hash Brown
The product pages themselves list the following as ingredients:
Potatoes, Blend of Non-Hydrogenated Vegetable Oils (Rapeseed, Sunflower), Salt, Cornflour, Dehydrated Potato, Dextrose, Stabiliser (Disodium Diphosphate), Black Pepper Extract.
Prepared in the restaurant using non-hydrogenated vegetable oil.

They also state that hash browns may be cooked in the same oil as Red Pepper and Pesto Goujon, a product that is also listed as vegetarian but not vegan, though with no obvious non-vegan ingredients.
Proceed at Your Own Risk
In short, if we can make this claim after such toing and froing, it seems likely that McDonald's hash browns may be at risk of cross contamination from non-vegan items. If you aspire to level five veganism then you are best giving them the swerve until they can provide a more unequivocal answer.
On the other hand, if you're lovin' Ron's browns and are happy to eat items that may contain some minor animal derivatives or might have had contact with non-vegan goods, then keep on trucking.
Vegan Hash Browns
Annoyingly, many frozen products are labelled as being suitable for vegetarians (but not vegans), despite the fact that they are fine for vegans to eat. From looking at the ingredients and/or contacting the manufacturers, we take a look at the following major UK brands of frozen hash browns to see if they are vegan-friendly.
| Brand | Notes |
| --- | --- |
| McCain | Labelled as vegetarian, not vegan. Includes dextrose (about which there is some debate) but helpline confirmed (on 31/1/20) that this is vegan and "moving forward they will be labelled as vegan". |
| Tesco | Labelled as vegan… if only life was always so simple! |
| Asda | Another that is "Suitable for Vegetarians" but contains an unspecified "Flavouring", as well as dextrose. We are awaiting a response from their technical team. |
| Sainsbury's | Possibly made by the same people as Asda's, considering the ingredients and product info, however, their helpline stated that they would be labelled as vegan if they were and, that in this case, they are not. |
| Morrisons | Labelled as vegan. Well done! |
| Aunt Bessie's (Homestyle Mini Rosti) | Labelled as vegetarian. We emailed the company and they confirmed that these are "vegetarian" rather than vegan, however, no further explanation was given. |
| Birds Eye | Official website hosts the magical words "Suitable for Vegans". |
As you can see, hash browns are just one of an annoyingly large number of products where labelling seems stuck in the 1970s and vegans were not so much an afterthought as a total non-thought. That said, whilst many producers label their hash browns as vegetarian (and who knows if they are just vegetarian or vegan, as well?), there are at least a few good options that nail their vegan colours clearly to the mast.
Want to Hash Out Another Brand?
If your favourite brand of hash brown is missing from our list, just let us know and we'll look into it. We hope to have full and complete answers from the producers we contacted shortly so we'll update this piece in due course.
In the meantime, well done to Tesco, Morrisons and Birds Eye and to a lesser extent McCain, who at least gave us a quick response to confirm the vegan credentials of their "hashed browned potatoes", as your American great-great-great grandmother might have called them. Tuck into those brilliant frozen hash browns or make your own and the perfect vegan breakfast awaits!