Starburst, formerly known as Opal Fruits, have been the sweet of choice for many a child (and adult) over the years. But are these soft, fruit-flavoured chewy treats okay for vegans to eat? The good news is that there are no ingredients in Starburst (as sold in the UK) that are not vegan. So, yes, Starburst are vegan.
Of course, as with many foodstuffs, the story is not quite as clear as that last statement might suggest. Here we give you all the information you need about Starburst to make an informed decision about whether you want to give them a chew.
What Are Starburst?
Starburst Fruit Chews are cuboids (or rectangular prisms, if you prefer) measuring approximately 15mm by 15mm by 8mm, each one wrapped in wax paper. The original four flavours of the sweets were strawberry, lemon, orange and lime, but these have been expanded to include apple, blackcurrant, a combined lemon and lime, and plenty of other variations and special edition flavours, which appear from time to time.
Starburst sweets are made by the Mars Wrigley subsidiary of Mars, Incorporated, which is one of the biggest and most successful food companies in the world. Then called Opal Fruits, the chews were first sold in the UK in 1960 and soon grew in popularity. In the 1970s, their sales were helped by the advertising tagline, "Opal Fruits – made to make your mouth water", which was reputedly coined by motorsports commentator Murray Walker when he worked in advertising.
Starburst were introduced to the United States in 1967 with the name Starburst. It was not until 1998 that the name replaced Opal Fruits in the UK (much to the consternation of the many people whose feathers get ruffled by such things).
Are Starburst Vegan Friendly?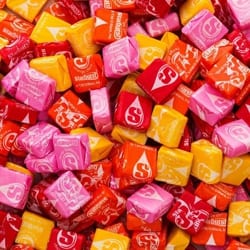 As mentioned, Starburst sold in the UK do not contain any ingredients that are explicitly non-vegan. As such, most vegans hold the opinion that Starburst are vegan friendly. There are some, however, who feel that the inclusion of palm fat (otherwise known as palm oil) means that these sweets cannot be vegan.
This is a point of contention amongst vegans (especially those who love Starburst!) and the final say on the issue must be left down to the individual. To find out the ins and outs of the palm oil debate, check out our Is Palm Oil Vegan? article.
The other ingredient that might ring alarm bells for some vegans is lecithin. Lecithin is a common ingredient that is added to various foods as an emulsifier or lubricant and it can be derived from animal or plant sources. Given that the Starburst packaging states the sweets are fine for vegetarians, we are confident the lecithin they use is sourced from plants (most probably soy).
Note that Starburst sold in other countries are sometimes made to different recipes and may contain non-vegan ingredients, such as gelatine or beeswax.
What Are Starburst Made From?
Focussing on the Starburst Original Fruit Chews product (we'll look at some of the other Starburst products later), there are a number of ingredients that are obviously vegan, such as concentrated fruit juices. Others, such as lecithin, might cause vegans to pause to consider their vegan credentials. So, let's take a look at all of the ingredients in Starburst Original, so we can highlight any possible non-vegan additions.
Ingredients of Starburst in the UK
| Ingredient | What Is It? | Is It Vegan Friendly? |
| --- | --- | --- |
| Glucose Syrup | A syrup made from the hydrolysis of some sort of starch | Usually, and we believe in this case, made from corn starch, so yes |
| Sugar | A soluble carbohydrate that is sweet-tasting | Only not vegan when processed using bone char, which it isn't in this case |
| Palm Fat | Otherwise known as palm oil, derived from the Elaeis genus of oil palms | Most vegans believe it is vegan friendly, others disagree |
| Concentrated Fruit Juices 1.4%* (Apple, Orange, Blackcurrant, Strawberry, Lime, Lemon) *Equivalent to 11.5% Fruit Juice | The juice of fruits that has had water removed for convenience | Yes |
| Citric Acid | A naturally occurring weak acid that is used as a flavouring in many foods | Can be sourced from citrus fruits or produced with the use of a specific fungus, Aspergillus niger, but either way it is vegan friendly |
| Modified Starch | A food additive created by treating starch (long-chain carbohydrate) chemically or with enzymes, used as a thickening agent or to change mouthfeel | Starch is sourced from plants so is vegan friendly |
| Malic Acid | An acid that is made by all living organisms that is added to some foods to affect flavour | Can be produced using plants or derived synthetically in the lab, so it is vegan friendly |
| Dextrin | Another product derived from starch that is used to enhance the texture of food | As with modified starch, ultimately derived from plants so vegan friendly |
| Maltodextrin | As above | As above |
| Antioxidant Ascorbic Acid | Another name for vitamin C that is added to some foods for its antioxidant properties (rather than the potential health benefits) | Vitamin C occurs naturally in many plants, but it is produced on an industrial level from glucose, which makes it vegan friendly |
| Emulsifier Lecithin | A fatty substance that is added to various foods as an emulsifier | Occurs naturally in animals and plants, but the lecithin used here is plant-derived, so vegan friendly |
| Anthocyanins | A flavonoid that occurs naturally in many plants that is used as a food colouring | Derived from plant sources so vegan friendly |
| Beta-Carotene | A pigment that occurs naturally in a number of plants that is used as a food colouring | Can be produced from plants or fungus and is vegan friendly |
| Spirulina Extract | A blue-green algae that is high in iron and protein | Algae is a plant so this is fine for vegans |
Other Starburst Products
While most people are familiar with the main Starburst Original sweets, there are a number of other products that fall under the Starburst branding. Here we go through the main ones and give an overview of whether or not they are vegan friendly.
Many of these products share a number of ingredients with the Original Fruit Chews, but we're on the lookout for any rogue additions, such as shellac or gelatine that might scupper their chances of being classified as vegan.
Note that the list is not exhaustive as there are occasionally other Starburst products that appear, sometimes in collaboration with other foods or products. The usual advice applies, namely to check the labels of any products with which you are not familiar. Also note that ingredients do change from time to time so there is a chance some of the products described as non-vegan might change in the future (and vice versa).
Are Starburst Minis Vegan?
These mini versions of the original Starburst Fruit Chews are increasingly popular, partly because you don't have to go to the trouble of unwrapping them!
Their ingredients are almost the same as those of the originals, with a little sweet potato and radish thrown in for good measure. As such, these are also fine for vegans to eat.
Is Starburst Chewing Gum Vegan?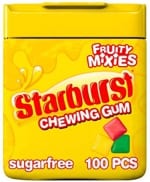 This sugar-free chewing gum contains various sweeteners including xylitol, but these are either plant-derived or synthesized in the lab so are vegan friendly. Carnauba wax is also added as a glazing agent, but this is derived from a specific palm that is native to Brazil.
As such, there are no ingredients that would trouble a vegan (any more than those that exist in the original Starburst). Check out our piece on chewing gum for more general information on other brands.
Are Starburst Jelly Beans Vegan?
Though not as readily available in the UK as some of the other Starburst products, they occasionally pop up for sale. But if you happen to find any online it is worth noting that some might be imported directly from the United States and these might contain beeswax.
For the same reasons that honey is not vegan, this would make the Starburst Jelly Beans unsuitable for vegans. The UK version, when available, appears to use the plant-derived carnauba wax instead of beeswax though, so they would be fine.
The main thing here is to always check the label when buying Starburst products, and refer to the Is It Vegan? area of our site if there are any ingredients with which you are unfamiliar.