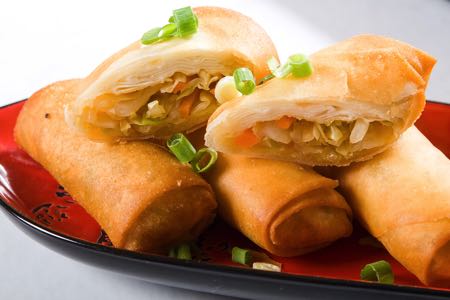 Spring rolls can be a delicious accompaniment to Asian cuisine of all kinds, or indeed just as a snack. They come in a whole range of guises and contain a variety of ingredients, but are spring rolls vegan? Well, as is so often the case, the answer is that some are and some are not. It doesn't take a vegan super brain to ascertain that a chicken spring roll isn't vegan. But what, aside from an obviously non-vegan filling, might make a spring roll unsuitable for those following a plant-based diet?
If you are presented with a spring roll there are four different factors to consider in order to decide whether the whole spring roll is going to be vegan friendly:
Let's take a look at each of those in turn to give you the best understanding of what might make a spring roll non-vegan. Of course, if you buy readymade spring rolls, then opting for a well-known vegan brand, buying from a vegan supermarket (TheVeganKind Supermarket, for instance, is really well stocked with vegan spring rolls!) or simply purchasing a spring roll that is labelled as being vegan will make things really simple (such as the Tesco own-brand Mini Vegetable Spring Rolls that can be found in the freezer section).
Equally, if you order spring rolls in a restaurant, there is every chance they may be labelled as vegan too. In this instance it might be worth asking about how they have been cooked though (see below for more info on this) as people have different standards, or levels of veganism and what the chef thinks is vegan might not match your own understanding of the concept!
Is Spring Roll Pastry Vegan?
As said, there are many different types of spring roll, with several countries in Asia having their own version of this tasty street food snack. On top of all the variations between nations – and even regions within those nations – we have further differences in interpretation as these treats have spread around the world, as well as different manufacturing practices when it comes to pre-made rolls.
What we're trying to say is that, once again, as is often the case, there is no single, simple answer. Life would be so much simpler if people didn't keep changing the rules and deciding to make their own versions of spring rolls!
That said, whilst we can't simply say that yes, all spring roll pastry is vegan, we can, thankfully, confirm that it usually will be. When most people think of a spring roll we suspect they think of a small Chinese-style spring roll that has been deep fried and has a crisp, golden casing.
Filo Pastry Is Usually Vegan
In this case the wrapper, as it is usually called, will have been made from either filo pastry or a something that is very much like it. As we explain in our Is Pastry Vegan? article, filo pastry is a bit of a vegan hero. It typically consists of just flour and water with a small amount of oil or vinegar included, as well. Whilst egg is very occasionally used, the vast majority of filo pastry is vegan friendly.
Traditional Chinese and Asian recipes are almost identical to filo but usually use a little salt and a much wetter dough that is applied directly to a hot plate, the thin layer effectively smeared to create a crepe-like wrapper. If that doesn't make sense you can see a great video of this process here.
As one might expect with a food that has been around for at least 1,500 years and that has spread around the world, there are many different recipes and techniques for making spring roll wrappers, as there are with filo pastry itself. However, what doesn't alter is the fact that they are vegan.
Whilst making your own wrappers is certainly possible, we suspect that all but the very best Asian restaurants probably buy them readymade. If you want to make your own vegan spring rolls we would certainly suggest that is the best option, with wrappers now available in just about every major supermarket, as well as specialist Asian shops.
When it comes to pre-made casings, usually sold frozen, we have frequently found the common bane of vegan shopping: the not-especially-helpful "Suitable for vegetarians" label. The ingredients list will be just three or four items, all seemingly vegan, but the labelling rarely gives the peace of mind some vegans necessarily seek.
Blue Dragon Spring Roll Wrappers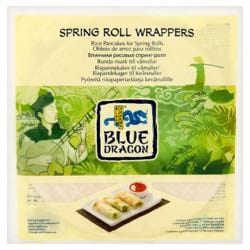 If you are happy that an ingredients list of, for example, Rice Flour, Tapioca Starch, Water, Salt, or, to use a different product, Wheat Flour, Water, Coconut Oil, Salt, is vegan, then great. However, if you have concerns about anything not specifically labelled as being vegan or expressly sold as vegan, then we can confirm that Blue Dragon Spring Roll Wrappers are vegetarian and marketed as such by Ocado, whilst also being available to purchase through TheVeganKind Supermarket, which is definitely good enough for us.
There are though, as we have said, many variations on the spring roll and whilst the filo-style, Chinese roll is most common in the UK, Vietnamese fresh spring rolls, sometimes called summer rolls, or, for the cunning linguists out there, gỏi cuốn, are becoming more and more widespread.
These use a thinner wrapper made from rice paper and are served chilled, or at room temperature. The wrapper is not cooked (at least not fried or baked after the initial preparation of it) and these are usually a healthier, lighter type of spring roll. In more good news, the "pastry" is also vegan, with the rice paper being a very simple mix of rice, water and salt.
As with the more common wrappers, these are available pre-made, though you will probably need to work a little harder to find them. That said, TheVeganKind Supermarket offers an excellent, organic rice paper from Yakso that makes it really quick and easy to produce a summer roll in virtually no time.
Vegan Spring Roll Fillings
Essentially you can put any filling imaginable inside a spring roll and someone, somewhere probably has. Fillings, such as chicken, prawn, pork and duck, are all very common. Sadly, there are no bonus marks for noticing that these are not vegan, but on the bright side at least with such spring rolls there is no doubt they are immediately off the menu for vegans.
Beware of Fish Sauce
It is when a menu, packet or host offers you a vegetable, or even a vegetarian, spring roll that you need to start earning those vegan bonus points. A vegetable spring roll could sometimes contain fish sauce, ubiquitous in many parts of South East Asia and definitely non-vegan. It could also contain other variations of dried and/or fermented fish or seafood or related condiments, such as oyster sauce.
It should be safe to assume that a vegetarian spring roll would be free from such flavourings but one can never be sure so checking the ingredients or asking the chef is advisable. Aside from these traditional Asian condiments the filling of a spring roll should not be a major concern (unless of course it is an obviously animal-based spring roll).
Of course, when it comes to the weird and wonderful world of modern food, "ready meal" spring rolls are certainly worth checking for non-vegan additions. In truth, these are unlikely to be in the filling but even so, checking for all the usual suspects is probably wise unless the spring rolls are specifically labelled as vegan.
Cooking Spring Rolls
Most spring rolls are deep fried and as with any deep friend product, or really more or less any cooked item, most vegans will want to be sure that their food has not been cooked using the same equipment or oil as non-vegan foods.
When it comes to shop-bought spring rolls that you either heat up in the microwave (you can't beat a soggy spring roll!) or warm in the oven, you can probably rest assured that they have been cooked in one of the many vegan-friendly cooking oils that has not been used for non-vegan items.
Separate Fryers
The bigger issue is likely to come in restaurants or pop-ups and street food trucks. Especially where space is scarce it may be tricky to have separate fryers and preparation areas. If you are eating in a vegan restaurant or from a vegan street food stall you can be assured that your spring roll will be vegan.
If that isn't the case and especially where the spring roll is only labelled as vegetable (or even vegetarian) then asking how it has been prepared is advised.
Is the Dipping Sauce Vegan?
It would be rather annoying to check that your spring roll is vegan and enjoy a delicious bite only to discover that that the sauce you had just dipped it in was actually non-vegan. A spring roll without a tasty dipping sauce is like strawberries without (vegan-friendly) cream, but making sure it is vegan is imperative.
The general rules apply in that if your spring roll has been provided by a vegan restaurant, truck or stall, you can probably safely assume the accompanying sauce is also vegan. Likewise with items labelled as vegan that have been bought in the supermarket.
Nuoc Cham is Not Vegan
But what about the sauces that might typically be served alongside spring rolls, both vegan and non-vegan? If you are travelling in Vietnam, one of the most traditional sauces you may be served is nuoc cham.
It is a flexible sauce served with a range of foods and dishes and in many ways has transcended Vietnamese cuisine. Sadly though, it isn't vegan, and as with many items in this part of the world, contains fish sauce (which contains, yes, fish!).
Sweet Chilli is Usually Vegan
Perhaps the most common sauce in the UK and many other countries is some form of sweet chilli sauce. This delicious condiment may be high in sugar but it is the perfect foil for many Asian dishes, the combination of sweet and heat working a tantalising treat. But is it vegan?
Most of the time sweet chilli sauce is indeed vegan but there are some things worth checking, especially for those who follow a plant-based diet in a very strict way. As with just about all processed foods that contain sugar, the strictest of vegans might want to make sure the sugar is vegan and not processed with bone char. Many products are now labelled as being vegan so we can assume their sugar is not processed in such a way but you would need to check with the manufacturer if bone char concerns you and the sauce is not expressly described as vegan on the label.
Aside from sugar, lots of it, and chilli, sweet chilli sauces tend to contain vinegar and garlic. You might find one or two other ingredients as well, and another that may concern some vegans is xantham gum. This is most probably vegan but could, in theory at least, have used animal-derived sugars as a starting point.
Blue Dragon Sweet Chilli Sauce Is Vegan
Other typical ingredients include tapioca starch, certain acids, lemon juice, salt, water and different types of sugar, for example glucose or fructose. None of these are problematic for vegans and many of the most popular brands, for example Blue Dragon, are sold as being suitable for vegans.
When it comes to homemade sweet chilli sauces we would definitely advise checking with the person in the kitchen. There are countless recipes for this tasty condiment and some include fish sauce, whilst others advise honey as the main sweetening agent.
Making Vegan Spring Rolls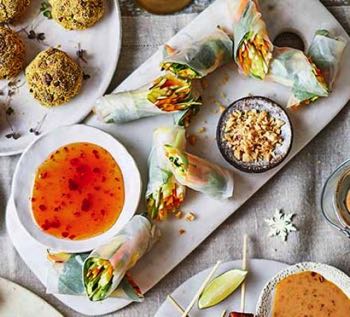 If all this talk of spring rolls has got your mouth watering then how about making some of your own? It's surprisingly easy, especially if you opt for using ready-to-roll wrappers or shop bought filo pastry. In essence, you just need to pick a tasty vegan filling of your choice, roll it up and either fry it, or if opting for fresh "summer" rolls, eat it! Accompanied by your vegan-friendly condiment of choice, this can be a quick and potentially nutritious lunch, snack or side dish.
Vegan Fillings
The fillings are not usually cooked before frying so even though they won't have the bacteria associated with raw meat, it is still important to cut the veg very fine. This helps them cook through as you want a bit of crunch but not totally raw veggies.
We suggest some very finely sliced carrots, spring onions and cabbage. You can use any veg you want really but it is best to avoid those with too much moisture, such as mushrooms or courgettes, as these can make your end product soggy, rather than crispy.
Herbs
Next you want to get in lots of flavour and you can use any herb you want really, although coriander, basil (or Thai basil) and mint are great. Lemongrass works well, as does garlic, ginger and/or chilli but these must all be cut very finely or minced. You can also add some vegan noodles to provide a different, slightly chewy texture and nuts for more variation, as well as a little protein.
Method
Make sure your wrappers do not dry out or they will break when you try to roll them. Place some of your mix into the centre of the wrapper and then roll however you like. The end product must be tightly packed, but not overfilled, with no air pockets and there must be no gaps for oil to get inside the roll. Then you're good to start frying as per the instructions on the wrappers and within minutes you should be able to enjoy delicious, golden brown, crunchy vegan spring rolls.
BBC Good Food: Vegan Rainbow Spring Rolls
If you are more of a follow-a-recipe sort of a kitchen operator, or fancy a lighter snack, then we have found this BBC vegan rainbow spring rolls recipe to be rather delicious and very easy to follow. As with most recipes, you can play around with the ingredients and tweak it to create your own perfect vegan spring rolls. As this is a no-cook spring roll we switched in rice paper wrappers but we assume it would work without. These fresh rolls are very healthy, which means you can eat more, so enjoy!