We cannot be sure of the origins of the crumpet with many sources suggesting it may be a Welsh invention. This yeast-raised bread is eaten all over the UK and whilst there are some regional variations in terms of naming and recipe, we have good news for vegan crumpet lovers: many crumpets are vegan friendly!
Unfortunately, whilst many crumpets are, there are also plenty that are not, so things are not wholly straightforward. As we explain in our feature Is Bread Vegan?, there are many ingredients that can make some breads and bread products unsuitable for those on a plant-based diet.
Dairy Milk Is the Main Offender
Whether you think crumpets are a type of bread or not – and that's a debate in itself – the thing that tends to make them non-vegan is the inclusion of dairy products, specifically milk or buttermilk. Thankfully, as is the case with most breads, when it comes to crumpets it is usually quite easy to ascertain if they are vegan or not.
The milk or buttermilk is rarely hidden in the form of an unusual food additive or alternative name and will be simply listed as an ingredient. What's more, due to its potential as an allergen, the inclusion of milk is usually very clearly indicated, as it is even if there is a possibility that the product may contain it milk.
What Are the Ingredients in Crumpets?
There are loads of crumpet recipes out there and it is very easy to find versions that are vegan and equally ones that are not. When it comes to bread and baked goods though, Paul Hollywood is a good place to start and his crumpet recipe is obviously non-vegan (in that it contains milk).
Paul Hollywood's Recipe
The ingredients are:
175 g plain white flour
14g yeast
1 teaspoon caster sugar
350ml warm milk
150-200ml tepid water
1 teaspoon bicarbonate of soda
1 teaspoon salt
Oil
Another TV favourite and British institution, Jamie Oliver, also uses milk, and the Guardian's guide to the perfect crumpet analyses a number of recipes and finds that, in fact, most recipes do. That article noted that, "Thrifty Rhodes mixes his dough with water, while Smith uses milk. The others mix milk and water – David slightly more water than milk, and Parle 1:5 ratio of water to milk."
The chefs and recipe-writers in question were Gary Rhodes, Delia Smith, Elizabeth David and Stevie Parle, so clearly people who know their stuff. The article explained that:
The main difference comes down to flavour – Rhodes' crumpets are noticeably blander than the rest – rather than texture, as I'd expected. Generally milk softens as well as sweetens, but Smith's crumpets aren't squidgier than the others. I do think water helps the top and bottom to crisp during cooking, however, so, like Parle and David, I'll be using a mix, this time weighted towards milk.
This is interesting because clearly it shows that milk (or any other dairy variation) is not vital. Indeed, as said, lots of recipes for crumpets (including, of course, that from Gary Rhodes) do not include milk. We'll look at some vegan crumpet recipes later in the article and see which alternatives to dairy milk can be used.
Other Non-Vegan Ingredients
In practice, we rather suspect that the vast majority of crumpets consumed in the UK are not homemade, be that by the person eating them, or even by a chef in a hotel, restaurant or café. As a nation, we may love to watch Paul Hollywood on the Great British Bake Off but for something like a crumpet that is so easy and inexpensive to buy, we think few people will actually regularly make them from scratch.
We rather think that a very well-known baker by the name of Warburtons and perhaps another called Kingsmill are responsible for most crumpets eaten in the UK. The ingredients in mass-produced crumpets of course also vary and once again some are vegan and some are not, as we shall see below.
Before we look at the ingredients in those commercially baked crumpets, let us consider if there is anything else we should be aware of when it comes to recipes for crumpets to make yourself. If you are eating a crumpet in a hotel or restaurant it would always be best to check with an employee whether or not they are vegan. But what about when a friend or relative makes one, or you decide to have a go yourself? Is there anything other than milk for which you should be on the lookout?
Flour & Sugar
Among the ingredients listed above are flour and sugar and on the face of it these would seem to be vegan. However, as we explain in the relevant articles, both may actually be processed using animal derivatives. This is increasingly not a practice used when it comes to sugar and is even less common for flour, but it is worth being aware of.
Of course, if milk is an ingredient, you don't need to concern yourself with this as the end product will be non-vegan anyway; but if not it may be worth checking. Yeast, being alive, may concern some but this is vegan and for those unfamiliar with exactly what bicarbonate of soda is, they can rest assured that this too is vegan friendly.
Butter
Aside from these issues and milk, as already said, some crumpets call for the use of buttermilk (the milk-derived liquid left over from butter-making). Some also include butter itself and whether this is included in the recipe or is used for greasing the tins the crumpets are cooked in, it is obviously going to render the end product non-vegan.
Vegan Crumpets
Despite these seemingly countless issues and concerns, it is actually pretty easy for a vegan crumpet lover to get their fill. When it comes to commercially baked crumpets, some of the major brands available in just about every supermarket are vegan.
Warburtons: Are Vegan!
One of the most famous UK baking companies is Warburtons. These bready Bolton behemoths, founded in 1876 and still owned by the Warburtons family, produce vegan approved crumpets. The ingredients are:
Wheat flour
Water
Yeast
Raising Agents: E450, E500
Salt
Sugar
Preservative: Calcium Propionate
The wheat is fortified with calcium, iron and other nutrients that some vegans may struggle to obtain too. So, given these are Vegan Society-approved too, these are clearly a cracking choice, although it should be noted that despite that Vegan Society accreditation they do state that they are "Produced in a bakery which uses milk, sesame seeds, soya and egg."
Kingsmill Crumpets: Some Are Vegan, Some Are Not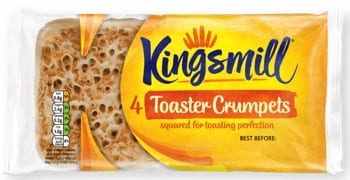 The standard run of the [King's] mill (see what we did there?) crumpets are marketed as suitable for vegetarians but their ingredients are actually very similar to those made by Warburtons. There is no milk and indeed no animal-derived items at all listed on the ingredients. The allergy information for these states that they could "also contain Milk and Soya" but this is almost certainly the same risk of cross-contamination you would get with Warburtons' crumpets so many vegans may deem that acceptable.
The Kingsmill 'Toaster Crumpets', however, specifically indicate they are suitable for 'Vegetarians and Vegans' on their website, so those should be absolutely fine. Beware the Kingsmill 'Crumpet Thins' and 'Rolling Crumpets', however, as these both contain buttermilk and egg products in their ingredient lists.
Other Brands
In addition to those two major players, there are some smaller companies making similarly vegan crumpets and others that make ones that are more specifically sold as being vegan friendly. In addition several supermarkets, including Morrisons, produce own-brand crumpets that once again are ostensibly vegan aside from the allergy risk of cross contamination.
Making Vegan Crumpets
Whilst there are of options for vegans wanting a simple life and a ready-made crumpet, for those who enjoy cooking and love total control of what they eat, making your own vegan crumpets is actually relatively simple. As we have seen, some crumpet recipes are naturally vegan and simply use water instead of any dairy ingredients.
There are other slightly more complex "deliberately vegan" recipes out there and these tweak the traditional ingredients, removing milk whilst aiming to maintain the light, aerated texture and maximise the flavour. Most simply make a straight swap and use a plant-based milk instead of dairy, which is an obvious solution. Soy milk seems to get the nod most frequently, although oat also works well. Others use a combination of milks whilst some include lemon juice as well!
Ultimately whatever you use, as mass bakers, such as Warburtons have proved (this is a poor baking pun in case you missed it), very fine vegan crumpets can be made without the use of dairy. The next question is how to serve them…
Best Vegan Crumpet Accompaniments
The traditional way, as far as we are concerned, to eat a crumpet is toasted with lots and lots of butter. Obviously, this isn't an option for a vegan although increasingly there are some very good vegan butters available from specialists shops and even big supermarkets. In addition to those, there are a number of other vegan spreads and these are also good options for a vegan take on the classic buttered crumpet.
Another brilliant option that we think goes perfectly with crumpets is marmite. As we explain in more detail elsewhere on the site, Marmite is vegan and extremely nutritious too. Its salty, umami hit goes perfectly with a hot, toasted crumpet and is popular with culinary experts the world over. And Danny Dyer.
Nut butters are also extremely tasty atop a cratered crumpet, whilst those with a sweeter tooth should opt for jam. Vegan crumpets, vegan accompaniments, vegan heaven!
Conclusion: Avoid Milk for Vegan Crumpets
Strange as it may seem, most mass-produced crumpets are vegan, even though the majority of traditional recipes actually call for milk or some form of dairy. Whether you are making your own crumpets, eating readymade options bought in a shop or consuming them in a restaurant or other outlet, the only thing to really look out for is milk and its derivatives. Avoid those and your crumpet will almost certainly be vegan.