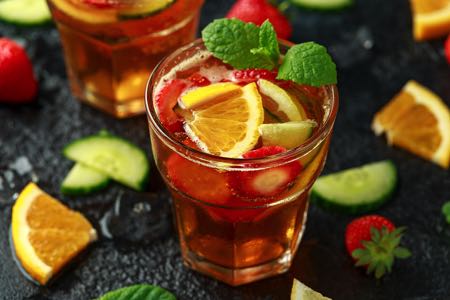 What could be more indicative of a British summer than sipping Pimm's and lemonade, complete with strawberries, orange, fresh mint and cucumber, in a sunny garden? Well, maybe sipping it with one eye on the grey clouds forming in the sky and an English player losing at Wimbledon on TV in the background.
But let's stay firmly within the blue-skied fantasy for now, a fantasy in which the weather is clement and the time is always Pimm's O'clock. But for all the vegans out there, there is one crucial question that must be answered before we quaff this fruity, gin-based beverage: is Pimm's vegan? Well good news: yes, Pimm's is indeed vegan, and so is the traditional method of serving it – as detailed above.
Though we cannot say for certain exactly what ingredients are blended together to make Pimm's (more of which later), we are 100% confident that they do not contain any animal products based on the manufacturer's responses to queries on the subject.
Pimm's Ingredient Clarification
We sent an email to Diageo plc (the giant drinks company that has owned Pimm's since 1997) to ask them to clarify the position to ensure nothing has changed recently and they responded thus: "In answer to your query no animal products are used in the manufacture of any of these products. Therefore Pimm's is suitable for vegetarians and vegans."
When we refer to Pimm's, we are referring to the original Pimm's No. 1 Cup, but the other drinks made by Pimm's (as detailed below), including the Pimm's Ready to Drink option that is available in cans and premixed with lemonade, are also vegan.
So, that's that then. If you just wanted to double check before heading into the garden to get stuck into a jug of this refreshing summer beverage, fill your boots. If you would like to know more about Pimm's, including a brief history and some of the alternative products out there, read on.
What Is Pimm's?
Though many people refer to Pimm's as either a liqueur or a cocktail, it is actually a type of drink known as either a fruit cup or a summer cup. These are traditional English drinks that use a spirit (usually gin) as a base and which are infused with various spices, fruits and botanicals in order to produce a drink that is supposed to have a mixer (such as lemonade) added to produce a long drink, with roughly one part fruit cup (e.g. Pimm's) to three parts lemonade (or similar).
The exact ingredients of Pimm's, or Pimm's No. 1 Cup as the original drink is technically termed, are not public knowledge. This is because under EU regulations relating to drinks labelling, "Alcoholic beverages greater than 1.2% ABV are exempt from ingredient list and nutrition declaration requirements", so Pimm's can keep their recipe secret from the masses (and their rivals).
Note: Pimm's No. 1 Cup contains 25% alcohol by volume. We hope it goes without saying, but we'll say it anyway: alcoholic beverages are to be consumed by people aged 18 years or older in the UK (and, of course, folks, please drink responsibly).
A Brief History of Pimm's
Pimm's has a rich history that goes way back to the first half of the 19th century, and though some sources suggest the original Pimm's drink was invented in 1823, it was not until 1840 (as stated on the drink's label) that it was officially offered to the public.
It was invented by James Pimm, a farmer's son from Kent, who opened and ran a number of restaurants in London, initially with an oyster bar. He reportedly developed Pimm's as a drink to accompany oysters and other shellfish, though evidence for this is sketchy at best. One thing that is clear is that Pimm didn't rest on his laurels once he had invented the original gin-based No. 1 Cup. His company developed other Pimm's drinks over the years, using different spirits as the base in each case as follows:
No. 1 Cup – Gin; Years produced: 1840 to present
No. 2 Cup – Scotch Whisky; Years produced: 1851 to 1970
No. 3 Cup – Brandy; Years produced: 1851 to 1970
Winter Cup No.3 – Similar to the original No. 3 Cup; Years produced: 2005 to present
No. 4 Cup – Rum; Years produced: 1935 to 1970
No. 5 Cup – Rye Whiskey; Years produced: 1964 to 1970
No. 6 Cup – Vodka; Years produced: 1970 to present
Vodka Cup (No.6) – Vodka; Years produced: 1970 to present
So, aside from the original No. 1 Cup, only the vodka-based rebranded version of No. 6 Cup and the Winter Cup rebranded version of No. 3 Cup are available these days (aside from any spin-offs or special editions that might appear from time to time). Note that in the past the original Pimm's No. 1 Cup was branded as "The Original Gin Sling", which might give some clues as to some of the ingredients.
Pimm's Recipe Ideas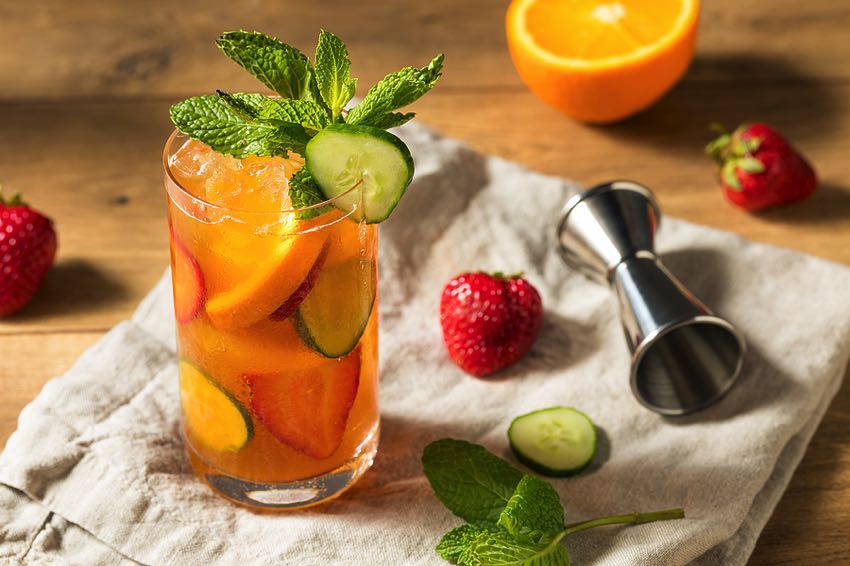 Essentially, you can mix Pimm's with whatever you like, but there are some specific recipes that have become popular over the years, not least because they are listed on the official Pimm's site.
The first four are straight from the Pimm's site, with one or two others thrown in for good measure that we've created ourselves. Really though, you should let you imagination go wild as the relatively subtle Pimm's flavour blends very well with a wide range of other flavours.
The Original Pimm's No. 1
This is the drink most people would associate with Pimm's and the kind of thing that might be served at summer garden parties, barbecues or Wimbledon (to fans not players!).
One part Pimm's No. 1 Cup
Three parts lemonade
Strawberry, orange and cucumber chunks
Sprig or two of fresh mint
Plenty of ice
Simple add it all to a jug, give it a stir and serve.
Pimm's Royale
An elegant, refreshing drink, to be served in a Champagne flute (even if you use Prosecco!).
25ml Pimm's No. 1 Cup
Top up the glass with Champagne or Prosecco
Garnish with a strawberry
Check out our Is Champagne Vegan? article to suss out the best vegan Champagne, Cava and Prosecco options.
Pimm's No. 1 Spritz
There's a common theme here: refreshing summer beverages. And, this is another that's sure to hit the spot as the mercury rises. Serve the Spritz in a wine glass with plenty of ice.
50ml Pimm's No. 1 Cup
75ml lemonade
25ml Prosecco/Cava
Garnish with cucumber and fresh mint
Pimm's Sundowner
For a slight twist on proceedings, try the Sundowner: serve in a tall glass again with plenty of ice.
50ml Pimm's No. 1 Cup
150ml ginger beer
Add a squeeze and a wedge of lime
Pimm's Passion
A slightly more tropical twist on the original here, using passionfruit to jazz things up. Serve in a tall glass with ice.
50ml Pimm's No. 1 Cup
50ml passionfruit puree or juice
50ml Prosecco or Cava
Top up with soda
Garnish with passionfruit slices and a strawberry
What Are Some Alternative Products to Pimm's?
As previously mentioned, Pimm's is a summer cup or fruit cup drink, and there are plenty others available to purchase in the UK (though none are as well-known as Pimm's). Essentially. they fall into two categories: 1. bona fide versions of summer cups produced by established, quality alcoholic drinks makers, and 2. products that could be viewed by some as cheap imitations of the original, usually supermarket own-brand versions. That's not to say that the latter are any less tasty, but the ingredients and flavours vary so much that it will be a matter of personal taste which you prefer.
While Aperol is the new kid on the block when it comes to summer drinks in the UK, this Italian beverage is an aperitif rather than a fruit cup or summer cup, so – quaffable as it is – it doesn't feature here (though it is vegan, by the way!).
Note: In the table below, we give details of the main alternative to Pimm's. While we believe all these drinks are also vegan friendly, the producers do not need to list the ingredients (as mentioned above) so if in doubt, please check with the manufacturer. Pimm's usually costs around £15 for a 70cl bottle (though there are often supermarket promotions available, especially in summer).
Summer Cup/Fruit Cup Drinks Available in the UK
Drink
Notes
Plymouth Fruit Cup
Gin maker, Plymouth, launched their Fruit Cup in 2003, which is admittedly a little late to the party compared to Pimm's. It is well worth checking out though as it has a more complex flavour than Pimm's in our view (as well as an extra kick as it contains 30% alcohol by volume!).

They also give us a little more idea about what goes into the drink: juniper berries, orange peels, lemon peels, angelica root, coriander seed, green cardamom, orris root… all of which are vegan, of course. It's a little pricier than Pimm's at around £20 a bottle, but we think it's worth opting for on special occasions (which could include a sunny afternoon in the garden, frankly!).

Oxford Summer Cup
Produced for Morrison's supermarket and one of the cheapest Pimm's alternatives out there, it might be a little too sweet for some, but there's no disputing its value at around five quid a bottle.
Tesco Summer Cup
The Tesco own-brand version is another good value option at around £8 a bottle, but again it lacks a certain something when it comes to depth of flavour.
Ableforth's Summer Fruit Cup
Lurching to the more premium end of the scale we have Ableforth's Summer Fruit Cup that weighs in at around £26 a bottle. Apparently they "macerate then vacuum-distil fresh strawberries, cucumber, orange and mint" to make it.

Whether all that palaver adds up to a drink that is superior to Pimm's is open to question though. Still, it's worth a try if you find it in your local wine shop.

Asda Summer Cup
A fairly forgettable drink that would fit the bill if quantity rather than quality was the order of the day, the Asda Summer Cup is priced at £7.50 per bottle. It can have a bitter aftertaste if too much is added.
Austin's Classic Summer Punch
Aldi's answer to Pimm's is a bit weaker at 17% alcohol by volume, but it actually tastes quite nice and at around £7 a bottle it is a little cheaper than the original. The problem seems to be that it isn't available in all Aldi stores and, when it is, it seems it is only on the shelves for a few weeks a year.
Pimm's Is Refreshingly Vegan
Pimm's is both refreshing and vegan friendly, and though there are plenty of alternatives, as detailed above, there is no doubt that the original is still holding its own against the younger upstarts. So, if you're seeking a tasty vegan beverage on a summer's afternoon as you while away the hours listening to music and reading the Sunday papers, you could do a lot worse than reaching for a glass or two of Pimm's.