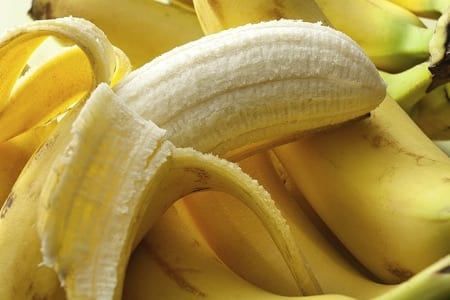 The world is a deeply confusing place. Even if we can put aside huge issues like the climate crisis and global pandemics which can easily overwhelm and discombobulate, countless smaller issues can bewilder and befuddle. And vegans, you can now add the issue of whether or not to eat bananas to that seemingly endless list of existential puzzles.
Can bananas really be non-vegan? Well, we've looked at many surprising foods in our Is It Vegan? feature and also have an article dedicated to surprisingly non-vegan items, so it takes a lot to, well, surprise us these days.
But yes, unbelievable as it may sound, some bananas are indeed unsuitable for vegans! Items can be rendered non-vegan in a host of ways, not just when animals (or strange additives made from them) are used as an ingredient. Animals, or their derivatives, may be used in the manufacturing process, as is the case with some Champagne; some foods rely on the exploitation of animals, such as honey (and arguably almonds and other crops that utilise managed pollination practices); whilst other items may be ruled out due to the use of animal testing.
Why Are Some Bananas Not Vegan?
The reason that bananas might be on the vegan naughty step is because you could well be eating, or at the very least coming into contact with, chitosan. We have mentioned chitosan, sometimes called chitin, in other articles, including our feature on whether or not wine is vegan. It has a range of uses and in winemaking is sometimes used for fining (filtration), whilst it also has medical and agricultural applications.
The key issue for vegans is that chitosan is most commonly produced from the shells of crustaceans, such as prawns and crabs. It can be made from fungi and indeed there are a number of companies producing vegan chitosan. We examine this briefly later in the article, but at the present time, to the best of our knowledge, the vast majority of commercial chitosan is produced using animals.
What Is Chitosan Used For?

It seems a little bananas (for want of a better word) that your nutritious, fibre-rich, potassium-packed, vitamin B6 powerhouse the humble banana might contain crabs and prawns, but is it true? Well, first of all, we should note that in order to produce chitosan, there are many steps between the animal and the end product. First of all, chitin – a naturally occurring polymer – must be extracted from the crustaceans' exoskeletons. This is then treated with an alkali, often sodium hydroxide, before undergoing further processing to create chitosan.
On the one hand, many vegans will deem this irrelevant as the starting point is still an animal but on the other it is very clearly different to "eating crab". Second, the chitosan is not actually eaten as it (or rather a solution containing it) is applied to the exterior of bananas, so unless you consume the skin, you won't be actually eating it. Whilst you can eat banana skins and they deliver extra fibre and potassium, most people, in the UK at least, do not consume them.
Once again though, to many vegans, this point will be moot: whether they eat the chitosan or not, the fact that it has been used at all will mean stricter vegans will consider a banana treated with chitosan to be non-vegan.
What Does Chitosan Do to Bananas?
A question which most people would feel compelled to ask at this stage might be, "Why are they spraying prawns onto my banana?" As with so many farming and food-retail practices, it is to do with making the fruit look more attractive, extending the shelf-life and – by happy coincidence – increasing profitability. In fairness, such moves do often lead to reduced wastage so perhaps we are being a little cynical in suggesting money is the only motivation.
Bananas are prone to browning and over-ripening. This enzymatic browning is down to a gas called ethylene, which naturally helps most fruits ripen. Its role as a plant hormone is well known but bananas actually produce more of this gas as they ripen which means they can very easily become too ripe and turn rotten.
There have been lots of studies proving that chitosan does extend the shelf-life of bananas (that is just one, but there have been several). This particular one, carried out by the University of Surabaya in Indonesia concluded that, "The shelf life of banana fruits could be prolonged up to several days upon the application of chitosan edible coating. In general, chitosan coating could reduce weight loss and delay the vitamin C loss."
It also helped with regards "desirable sensory analysis" (making the banana look, smell and taste better for longer). By "retarding its over-ripeness prior to consumption", chitosan was a highly effective way of making the route from field to consumer more efficient.
Chitosan is used because it is non-toxic, biodegradable and also anti-microbial. Further antibacterial properties make it a seemingly perfect way of extending post-harvest shelf-life and it is now very widely used.
It may surprise, concern and even upset many vegans but chitosan has been used for some time. The first research into chitosan use on bananas took place in 2012. It is unclear exactly when it became a mainstream practice but certainly if you eat bananas, you may well have come into contact with this substance.
Is Chitosan Really Used?
We have undertaken further investigation into this issue and it seems chitosan may not actually be widely used, if indeed at all. It is increasingly difficult to separate fact from fiction and the way the Internet works can make things even more problematic. A story gets reported and as more and more websites work from the same information the facts can get distorted. As the info gets "passed down the line", not only can it get increasingly inaccurate, perversely it also tends to take on more authority too.
This, unfortunately, is what we feel may have happened with the idea of chitosan being used to coat bananas. There is no doubt at all that research has shown that chitosan can extend the shelf-life of bananas. Equally there is no doubt that this was widely reported in the mainstream media, including in many respected publications.
However, what many sites and print media outlets have done is take the research that showed chitosan was effective and then go much further to make blanket statements about its use. We contacted a number of supermarkets and banana producers to ask about their use of chitosan. We specifically asked about it in relation to its use post-harvest, as opposed to its use as a biopesticide or growth enhancer.
What Tesco Has to Say
Rather unhelpfully most didn't get back to us at all, but some did. Tesco gave us a very thorough answer that ended by saying,
We feel that Chitosan is a useful addition to our grower's Integrated Pest Management systems. Removing its use may require the use or alternate pesticides that may have greater impacts on the environment, worker safety and food safety. We will not therefore ask our growers to stop using it, just modify the timing of their applications.
Their full response was perhaps a little more detailed than we would want, truth be told! They also stated, "What we can say is that there would be no more presence of animal by-products than there would be when using animal manures to fertilise organic field crops." We pressed them for further clarity and on 1st July, 2020 they replied saying, "I can confirm it [chitosan] is not used post-harvest on any of our products." Nice one Tesco!
What Waitrose Has to Say
Waitrose also got back to us (very quickly too – thanks, guys!) and gave a pleasingly simple answer. On 27th June, 2020 they told us, "I've been in contact with our buyer, who told me that chitosan or other products derived from shell fish or other animal material are not used in our banana production."
Whilst it is possible that Tesco and Waitrose are anomalies, we find that quite hard to believe. The more likely scenario, we suspect, is that for whatever reason the use of chitosan to coat bananas and other fruit has not been widely adopted, or possibly not even implemented at all.
We can't be sure about this and so in essence our advice remains unchanged. We feel many vegans will view chitosan's use within agriculture as acceptable, whether that is pre- or post-harvest. If you do not go along with that view, however, then asking the retailer is the best way to make sure (and if it's not Tesco or Waitrose, good luck with getting a response!).
Are Organic Bananas Vegan?
Lots of internet sources argue that the best way to avoid chitosan is to eat organic bananas. However, we have our doubts about this for two major reasons. First of all, as we discuss in our article about organic food and veganic farming, lots of organic farms replace chemical pesticides and fertilisers with animal-based ones.
These can include animal blood, bones, wool, fur and even dairy, whilst animal dung or manure is also often used. Clearly, some vegans will find such practices acceptable, but if that applies to you then we suspect the use of chitosan would also be satisfactory too. For the sake of clarity, we are not passing any judgement either way here, we are simply trying to provide the fullest and most accurate information to help you decide what feels right to you.
We cannot be sure of the exact procedures and protocols followed at the various organic farms around the world. If the use of animal-based fertilisers and the like concerns you then contacting the grower or retailer would be the best bet. However, even if you are happy with the banana from that point of view but are concerned about chitosan we still can't be sure you would be in the clear.
Whilst many (far be it from us to suggest less professional) websites, claim organic bananas are the way to go, we feel this rather overlooks one of the key perceived benefits of chitosan: it is organic! The National Organic Program in the USA ruled that chitosan could be used, at least as an inert adjuvant (something which helps the natural response).
So, to summarise, we would suggest that even if your banana of choice is organic, if the use of chitosan concerns you, the best course of action would be to ask the retailer, the producer or the distributor. Chiquita, one of the world's major banana growers, list vegan recipes alongside their organic bananas but it may be that they do not consider the use of chitosan as an issue, or that the application occurs further down the chain.
Is Chitosan Only Used on Bananas?
The research we quoted earlier from the University of Surabaya stated that, "Some researchers have suggested that chitosan has a good potential as a coating on fruits such as tomatoes, strawberry, apple, mango, avocado and banana fruit." The coating itself is edible and so there is no reason why it could not be used as suggested.
Clearly vegans and vegetarians are more likely to find this problematic than when it is applied to the (usually) discarded skin of a banana. Once again, at this moment in time, it is hard to find any definitive information on whether it is used in the growing and storing of other fruits. According to major supermarkets, Tesco & Waitrose, it is not used. So, we can't even be sure of its prevalent usage. But, if it is used, could they use it on other fruit?
Apples
One study did look at how it could be used to better preserve pre-sliced apples. It found that an edible chitosan coating helped limit microbial growth, stating that, "The presence of a chitosan coating is desirable, as it showed antimicrobial activity, which could have potential applications for edible films."
Strawberries
Another study came to a similar conclusion with regards strawberries and chitosan, summarising that, "Coating with cassava starch in association with chitosan enhanced the postharvest conservation of coldstored strawberry, provided reductions in mass loss and counts of psychrophilic microorganisms and yeasts and molds, and improved the appearance of fruits at the end of nine days of cold storage."
Inconclusive Evidence
Whilst we cannot find conclusive proof that chitosan is being used in these ways on produce sold in the UK, given the evidence seems convincing we strongly suspect it may be. What's more, whilst in this feature we have focused very much on chitosan's role post-harvest, it has actually been used for a longer period to help grow many crops, rather than just protect the edible portion at points along the supply chain.
History
Chitosan was first licensed for use in the USA by the government's Environmental Protection Agency in 1986. The EPA said that, "Chitosan is used primarily as a plant growth enhancer, and as a substance that boosts the ability of plants to defend against fungal infections," adding that it was "not expected to harm people, pets, wildlife, or the environment".
It was, and still is, viewed as an environmentally sound biopesticide that can reduce the use of chemical products. A biopesticide is a natural substance and chitosan can help plants use their own defences to better effect against pests. It is cost effective and is used in a very wide range of ways to help grow any number of fruits, vegetables, and other plants and trees.
It boosts a plant's defences, as well as enhancing growth and protecting against fungal diseases and moulds. Much as it sounds like a miracle treatment, for vegans, it remains problematic given its origins with crabs, prawns and other crustaceans.
Should Vegans Be Concerned About Chitosan?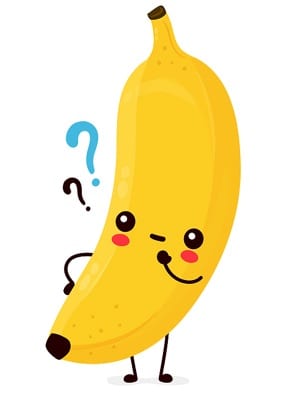 Chitosan is undeniably widely used in farming. Its use post-harvest on bananas and other fruits is less clear-cut. Following our investigation where we contacted major UK supermarket chains, Tesco & Waitrose, it's evident that Chitosan is likely not widely used at all and is most definitely not used at those particular supermarkets. So, if you're shopping at Tesco or Waitrose at least, your bananas should be Chitosan-free!
Most commercial chitosan is derived from animals and clearly many people who follow a plant-based diet for ethical reasons will find this problematic. If your concerns are health-based it is not really an issue, whilst those who are vegan for environmental reasons can probably also put any further enquiries to one side.
Our aim is to give you the information to make a personal decision based on your idea of what veganism is. For those aiming for vegan perfection, checking the provenance and farming methods used for everything they buy and eat is perhaps possible. Others may feel that their time would be better spent on other vegan issues, such as educating friends and family or lobbying the government or food manufacturers.
The animal-based nasty in question here is used in relatively small quantities and is usually derived from what would otherwise be a waste product. Indeed, one scientific paper looked at how unwanted elements from the modern seafood industry could be better used and focussed on chitosan.
This abundant polysaccharide, which can also be derived from molluscs, may be of animal origin but there are certainly no animals being specifically caught or farmed in order to produce it. This is not an argument to say that it is absolutely fine to use chitosan. In the same way that vegans do not generally accept the use of livestock by-products, we are not saying the issue should be ignored.
However, this fact could be part of a wider argument that suggests consuming fruit and veg that has been grown with chitosan or seen its shelf-life improved by it, may fall under the "possible and practicable" caveat of veganism.
Could Vegan Chitosan Be the Answer?
Chitosan seems to be very popular with food producers and retailers and with strong science backing up its efficacy it seems it may well be here to stay. There is no doubt that chitosan offers environmental benefits in reducing waste and the use of chemicals but for those vegans who still feel uneasy about the issue, a solution may be on the horizon.
Whilst this versatile ingredient is usually obtained from animal sources, it can be made from mushrooms, moulds and other fungi. Many companies make vegan-friendly chitosan on a commercial scale and what's more, it may well be a superior product than its non-vegan counterpart.
Strange as it may sound, we are not authorities on chitosan production and the authority we cite here may well be biased, given they make fungal chitosan, but they claim that their product:
Is better for the environment and uses fewer chemicals in processing
Is more efficient
Has low contamination
Is entirely non-allergenic
Is low on heavy metals
Offers homogeneous quality and better customisation
Makers of vegetal chitosan are well aware of the growth veganism is experiencing worldwide and especially in countries, including the UK and US. The vegan version of this substance has all the same qualities as the non-vegan and can be used in all the same ways. It makes commercial sense for those using this multi-functional polymer to switch to a vegan product in order not to limit their customer base. This is something we expect to see in the coming years and hopefully before too long animal-based chitosan will be the exception rather than the rule.