Sriracha, for those who aren't aware, is a rather addictive chilli sauce from Southeast Asia, chiefly Thailand and Vietnam. Like many such hot sauces, it typically contains chillies, vinegar, garlic and sugar, with lots of slight regional variations and differences between major brands. Clearly though, for those who follow a plant-based diet, the only thing that really matters is whether or not sriracha is vegan.
The simple answer is … there isn't a simple answer! As with probably 90% of the things we consider throughout our in-depth Is It Vegan? series, the answer is a mix of "yeah, but no, but yeah, but…". More specifically, when it comes to sriracha sauce it is probably simplest to say that most types of this delicious sauce are vegan… but some are not.
To understand why that is the case and what vegans should look out for, let's take a closer look at the ingredients of sriracha and what might make it non-vegan or could at least give a plant-based eater pause for thought.
What Is Sriracha Made From?
As already alluded to, the most common ingredients, found in almost all sriracha sauces are as follows:
Chillies – various different types of pepper can be used
Sugar
Garlic
Vinegar
On the face of it none of those ingredients would pose any issues for vegans. Moreover, sriracha does not use any processing techniques that rely on animal products so what might be problematic about this popular hot sauce?
Well, many simple recipes, or homemade ones, that only use the four listed ingredients, and perhaps salt as well, should be fine. There are some questions as to whether or not sugar is vegan and in truth finding out whether the sugar used in processed foods, such as sriracha, is vegan friendly can be very tricky.
If you want to be super-vigilant you should buy a sriracha that is specifically marked as vegan, or contact the manufacturer of your favourite sauce to check. Most vegans feel there are bigger battles to fight though, so in truth, when it comes to sriracha, sugar isn't really the major concern.
That said, if you really are keen to avoid sugar that has been processed with bone char then steering clear of one of the biggest brands of sriracha, Huy Fong, may be wise. They might change their production process in the future but at the time of writing they confirmed that their sauce is not vegan friendly. We emailed them to check and their response (2/12/2019) was:
Thank you for your interest. Unfortunately according to our sugar suppliers we are not able to be considered vegan.
Why Might Sriracha Not Be Vegan?
The biggest potential issue for sriracha-loving vegans who are happy to use a product without questioning the sugar comes from the addition of other ingredients. There are a range of items that sometimes find their way into what should be a relatively simple condiment. Whilst most of these might not fit everyone's idea of clean, natural eating, they are usually vegan.
Sodium Bisulfite (E222)
Xanthan Gum (E415)
Potassium Sorbate (E202)
Ascorbic Acid (E300)
Acetic Acid (E260)
Sodium Benzoate (E211)
Lactic Acid (E270)
Paprika Extract (E160c)
Monosodium Glutamate (E621)
The list above shows some common sriracha ingredients, which may be listed by name or their E-number. All of these are usually vegan, including lactic acid, which can confuse some people due to the name. However, as we explain in our feature on lactic acid, it is most likely to be vegan. Having said that, as with sugar, if you want to be 100% certain you would be better opting for a vegan-labelled sriracha or checking with the producer. Alternatively, just opt for a sauce that doesn't include lactic acid or E270 on the ingredients list.
Something Fishy Going On?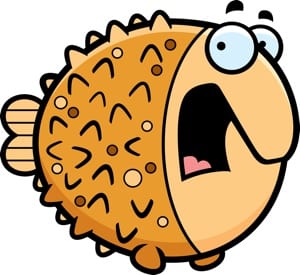 So, if the additives aren't an issue, and the core ingredients are (sugar, possibly, aside) fine for vegans, what else should vegan sriracha fans be looking out for? Well, in short, fish. Thankfully such ingredients will be easy enough to see and checking the label should make it very simple to ascertain whether or not your particular sriracha is vegan.
Fermented fish and shellfish products are very widespread in Thai and Vietnamese cuisine. Fans would praise the salty, umami depth of flavour these ingredients bring to sriracha. Vegans would obviously suggest that fish belong in the sea.
As an addition to sriracha the following are some of the terms used to list such ingredients and other similar non-vegan items:
Fish Sauce
Fish Extract
Anchovies
Nam Pla
Shrimp Paste
Dried Shrimp
As said, avoiding such non-vegan additions shouldn't be a problem, not least because there are lots of vegan-friendly srirachas out there.
Vegan Sriracha
Sriracha is now, as said, a mainstream product that can be bought in most major supermarkets. In such shops you'll probably encounter the US-produced Huy Fong, sometimes called rooster sauce in the States, or somewhat less appetisingly, cock sauce (thanks to the company's logo of a chicken).
However, if you venture to an Asian supermarket you will probably encounter an almost overwhelming selection of different brands. Equally, if you prefer to do your shopping online you can also access a whole host of different sauces. The Vegan Kind online supermarket even have a 30ml vegan sriracha keyring for when you want some spice on the move!
The following is a small selection of the various vegan srirachas that are out there, although as ever this is subject to change. Note that these are more western brands so if you are buying in an Asian supermarket we advise checking the label.
Waitrose Sriracha
Blue Dragon Hot Sriracha
Sauce Shop Sriracha
Eaten Alive Smoked Sriracha
Ninja Squirrel – This is hard to get outside the US but gets bonus marks for the name!
More Vegan Chilli Sauces
Sriracha is, in many ways, the new kid on the block when it comes to hot sauces. It became fairly common in US cooking around five years ago and began to pop up in the UK a year or so later. Of course, it has long been used in Thai and other cuisines of that region but all of a sudden sriracha was being used by Jamie Oliver, popping up in cafes and even in fairly basic pubs.
As with many things, chilli sauces are subject to fashion – it is a crazy old world in which we live! – and in some ways sriracha is already a little passé. Various sauces are being touted as the "new sriracha" and, of course, there were lots of chilli sauces that were popular back when sriracha was just a noise you made when you sneezed.
Anyway, here is a selection of our favourite chilli sauces, old and new, that (by and large, subject to the usual caveats) are vegan:
Tabasco
Frank's Red Hot
Cholula
Reggae Reggae
The Coconut Kitchen
Chilli Mash Co
Note that most of these brands offer a range of different chilli sauces to suit every occasion and every Scoville level. As far as we are aware most sauces within their ranges are vegan, and certainly the main flagship ones are.
How to Make Your Own Vegan Sriracha
As ever, if you have the time and inclination, the best option to ensure you have only vegan-friendly ingredients is to make your own sriracha sauce. Making sriracha is relatively easy and this will ensure you have total control over the vegan credentials of the finished product, not to mention the sugar levels, heat and quality of the ingredients.
Vegan Sriracha Recipe
Like most of the vegan recipes at our site, this is a flexible one, rather than a precise science, so feel free to play around with it. Getting the heat, sweetness and acidity just right is very personal but this is a great starting point.
You can try and make the sauce without the fermentation stage but it will yield a very different result. Doing it that way is quicker and easier but the end product isn't really sriracha, albeit still resulting in a tasty chilli sauce.
Ingredients
200g red jalapenos
100g red serrano chillies – unnamed chillies in supermarkets are typically serrano
2 cloves of garlic
15g of vegan brown sugar
6g of salt
35ml water
50ml white vinegar
Method
Blend – Blend all the ingredients apart from the vinegar until you have a smooth mix.
Ferment – Place mix in sterile glass container and cover with a clean cloth.
Relax – Place the jar in a cool dark place for four days, stirring every day and replacing the cloth lid with a clean one.
Cook – Add mix to a saucepan, add the vinegar and bring to the boil. Cook for five minutes, reducing slightly to your desired consistency.
Store – Put the sauce in a sealed, sterile jar and refrigerate
This sauce will keep in the fridge for weeks and gets better with age as the fermentation continues very slowly. Note that some people like to strain the mix before cooking to remove the bigger bits of pulp and seed but we prefer to leave them in. Enjoy!