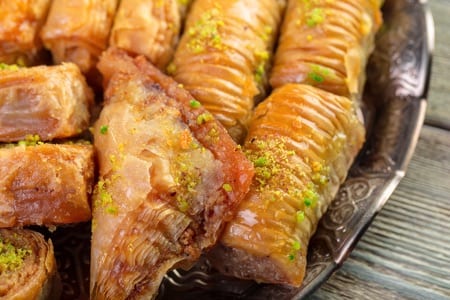 Anyone with a sweet tooth who has visited a Turkish, Greek or Middle Eastern restaurant will no doubt have sampled the pastry-based dessert called baklava. It is made using layers of filo (or phyllo) pastry (filo is great as it is naturally vegan), chopped nuts (often some combination of pistachios, walnuts and almonds), spices (cinnamon and/or cardamom are common) and with a sweet syrup as a finishing touch.
But if your mouth is watering at the thought of tucking into this rich delight, you are probably eagerly asking the question: is baklava vegan? The short answer is: it can be. But there are plenty of ingredients to watch out for that could render baklava non-vegan.
In this article, we will explain a little more about what baklava is, its origins, and the main things that are sometimes included in baklava recipes that would make it a no-go for those following a plant-based diet. We will also give a brief vegan-friendly baklava recipe in case you fancy making your own vegan version of this sweet delight.
Non-Vegan Ingredients in Baklava
Here we will delve into the animal-derived ingredients that could find their way into a baklava (or the process of making it). We'll split this into sections covering the pastry, the filling, the syrup and then 'anything else', that covers the processes involved in making baklava and the possibility of cross contamination with animal products.
What Could Stop Baklava Pastry Being Vegan?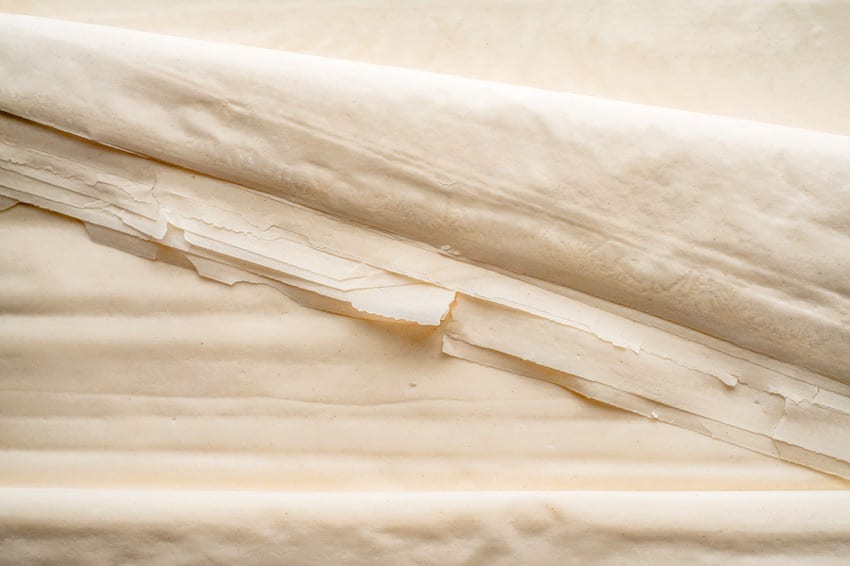 As already mentioned and as we discuss in our Is Pastry Vegan? article, filo pastry (that is, the type of pastry used to make baklava) is usually vegan, and though some filo recipes suggest the addition of egg yolk, most versions are made from flour, water and vegetable oil, with some also adding vinegar.
Butter
Of course, it doesn't have to be vegetable oil, and butter or another animal-derived fat could be used. But given that baklava has for centuries been made across the Middle East where olives are widely cultivated, it stands to reason that olive oil is the go-to choice of oil to use when making filo pastry. Other people may opt for walnut (or another nut) oil to add a slightly different flavour.
Palm Oil
Of course a lot of people making baklava will not go to the trouble of making the pastry themselves and will simply buy pre-rolled filo pastry. Most supermarket ready rolled filo pastry is actually vegan friendly, with sunflower oil often used (though note that some might opt for palm oil, which might be a concern to some vegans).
Other Non-Vegan Ingredients
Note that some pre-rolled pastry might also include some other non-vegan ingredients (or ingredients that could be non-vegan), such as L-cysteine or glycerol. If such ingredients are listed on a product that isn't specifically labelled as vegan friendly, it is best to avoid it (or check with the manufacturer).
L-cysteine: This amino acid is often used in bread and other such products and occasionally appears in pastry. While it can be produced from plants, it has been known to be made from animal hair or feathers, so best to avoid in general, even though it is rarely animal-derived now.
Glycerol/Glycerine: Another ingredient that often pops up in pastry that could have been made from animal or plant sources. Unless the product is specifically labelled as vegan friendly, it is best to avoid or check with the manufacturer.
Egg: Hopefully we don't need to explain why eggs would be a no.
Butter (or other animal fats): Always be on the lookout for butter or other animal-derived fats and oils that might have been used in shop-bought filo pastry.
E Numbers: There are often E numbers added to pastry that is sold in supermarkets, and these can sometimes be vegan and sometimes derived from animals. Check out our article that answers the question Which E Numbers Are Vegan? for more information.
Palm Oil: Palm oil is used in all sorts of food (and other consumer) products, and though it comes from a plant and hence on the surface would appear completely vegan, many vegans avoid it where possible because of the environmental impacts it has.
What Could Stop Baklava Fillings Being Vegan?
The fillings that are put between the layers of filo pastry in baklava are generally made up simply of chopped nuts with some spices added for extra flavour. As nuts and spices come from plants, it would stand to reason that the fillings of baklava are vegan (unless of course some unnecessary animal-derived ingredient had been added for some reason).
Of course, assessing the vegan credentials of foodstuffs is rarely cut and dried, and there is a growing murmur amongst the more ethically minded vegans out there that some nuts might not really be vegan after all.
For instance, as we discuss in detail in the Are Almonds Vegan? article, the use (and likely exploitation) of bees in the so-called "managed pollination" processes used by almond farmers could give grounds for many almonds to be classified as non-vegan. At present, more vegans than not appear to be siding on almonds remaining as vegan friendly, but this might well shift in time as people become more aware of how many bees are harmed by such practices.
What Could Stop Baklava Syrup Being Vegan?
Speaking of bees, the most common ingredient that renders the syrup used for baklava non-vegan is the inclusion of honey. Given that honey is an animal product and that it would otherwise be used by the bees themselves for food, any baklava syrup that includes honey is therefore not vegan friendly.
There is no need to fret though as there are many baklava syrups that don't need honey to give them the requisite sweetness. Many baklava recipes suggest using water, sugar and things like rose water, lemon juice, orange blossom water or some similarly subtle, natural flavour. If you are buying your baklava from a baker or restaurant, ask the staff to clarify what's in the syrup before you buy or order it.
Is There Anything Else That Could Stop Baklava Being Vegan?
As well as the items mentioned above there are a couple of other things that are not technically ingredients of baklava but which could render it non-vegan. For instance, before cooking the baklava it is usual to grease the tray in which it is cooked. While any plant-based fat (oil or margarine) could be used for this task, some people might use butter. As butter is obviously not vegan (having come from dairy milk), this would thus inevitably mean the baklava would not be vegan friendly as it would be coated in an (albeit small) amount of butter.
A similar issue is that of cross contamination in food processing plants in which baklava is produced on a large scale, in bakeries in which it is made in batches, or even in people's kitchens (for example someone making some to bring to a dinner party or event). Unless a baklava is clearly labelled and marketed as being vegan friendly, those concerned about the issue of cross contamination should check, although many vegans are happy to eat such products safe in the knowledge that there is no deliberate use of animal products.
A Brief History of Baklava
Like many foods that have been around for centuries, the exact origins of baklava are unclear and hotly disputed. Many cultures like to claim this sweet dessert as their own, with some (including US food historian, Charles Perry) suspecting it was developed in the imperial kitchens in Istanbul during the height of the Ottoman Empire during the 15th or 16th century.
Others, however, believe the origins of baklava – or at least baklava-like desserts – stretch a lot further back than that. There have been dishes of layered breads and pastries that have occurred as far back as Roman times, with their placenta cake being a possible forerunner of today's baklava.
Placenta cake consisted of layers of dough that were filled with cheese, bay leaves and, perhaps crucially, honey. Once baked, the cake was covered in more honey, and it is very possible that as the Roman Empire expanded into the Middle East, the basic placenta cake recipe was adapted to include ingredients more readily available (i.e. nuts) so that it better resembled the baklava we know today. This is a view put forward by food historian Patrick Faas in his 2005 book, Around the Roman Table, although it remains disputed.
How to Make Vegan Baklava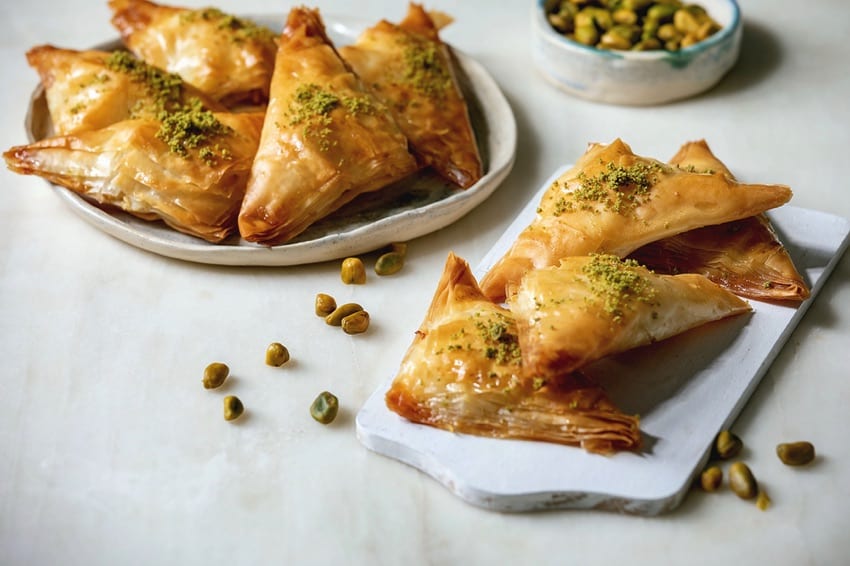 Making vegan baklava need not differ from making non-vegan baklava given that it might well be vegan friendly anyway. But clearly, there are things to opt for and things to avoid to keep your sticky delight suitable for those on a plant-based diet. Following these steps will allow you to create your own vegan-friendly baklava, and though it might not turn out to be perfect on your first attempt, it will get better the more times you try it and tweak it to your own personal tastes.
Vegan Baklava Recipe
Ingredients
In terms of the ingredients, this will depend whether you want to buy pre-rolled filo pastry (which we would recommend to most people, though if you fancy a challenge you can make your own). If you make your own, you would just need plain flour, water, olive oil and a little salt.
For the filling, choose two or three of your favourite nuts, with pistachios, pecans and walnuts all great options. Chop them finely using a processor, but don't let them get too fine or they might start to form a paste. You might want to add a little agave nectar or maple syrup for added sweetness and to help the chopped nuts bind together. Throw in some cinnamon and cardamom (both ground) too. For the syrup, you just need water, caster sugar and either rose water, orange blossom water or if you can't get them, a little freshly squeezed orange and/or lemon juice.
Method
In terms of the method, it is essentially a matter of layering sheets of filo pastry and the nut filling. The quantities of the ingredients you use will dictate how many and the thickness of the layers you have, and both clearly depend on personal preference. Here's an outline of the basic method required to make your own vegan baklava.
Preheat oven to around 180 degrees Celsius
Blend your nuts of choice so there is a good mix of sizes, some fine, others chunkier
Grease a baking tin with your vegetable/nut oil of choice and place two sheets of filo pastry into the tin, ideally with some pastry overhanging the edges slightly
Brush the pastry with a little oil and add enough of the nut mixture so that it lightly covers the pastry; add a light drizzle of maple syrup or agave nectar if desired
Add another sheet or two on top of the layer of nuts, brush that with oil and add more nuts (and maple syrup/agave nectar if you like)
Repeat the process until you have reached a thickness of about four centimetres (although traditional Greek baklava supposedly has 33 layers representing the years of Jesus's life)
Add two layers of filo pastry on top of the final layer of nuts, brush with nut/olive oil, and bake in the oven for around 45-50 minutes
Whilst the baklava is baking, add equal parts water and sugar (caster sugar works well, though you can use whatever sugar you like), a couple of tablespoons of lemon juice and orange blossom water (if available) to a pan and heat steadily until the sugar has melted and a syrup has formed
Once the baklava is a nice golden brown colour, remove from the oven and – whilst still hot – use a sharp knife to cut a diamond pattern into it
Drizzle the syrup over the baklava and then leave to cool before serving