In this article, we will be answering the question of whether or not mushrooms are vegan. Yes, really. Most people would deem this a rather silly question given mushrooms are often regarded as a vegetarian and vegan staple. But the second rule of Vegan Club (after "stop messing with animals") is that there are no silly questions. So, with that in mind, are mushrooms vegan?
Well, much as you might find some information to the contrary, we're happy to confirm that mushrooms are indeed vegan. For so long as there remains no legal, cast-iron definition of veganism, there will always be disputes and grey areas about what is and what isn't vegan friendly. Indeed, even if there was a definition written into law, no doubt it would be frequently contested.
We know some vegans claim that honey is vegan and others that believe that oysters are. However, the vast majority of vegans and vegan organisations would disagree on both of those. In the same way, whilst some adherents of a plant-based lifestyle might argue that we shouldn't consume mushrooms, we strongly suspect that the overwhelming majority of vegans would disagree and would feel that these nutritious fungi are fine to eat without contravening vegan ethics.
Why Might Mushrooms Not Be Vegan?
There are actually a few reasons why some people might wonder about mushrooms. One of these we can dismiss very quickly and easily and that is a concern over whether or not they are alive. Some people can get confused about what vegans can and cannot eat when it comes to live organisms including yeast and some bacteria-based edible items.
Concern Over Whether or Not Mushrooms Are Alive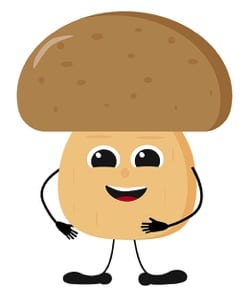 Well, mushrooms are indeed alive but they are not animals and this is the important bit as far as vegans are concerned. For a long time they were thought to be much closer to being plants than animals but in recent times scientific opinion has changed on this. Mushrooms are now considered to be closer to animals than plants in terms of their evolution, genetics, biology and chemistry.
Whilst they may have wrongly been viewed as more akin to plants in the past and are viewed differently now, the fact remains, they are not animals. There are six biological kingdoms (or seven in the view of some biologists), all of which contain organisms that are alive, including of course the many fruits and vegetables that vegans eat, which fall under the Plantae (or Plant) kingdom.
Mushrooms are part of the Fungi kingdom and are neither plants nor animals. Given they are not part of the Animalia (or Animal) kingdom, they are – other considerations aside – absolutely fine for vegans to consume. But what other considerations are there?
Do Mushrooms Eat Worms? Does It Matter If They Do?
For some time now there has been an argument that mushrooms, in particular oyster mushrooms and some other varieties, are predatory carnivores. The idea that fungi could capture prey dates back to the late 1950s but in the past 10 years or so scientists have begun to get a much better understanding of this.
An article in the National Geographic explained that, "More than 200 species have evolved into predators that ensnare and devour their own meat." For the most part such mushrooms trap and then "eat" worms known as nematodes.
Nematodes
Nematodes are often microscopically small but can be as big as seven metres long! They are the most abundant animal lifeform on the planet and amazingly it is thought that around 80% of all animals on Earth are from one species of nematode or another. Whilst some studies have suggested there may be as many as one million different types of nematode, the latest research indicates 40,000 species to be a more likely number. So, that's the nematode lesson over.
Photosynthesis
Mushrooms contain no chlorophyll, which is how plants obtain their energy from the sun through the process of photosynthesis. Instead, mushrooms obtain their energy and nutrients by breaking down organic matter.
They can synthesize this from any number of natural sources to get the sugars, proteins and other nutrients, including nitrogen, that they require. Most species obtain all that they need from non-living sources, including soil, leaves, dead trees and other plants, as well as from dead animals.
However, some species of mushroom also have sophisticated mechanisms they can use to trap nematodes should they not have access to these other nutrient sources. So to answer the first question within our subheading above, yes, some mushrooms do indeed capture, kill and consume animals.
Wild Mushrooms
Does this make them non-vegan? Well, first of all we should state that not all mushrooms have this ability to "hunt". The majority of species of mushroom do not capture and eat worms and, moreover, although it is hard to obtain concrete information on the matter, it would seem that it is only wild mushrooms that would need to do this.
Farmed Mushrooms
It is almost certain that farmed mushrooms are given sufficient nutrients for optimal growth and that insects, worms and other pests are deterred. The mushrooms will be grown on a controlled substrate that is rich in nutrients such as nitrogen. This is composed of vegan matter such as straw, wood chips, paper, coffee grounds and other plant waste, although animal manure may also be used. (Which could be another issue in itself for vegan as we discuss in our article Is Organic Food Vegan?.)
In all probability, the question of whether worm-eating 'shrooms are a problem only applies if you are eating wild fungus and only then if it is of a specific type. Oyster mushrooms have attracted the most attention in relation to the issue of worms and veganism and they are indeed a variety that is capable of catching nematodes. Moreover, whilst they are commercially grown, it is possible to obtain wild examples and they can be foraged too, being relatively common in UK woodlands.
Even in such circumstances though, it is hard to see how they could be realistically classed as non-vegan. This is an entirely natural process but most importantly, by eating the mushrooms you are in no way harming, exploiting or killing any animals. As said, the mushroom is not an animal, the process is part of nature and perhaps most crucially it would go on whether you turn the oyster mushroom into a cracking vegan risotto or not.
It feels a little beside the point and perhaps even childish to suggest this but, in fact, by eating wild oyster mushrooms you may even be saving nematodes from their fungal fate. Mind you, with 60 billion of these evolutionary success stories for every human being residing on the planet, it is safe to say they are not on any endangered species lists!
Animals Need Mushrooms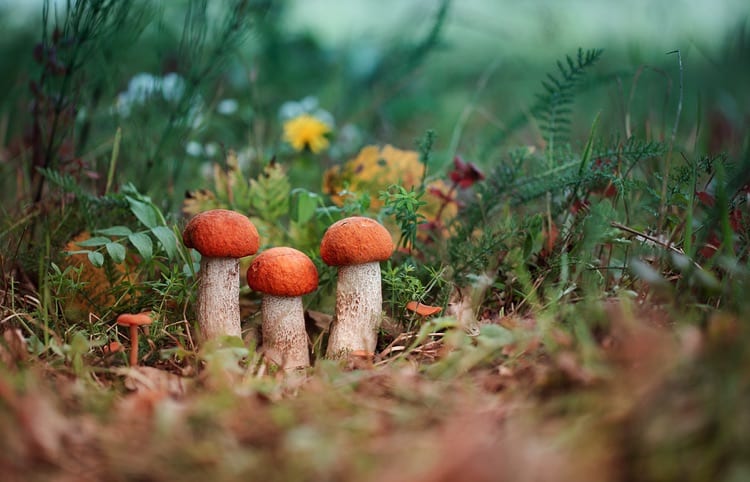 We have thus far chiefly looked at the mushroom as the predator, trapping and eating animals. In actual fact, more often it is the other way round and it is mushrooms and other fungi providing nourishment to the insects and bugs of the forest. This could be problematic, at least according to some people, for vegans in two different ways.
First, it is suggested that by eating mushrooms you are depriving insects and other animals of food. Second, and perhaps of more concern to any vegans who love foraging, when you eat a wild mushroom, it is argued that you are probably also eating a huge number of tiny animals, such as worms, aphids and other insects.
In our opinion though, neither of these arguments hold any weight. First of all, the vast majority of mushrooms consumed in the UK are farmed. Fungiculturalists will do all they can to avoid insects getting to their crop and clearly such mushrooms would never have had the chance to be part of a woodland creature's diet.
Moreover, whilst there are many threats to insect numbers and woodland health, a lack of food is not thought to be one of them. There has been a huge decline in insect numbers but this is largely down to the use of insecticides, climate change and the clearing of woodland. Given the vegan diet can help with the latter two of those, it would seem strange indeed to suggest vegans are harming insects.
Conclusion
First of all, mushrooms, though living organisms, are not animals but are part of the Fungi kingdom. From this point of view they are, therefore, 100% vegan.
However, some species of mushroom do capture and metabolise small animals, chiefly various species of nematode worms. It should be noted that this is almost certainly only the case for wild and foraged mushrooms. Even then it is our view, and most vegans agree, that this does not render the mushrooms themselves unsuitable for vegans to consume. It is a wholly natural process that is in no way facilitated by humans and would continue irrespective of vegans eating the mushrooms or not.
So, vegans: thankfully, yes… mushrooms are indeed vegan!