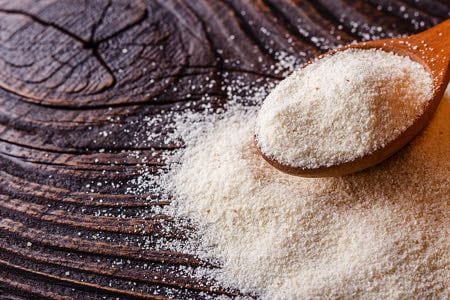 Semolina is a coarse flour that is versatile enough to be used in foods, such as pizza bases, biscuits bread and, most commonly, pasta. It is produced from durum wheat, which produces a harder grain than that produced from common wheat (which is the preferred option from which to make flour to make bread products).
But, cutting to the chase, is semolina vegan? We're happy to give a clear and decisive answer: yes, semolina is indeed vegan.
What Is Semolina?
The logic of this answer is clear: semolina comes from wheat; wheat is a plant and not an animal; no animal products are used in the production of semolina and no animals are knowingly harmed or exploited in general terms during the growing or harvesting of the durum wheat from which the semolina is produced.
The term semolina usually refers to the milled grains that have come from wheat, but it can also be used for coarse "middlings" (the non-flour particles produced from milling grain) of other grains, including rice and maize (corn).
Is Semolina Pudding Vegan?
That's all fine and dandy and very clear when it comes to semolina flour, which is just ground up wheat. But what about semolina pudding… that is, that mushy gunk they used to force us all to eat at school?
Well, unless you are one of the few people who actually like the stuff (also known as creamed semolina or semolina porridge), it will not cause you any great consternation to learn that semolina pudding is not vegan because it is made with milk. An example of semolina pudding is that which is available for non-vegans to buy in cans produced by Ambrosia (who are a brand of Premier Foods who also own Mr Kipling, OXO and various other food brands).
Of course there is no reason why you couldn't make semolina pudding with your favourite vegan-friendly milk alternative, if the fancy takes you.
What Foods Contain Semolina & Are They Vegan?
Semolina's etymology suggests it is derived from the Italian word semolino, which in turn comes from the Latin word similia, meaning flour or the Sanskrit word samita meaning wheat. And this coarse wheat flour can be used for a wide range of foodstuffs, including the following (as well as many more):
Pasta
Pasta is made using semolina – often but not always from durum wheat – as its main ingredient. Many other ingredients can be added, including some, such as eggs, that would make the pasta non-vegan. However, basic pasta can be made using just semolina and water and this is indeed how it is commonly made in southern Italy.
Pizza Bases & Breads
Adding some semolina to pizza bases or other dough products can enhance the crispiness of the crust according to some chefs.
Semolina Pudding
As mentioned above, semolina pudding utilises semolina but, as it usually contains dairy milk, it is not vegan friendly (unless you use plant-based milk, of course)
Gnocchi
Gnocchi are small dumplings that combine semolina (or other flour), potato and usually egg and cheese, so they tend not to be vegan friendly. Like most things, it is very possible to make vegan-friendly gnocchi.
Couscous
If you add a little water to semolina and mix it round and round by hand, you will produce small pasta balls… and these balls are couscous, which is also vegan.
Grits
Grits is porridge made from cornmeal (maize semolina) that is popular in the United States. But the term grits (Grieß) is used in German, Austria and some other European countries to refer to durum wheat semolina which is often mixed with eggs to make dumplings that are added to soups and stews.
Semolina Nutritional Data
The following information has been retrieved from the US Department of Agriculture FoodData Central database, as published on their site in May 2020. Note that there are likely to be variations in the exact figures based on where the semolina has come from, how it is cooked and other variables, so these data should be taken as indicative figures. Figures are based on 100g of semolina.
| Nutrient | Amount |
| --- | --- |
| Energy | 360 kcal/1506 kJ |
| Protein | 12.68 g |
| Fat | 1.05 g |
| Fibre | 3.9 g |
| Carbohydrates | 72.83 g |
| Calcium | 17 mg |
| Iron | 1.23 mg |
| Magnesium | 47 mg |
| Phosphorus | 136 mg |
| Potassium | 186 mg |
| Zinc | 1.05 mg |
| Copper | 0.189 mg |
| Manganese | 0.619 mg |
| Thiamin | 0.28 mg |
| Niacin | 3.31 mg |
As with other carbohydrate-based foods, there is clearly a decent amount of energy present in semolina, and there is a reasonable level of both protein and fibre. It's not massive on the micronutrients but 100g of semolina offers around a fifth of an adult's recommended daily intake of niacin and phosphorus and around a tenth of the suggested daily quantities of zinc, magnesium and iron.
Is There Anything Stopping Semolina Being Vegan?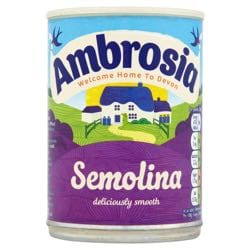 There are some people – usually non-vegans who are trying to find some way to label vegans as hypocrites – who suggest that growing and harvesting plants harms animals and hence goes against veganism. The argument goes that using pesticides necessarily kills animals (that would possibly otherwise eat the crops) and that harvesting using combine harvesters or other machinery could potential kill or injure mice and other animals that lived in the fields, including huge numbers of insects.
As we discuss in our article on the ethics of veganism though, this argument fails to take into account the alternative to arable farming, which would presumably be more livestock farming. That would clearly cause more harm to animals both from their slaughter and from the fact they have been detained throughout their lives, as opposed to the occasional mouse who has been accidentally, and unavoidably, killed whilst living in the wild.
In short, it would not be practicable to avoid injury to any animals when harvesting a field of wheat, and thus such farming fits within the commonly accepted definition of veganism, which states that veganism is, "A philosophy and way of living which seeks to exclude—as far as is possible and practicable—all forms of exploitation of, and cruelty to, animals…"
Semolina Conclusion
In conclusion then, as long as you are talking about the wheat (or other grain) flour version of semolina, there is no doubt that it is indeed vegan friendly. It is very possible that other food products that contain semolina might not be vegan, for instance, semolina pudding that contains milk or gnocchi that tends to contain egg and cheese. But if you buy the semolina itself, it is 100% plant-based and fine for vegans to consume.