The word "tortilla" covers a range of similar foods from the thin unleavened tortilla wraps to the crisp-like tortilla chips, whilst a tortilla to most Spaniards is a form of potato omelette.
Our focus here is tortilla wraps and, specifically, whether or not they are vegan, but we will also briefly look at other tortilla products and foods.
Tortillas Are Usually Vegan
When people in the UK speak about a tortilla we think they usually mean the soft wrap that is used in a range of Mexican dishes. Fajitas, burritos, quesadillas and more are all now commonplace dishes in the UK and all use a tortilla as their base. Whilst chicken, beef, other meat and seafood are all common fillings for such dishes, with cheese and sour cream often further enhancing their non-vegan status, there are loads of vegan options that work really well in these wraps too. But are the wraps themselves, the tortillas, vegan?
Many traditional Mexican tortillas are made from corn (although in the north wheat flour is more typical) but most products available in the UK are wheat flour tortillas. Either way, in general, most are vegan, whether they use corn or wheat flour for their dough. Corn are more traditional, as said, and they are a great option for those on a vegan gluten-free diet, but given almost all commercially available tortillas here are made with flour from wheat, we will focus on them.
What Are Tortillas Made From?
Tortillas are a type of flat bread (check out our Is Bread Vegan? feature for more general info) and the ingredients list is usually pretty simple. If you are making them yourself, all you need is flour, water, salt and a fat, with vegetable shortening being the best option but vegetable oil also works well.
Vegetable shortening has replaced lard, or pig fat, in almost all tortilla recipes nowadays. This is partly to make them healthier in general and also to make the end product suitable for vegetarians and also vegans. Vegetable shortening is essentially a fat that is solid at room temperature and there are various products available in supermarkets and online. These are typically created using a vegetable oil but when it comes to tortillas you can simply use any good vegan cooking oil, with olive oil or rapeseed oil both working really well.
Many of the tortilla wraps sold by supermarkets are labelled as being vegetarian but not necessarily vegan. This is a common gripe vegans have. One would think it logical that something marked as vegetarian but not vegan was – shock, horror – vegetarian but not vegan. Often this is just lazy labelling and such items are usually also vegan. Unfortunately though, sometimes they are not, which means vegans have to study the ingredients or contact the manufacturer to play things safe.
Vegan Tortilla Brands
The list below shows a range of widely available tortilla wraps that we believe are suitable for those on a plant-based diet. As ever, the following information is to the best of our knowledge at the time of writing but may change. If in doubt contact the manufacturer.
Old El Paso
Heading
Tesco Own Brand
Essential Waitrose
Waitrose Own Brand
Sainsbury's Own Brand
Asda Own Brand
Morrisons Own Brand
Uncle Jack's
H.W Nevills
Mission Bakery
Weight Watchers
Amaizin Organic
Many of these are labelled clearly as being suitable for vegans and do not list any of the usual possible allergens, such as milk or eggs, that can sometimes make bread and similar foods non-vegan. Some are labelled as being vegetarian but there is nothing in their ingredients to suggest they would not also be perfectly fine for vegans too.
Pesky Palm
Some of the above do, however, contain palm oil, something that may technically be vegan but is still an ingredient many vegans try to avoid. Some claim that the palm oil they use is sustainably sourced but even so it may be best avoided.
Watch Out for Lard
In truth, we think you would be hard pressed to find a commercially available non-vegan wrap these days. Lard is really the only thing that might find its way into these floury delights and that has been out of fashion for a long time.
The list above does not include every single vegan brand of tortillas and we have not included the different wrap options each offers. Almost all of the companies listed above make wholegrain options, miniature versions and some have flavoured wraps too.
In conclusion, if you buy a wrap from any shop in the UK, there is a very high chance it will be vegan. If it is not clearly labelled as such, then checking the ingredients is a sensible idea just to be sure. Similarly, if you buy a pre-made wrap from a sandwich shop or café, it may be best to ask a member of staff.
When it comes to tortilla wraps used in Mexican restaurants (Tex Mex, or anywhere else), you can probably assume that you will be eating a vegan product. If your dish is not specifically marked on the menu as being vegan friendly, and especially if you are eating in a very authentic restaurant that might be likely to make their own tortillas, once again, checking with the staff is probably the safest thing to do.
Tortilla Chips Are Also Usually Vegan
Tortilla chips are a different thing to tortilla wraps but they too are also usually vegan. That is mainly because the chips are simply fried or sometimes baked wraps. You can make these very easily yourself at home by cutting shop-bought wraps into triangles, or indeed any shape that takes your fancy, and then quickly deep frying them at a high heat. For a healthier option, you can bake them, either dry, or with the lightest brushing of oil.
Tortilla chips are often made from corn tortillas but can equally be made using flour ones. They were initially invented by Rebecca Webb Carranza as a way to use up misshapen wraps. Carranza, who died in 2006 at the grand old age of 98, was awarded the Golden Tortilla award (seriously!) in 1994. Every time you dunk a crunchy chip into some vegan friendly sour cream or a tasty salsa, you should remember her and give thanks!
Watch Out for Flavourings
In theory, at least all tortilla chips should be vegan but as ever, you should exercise a little caution unless you know the ones in front of you definitely are. Flavourings and animal-based additives may have been used, whilst cross contamination can also be a risk, as we explain in more detail in our dedicated feature on the world's most famous tortilla chip brand, Doritos.
One of the most common uses for tortilla chips is nachos and of course these are, traditionally at least, far less likely to be vegan. The word nachos is sometimes used interchangeably with tortilla chips but really the former are chips topped with various items, with beef chilli, cheese and sour cream all very typical and all very "animally". Whilst vegan nachos can be made relatively easily, any that are not specifically aimed at those following a plant-based diet will almost certainly include some animal-based foods.
What About Spanish Tortillas?
A traditional Spanish tortilla is a very different food to either a tortilla wrap or tortilla chips but just in case that is what you were querying, these tapas mainstays are not vegan friendly. Enjoyed all over Spain as part of a tapas feast, as a bar snack or as a lunch dish, the problem for vegans is that these tortillas contain eggs.
Some recipes will also include bacon or chorizo but even if they don't, the eggs make them decidedly non-vegan. You can't make an omelette without breaking eggs, as they say, and you can't make a tortilla without them either so this is one tapas dish for vegans to avoid.
Tortilla Wraps & Chips Are Usually Vegan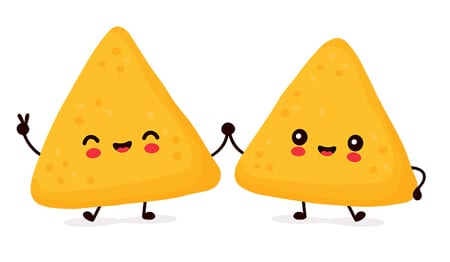 When it comes to wraps these will almost certainly be vegan, with lard in some very traditional tortillas the most likely issue, albeit one that is very rare. Whilst some wraps may include non-vegan additives, all the top brands and widely available supermarket iterations of this Mexican staple do not.
In terms of chips, once again, these should most probably be vegan, although cross contamination is more of an issue. In addition, certain flavoured and more processed varieties may include milk-derivatives or other animal-based items.
With either wraps or chips, it is also crucial you make sure any fillings, toppings, sides or sauces are also vegan. Meat, cheese and sour cream are all commonly served with these wheat flour- or corn-based breads and a vegan fajita, sandwich-style wrap, enchilada or nachos platter can easily fall foul of these. And, that's a wrap!