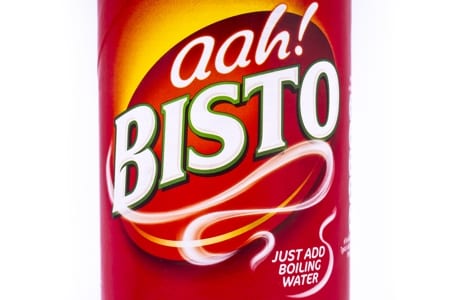 Aah, Bisto! Few things evoke images of family Sunday lunches or really bad 1980s TV adverts like the famous tagline of the well-known gravy powder product.
Traditionally, gravy has been the sauce of choice for meat, but given that Sunday lunches are for vegans too, the question has to be asked: is Bisto vegan? And the answer is not going to please gravy lovers who follow a strict vegan diet… no, Bisto is not vegan. (At least that is the case for vegans who are concerned about possible cross contamination with animal products.)
Why Isn't Bisto Vegan?
Perhaps surprisingly, many Bisto products do not actually contain any ingredients that derive from animals, and as such many are classed as vegetarian (including their familiar Bisto Gravy Granules and the Original Gravy Powder). The problem is rather that the Bisto products are produced in factories that handle animal products. As such, the Bisto products that are suitable for vegetarians are not suitable for vegans because of the possibility of cross contact or cross contamination, at least according to the manufacturers.
What the Makers of Bisto Had to Say
We contacted Premier Foods, the makers of Bisto, for clarification and they responded with the following:
As a responsible manufacturer, we will only confirm if a product is suitable for vegans when we are happy that we can make the claim and it is supported with analytical data. This is not the case for at this moment in time due to our current manufacturing processes and operations where we manufacture products that do contain ingredients of animal origin and products that do not.

Of course, there are plenty of people who view themselves as vegans who would happily consume the Bisto products that don't explicitly contain any animal products. For these people we have listed the main options later in the article.
Other vegans, who might cite ethical reasons for being vegan would probably want to avoid even the Bisto products that don't list animal-derived products on the ingredients on the basis of possible cross contact/contamination or indeed that the company makes other products that do include animal products. For these people, fear not, there are plenty of vegan-friendly gravy granules available, as we detail in the next section.
Before we come to that, though, note also that many of the Bisto products contain palm oil, and many people would argue that palm oil isn't vegan due to the harm its cultivation does to animals due to deforestation and habitat destruction.
Vegan Friendly Gravy Granules: Alternatives to Bisto
Whether you want a bit of gravy on your favourite vegan pie or for your vegan Christmas dinner, there are loads of very tasty options for vegan-friendly gravy granules. Of course, you could just make your own vegan gravy, but if you're pressed for time, here are some fine options that will take the hassle out of it.
| Brand/Flavour | Why We Like Them | Where to Buy |
| --- | --- | --- |
| Marigold Vegan Bouillon Powder | Vegan-friendly powdered stock that has a lovely flavour and which dissolves readily | GreenBay |
| Free & Easy Gluten Free Vegetable Gravy | Though a more acquired taste, this gravy option is smooth and flavoursome | The Vegan Kind Supermarket |
| Kallo Organic Garlic & Herb Stock Cubes | One of the tastiest vegan stock cubes out there, this goes very well with vegan meat alternatives to add a little extra flavour | Planet Organic |
| Tideford Organic Vegan Gravy with Red Miso | This fresh, refrigerated vegan gravy option ticks a lot of boxes, the miso adding a unique umami hit and very welcome flavour | Ocado |
Which Bisto Products Contain No Animal Products?
As mentioned, many of the Bisto products available in the UK don't actually contain any animal products amongst their ingredients. Here are the Bisto options that are fine for vegetarians to consume and which contain no dairy products.
Bisto Favourite Gravy Granules
Bisto Gravy Granules Beef
The Original Gravy Powder
Bisto Onion Gravy Granules
Bisto Vegetable Gravy Granules
Bisto Best Caramelised Onion Gravy
Bisto Best Vegetable Gravy
Bisto Free From Favourites
Bisto Southern Style Gravy Granules
Note that there are a number of other Bisto products, for example, the Bisto Parsley Sauce mix and the Bisto White Sauce Mix, that are classified as vegetarian but which contain dairy products. These go beyond the possibility of cross contamination or cross contact that might affect the Bisto products that don't contain any animal products. As such, these products would not be suitable for even the more relaxed dietary vegans.
There are others that are not even vegetarian – such as Bisto Turkey Gravy Granules, which contains the ominous-sounding turkey powder and chicken powder. We assume this is simply ground up and dried animal parts, though we have no idea exactly which parts.
If you are looking for some gravy for your <strong>Vegan Christmas Dinner</strong>, don't be tempted by the Bisto Best Turkey Gravy; it doesn't have any dairy products in so a quick glance at the ingredients might suggest it's fine for vegans… but it does contain turkey powder.
What Is Bisto?
For those who didn't experience the endless streams of tedious… er, we mean emotional and heart-warming Bisto TV ads in the 1980s, here is a brief explanation of what Bisto is and where it came from.
Bisto has a long and illustrious history with its first product, a meat-flavoured gravy powder, having been first sold way back in 1908. The name Bisto is apparently an almost-acronym because it was suggested the original Bisto product "Browns, Seasons and Thickens in One". Hmm. Not the greatest bit of product naming in history perhaps, but the final result was catchy enough.
The famous Bisto Granules which were notable for dissolving in hot water were introduced in 1979, with a premium Bisto Best version of some flavours being added in 2004. There are a range of flavours of the gravy granules that are available in most supermarkets and even convenience stores in the UK as Bisto maintain a very healthy share of the gravy granule market on these shores (around the 70% mark in 2005).
What Is Bisto Made From?
The ingredients of Bisto vary from product to product, but to give an example of the type of things that go into the granules, here are the listed ingredients for the Bisto Gravy Granules – the one in the familiar red tube.
Potato Starch
Maltodextrin
Palm Oil
Salt
Wheat Flour (with added Calcium, Iron, Niacin, Thiamin)
Colour (E150c)
Sugar
Flavourings (contain Barley)
Flavour Enhancers (E621, E635)
Emulsifier (E322) (contains Soya)
While some of the ingredients are of no concern to vegans, such as potato starch, salt and wheat flour, others might be. As mentioned, palm oil can be classified by some as non-vegan on animal welfare and environmental grounds. There are always question marks over which E numbers are vegan, so we'll briefly outline those involved here:
E150c – A caramel colour produced from carbohydrates
E621 – Monosodium glutamate, which is a sodium salt usually produced from vegetable proteins
E635 – Diodium riboncleotides which might be produced from animals or fish
E322 – Lecithin that can be produced from animals, but in this case, it appears it is made from soya
Conclusion: Bisto Is Not Vegan But There Are Lots of Vegan Alternatives
As mentioned earlier, many vegans would consider Bisto to be out of bounds on the basis that the factories in which it is made handle animal products. The addition of palm oil and one or two possibly non-vegan ingredients (such as E635), should encourage vegans to avoid Bisto.
Thankfully, as we detailed, there are numerous high quality and tasty vegan-friendly alternatives to Bisto, so even the strictest vegans need not go without gravy on their Sunday dinner.