Produced by Nestlé, Nesquik has been around since 1948 and this powdered milkshake has many fans across the globe. Available in various flavours and fortified with vitamins and minerals, the drink might well conjure memories of childhood treats. But if you are (or were!) a fan of the flavoured milk powders, the question is: is Nesquik vegan?
The answer is, unfortunately, no, Nesquik is not vegan. At least the standard Nesquik powder products aren't vegan. And we've heard that from the horse's mouth (also known as Nestlé Consumer Engagement Services – see below). But there are two Nesquik products that are vegan – or at least that don't contain non-vegan ingredients:
Nesquik All Natural Cocoa Powder – Contains just five ingredients: Raw Cane Sugar (62%), Fat Reduced Cocoa Powder (36%), Emulsifier (Soya Lecithin), Natural Flavouring, Cinnamon. There is a chance that the "natural flavouring" could contain animal products. We are awaiting confirmation on this point from Nestlé and will update the article accordingly. But it looks as though this product should be vegan friendly.
Nesquik Syrups – Available in strawberry or chocolate flavours, there are no animal-derived ingredients. But, as we describe later, there are some ingredients you might well want to avoid.
So, now you know: the standard Nesquik powder is not vegan. But the All Natural powder almost certainly is vegan. As are the syrups (if you don't mind the artificial colours!).
Hopefully that answers your query but why not read on anyway as we explain a little more about what Nesquik is and what else would cause most of the Nesquik products to be unsuitable for vegans (aside from the vitamin D). Note that we have focussed on the main Nesquik powders in this article but we will also look at some of the other Nesquik-branded products as well.
What Nestlé Said About Nesquik Powder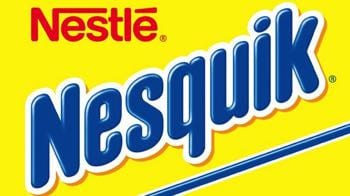 It is worth noting that there are no Nesquik products listed on Nestlé's list of Foods Suitable for a Vegan Diet (as of October 2020). This might well be because of the potential for cross-contamination with milk or other animal products in their factories.
It is common for companies to not state their products are vegan in such cases. For instance, Oreos would be vegan were it not for the chance of cross-contamination in their factory. Of course, many vegans will be fine with products that don't contain animal-derived ingredients despite the risk of contamination with milk products (although those with sever allergies should of course be more careful).
When we asked Nestlé which Nesquik products were vegan friendly they initially suggested that "Our Nesquik range is not suitable for a vegan diet as it has milk proteins in it." But with one of their products (Nesquik Powder Strawberry tub) showing up on the Nestlé Foods Suitable for a Milk Avoidance Diet list, we sought further clarification.
In an email, we received from Nestlé in October 2020 they said: "Nesquik is vegetarian. The vitamin D is an animal-derived source, lanolin found in sheep's wool." Some of Nesquik's other products contain dairy (or products derived from dairy), but all the powders contain lanolin-derived vitamin D. Check out our vegan vitamin D article for more information, as well as our feature on vegan breakfast cereals.
Note that this refers to the Nesquik powder/milkshake mix products sold in the United Kingdom. It is possible that some Nesquik powders sold in other jurisdictions may be vegan; but check the ingredients and double check with the local customer support teams.
Does Vitamin D from Wool Make Nesquik Non-Vegan?
Of course, the Nesquik powder products are designed to be made with milk. If someone uses dairy milk, clearly the resultant drink would not be vegan anyway. But even when using vegan-friendly milk alternatives (such as soy milk), the animal-derived vitamin D would scupper things for vegans.
There are some people who would suggest that wool from sheep, and therefore vitamin D produced using lanolin, or "sheep oil", should be vegan. After all, it doesn't hurt when you go for a haircut, does it? (If it does, change hairdressers as a matter of urgency!). But as we discuss in detail in our is wool vegan? article, there are numerous documented instances whereby sheep farmed for wool are mistreated and even abused.
As such, using wool products or products derived from wool can serve to promote such cruelty. Assuming you agree that wool is not vegan, then you would also agree with us (and Nestlé themselves) that Nesquik is not vegan.
What Is Nesquik?
Swiss food giant Nestlé launched Nesquik back in 1948 when they called it Nestlé Quik. It was then launched in Europe as Nesquik and the name was adopted worldwide in 1999. As well as the original Chocolate Powder, there have been various flavours added to the Nesquik range over the years. Some have lasted longer than others. For instance, Nesquik Banana Powder came out in 1954, and is still going strong.
Many flavours of Nesquik have arrived and then disappeared over the years. These include cherry, mango, honey, and triple chocolate. Why did they get rid of triple chocolate? Are they mad? If you feel like us about chocolate, check out our info on both vegan chocolate and vegan Easter eggs. Our choc-addiction aside, we should note that there have been various spin-off products over the years too, including breakfast cereals and snack bars. Once again, unless clearly marked as being vegan, you are best to assume that these other products are not.
Why Is Nesquik Powder Not Vegan?
To the untrained eye, if you glance through the ingredients of the three main Nesquik products, there's nothing obviously non-vegan. Let's take a closer look at what goes into the chocolate, banana and strawberry Nesquik powders.
Chocolate Powder: Sugar, Fat Reduced Cocoa Powder (21.2%), Dextrose, Emulsifier (Soya Lecithin), Vitamins (C, Thiamin, D), Minerals (Iron, Zinc), Salt, Natural Flavouring
Banana Powder: Sugar, Maltodextrin, Natural Flavouring, Vitamins (C, Thiamin, D), Natural Colours (Beta Carotene, Curcumin), Minerals (Iron, Zinc)
Strawberry Powder: Sugar, Maltodextrin, Natural Flavourings, Natural Colour (Beetroot Red), Vitamins (C, Thiamin, D), Minerals (Iron, Zinc)
Many vegans will automatically be wary when "natural flavourings" appear amongst ingredients. But there is no mention of dairy products (which have to appear in bold in the UK). And dextrose is usually vegan, whilst maltodextrin almost always is. Thiamin – aka vitamin B1 – is usually derived from plants; as it wasn't mentioned by the Nesquik team as being non-vegan, we believe the thiamin used here is plant based. What's more, given these items are fortified with iron and zinc, which can be difficult for vegans to obtain, it may seem like Nesquik should be all systems go for plant-based eaters.
Unfortunately though, there is no getting away from the sheep-derived vitamin D, even if it is the only definitely non-vegan ingredient included in the Nesquik powders in the UK. This is a shame for vegans who used to like Nesquik. Especially those who thought they could just make it with oat milk and be fine. But fear not, there are plenty of vegan-friendly alternatives to Nesquik, which we'll investigate later.
Are Any Nesquik Products Vegan?
The only Nesquik products that could be described as vegan are the Nesquik syrups and the All Natural Cocoa Powder. The syrups are available in strawberry and chocolate flavours, though they are not widely available in the UK. They can be added to (vegan) milk to make a drink or used as a dessert sauce.
Technically, there are no non-vegan ingredients including in the syrups… but there are plenty of ingredients you might wish to avoid. The All Natural Powder, in contrast, has very few ingredients, and (as the name implies) nothing artificial.
Nesquik All Natural Cocoa Powder – Raw Cane Sugar (62%), Fat Reduced Cocoa Powder (36%), Emulsifier (Soya Lecithin), Natural Flavouring, Cinnamon
Chocolate Syrup – Sugar, Water, Cocoa Processed with Alkali, "Less than 2% of" Salt, Citric Acid, Artificial Flavor, Potassium Sorbate (Preservative), Xanthan Gum, Caramel Color, Red 40, Blue 1, Yellow 6.
Strawberry Syrup – Sugar, Water, Corn syrup, Less than 2% of malic acid, Propylene glycol alginate, Artificial flavour, Potassium sorbate (preservative), Xantham gum, Red 40, Blue 1, Salt, Yellow 6.
The likes of corn syrup, malic acid, soya Lecithin, potassium sorbate and xanthan gum are basically derived from plants and hence vegan. Meanwhile, propylene glycol alginate is derived from processed kelp, which is a type of algae and also vegan.
However, there are serious question marks over the safety of some of those artificial colours. Notably, Red 40 has been linked with allergic reactions and even the development of ADHD in children by the Center for Science in the Public Interest. These syrups might be a way for vegans to get their Nesquik hit, but alarm bells are sure to ring.
Other Nesquik Products
You might happen across some of the following Nesquik products in the UK, but none of the following are vegan.
Nesquik Cereal – There are no obviously non-vegan items amongst the ingredients, but this also contains vitamin D. Based on the information provided by Nestlé we believe this vitamin D also comes from lanolin (i.e. sheep).
Nesquik A-Z Cereal – As with the standard Nesquik Cereal, vitamin D is the culprit here.
Nesquik Chocolate Flavour Milk Slice – This is definitely not vegan as it contains various ingredients that are derived from dairy milk. And, to top things off, it also contains egg powder.
Nescafe Dolce Gusto Nesquik Chocolate Pods – This Nesquik tie-in with another Nestlé brand contains whole milk powder. Hence is it not vegan.
Nesquik Choc Pots – These chocolate desserts contain milk (in various forms) and so they are not vegan friendly.
Nesquik Ready To Drink – At present, these all contain dairy milk and/or milk derivatives and so the Nesquik Ready To Drink products are not vegan. However, a new plant-based Nesquik Ready To Drink offering was released in Spain in 2020. Branded as "Nesquik Go Vegetal", the drink uses oats and peas instead of dairy. Hopefully it will appear in the UK before long (almost certainly with a different name).
It is possible that other Nesquik products will emerge from time to time. It is always best to check the ingredients, of course. But we would be wary of any Nesquik products unless they are specifically labelled as vegan friendly. Especially those that include vitamin D amongst the ingredients.
Vegan Alternatives to Nesquik
There are plenty of alternatives to Nesquik powders that do not contain animal derived ingredients. For instance, Cadbury Chocolate Milkshake Powder Mix. Available in many supermarkets, this milkshake mix from Cadbury includes soya lecithin and maize fibre, both from plants, and no dairy products. There is a chance of cross-contamination as there is a warning that it "may contain milk". But people will make their own decision about whether this is a problem for them.
Aside from that, you can make you own Nesquik alternative using your favourite vegan ice cream. Just add a scoop of your vegan-friendly ice cream of choice (Booja Booja works a treat!) to a pint glass. Let the ice cream melt a little then top up with your choice of vegan milk. We find oat milk works really well. Just stir until smooth and you've got yourself a very tasty, vegan-friendly milkshake.
There are also loads of vegan-friendly ready to drink milkshake options. While many of these are protein shakes, there are plenty of standard milkshakes too. Oatly's Chocolate Longlife Drink really hits the spot, while Alpro's Chocolate Fresh Drink is also worth trying.
Nesquik Conclusions
In conclusion, the standard Nesquik powders are not vegan because they include vitamin D that is derived from sheep's wool. There are some Nesquik products that appear to be vegan friendly: the All Natural Cocoa Powder and the Nesquik Syrups (assuming you mix them with vegan milk, of course). There is hope that a plant-based ready to drink Nesquik product will arrive in the UK soon, but that has not happened at the time of writing.