Anyone who grew up in the 1980s, or indeed just about anyone in the UK who has visited a sweet shop or has a penchant for confectionary, will be familiar with many of the sweets made by Derbyshire-based Swizzels Matlow. From Parma Violets to Refreshers, Drumstick Chews and lollies to Love Hearts, Swizzels sweets have been the choice of many a child over the years. But are Swizzels' many sweet treats vegan?
Well, good news vegan sweet fans: a good number of the sweets produced by Swizzels Matlow are indeed vegan friendly. And, that includes some of the biggest hits from the world of confectionary. In this article, we'll run through exactly which Swizzels sweets are vegan, and which are not suitable for those following a plant-based diet.
We'll also give a brief history of the Swizzels company (which started producing sweets back in 1928). For more information about vegan-friendly confectionary in general, have a look at our more extensive vegan sweets article.
Which Swizzels Sweets Are Vegan?
Until a few years ago the only Swizzels sweets that were suitable for those on a plant-based diet were accidentally vegan rather than vegan by design. Then, in 2017, they launched Drumstick Choos and Refreshers Choos that were specifically formulated to be suitable for vegetarians and vegans.
They proved popular and the following year they changed the ingredients of all their chew bars to make them fine for vegans too. Result!
Contains Palm Oil
Note that most of the Swizzels sweets that they (and various retailers and other vegan sites) classify as vegan friendly contain palm oil. This can be a contentious issue because of the environmental damage caused by the palm oil industry, including the destruction of the habitats of endangered animals. This should therefore be taken into account for any vegans for whom environmental concerns are paramount.
Technically speaking, though, palm oil is vegan in the same way that avocados and almonds are vegan despite there being environmental or animal exploitation concerns. It is clearly each person's prerogative to decide whether or not they should consume food items that contain palm oil, and we'll leave that up to you to decide.
Not the Healthiest
It is worth mentioning that none of these is likely to appeal too much to those who have chosen veganism for health reasons; some of these – for example, Refreshers Chew Bars, contain almost 90% sugar!
Top Vegan Swizzels Sweets
Here are the top Swizzels sweets that are suitable for vegans (for the full list check out the vegan sweet section of the Swizzels site):
| Sweet | Notes |
| --- | --- |
| Refreshers Chews Lemon | Launched as New Refreshers in 1955, this lemon-flavoured chew bar has a sherbet centre that gives it a nice tartness. One of many of Swizzels' offerings that uses lysed (concentrated) soya protein, glycerine from vegetables and palm oil in place of any animal-derived ingredients. Originally, these came in individually wrapped sweets but now they come in packets like Starburst, which are also vegan, incidentally. |
| Refreshers Chews Strawberry | A variation on the above for those that prefer a strawberry flavour. |
| Refreshers Choos | Similar recipe and flavour to those above but softer to the bite and shaped like Starburst, but they come in plastic bags rather than paper packets. |
| Refreshers Chew Bar Lemon | Made with a tougher consistency than Chews or Choos, the bars are not ideal for people with fillings! |
| Refreshers Chew Bar Strawberry | As above |
| Refreshers Chew Bar Sour Apple | As above, just more sour! |
| Vimto Chew Bar | A tie-in with the iconic purple soft drink that contains 2.5% fruit juice from concentrates… not quite enough for one of your five a day! |
| Drumstick Chews | Based on the very popular Drumstick chewy lolly that was launched by the company in 1957, it has been adapted into various other formats, though the flavours have remained broadly the same. Note: the original Drumstick lollies are NOT suitable for vegans (or vegetarians). |
| Drumstick Chew Bar | As above |
| Drumstick Choos | As above |
| Double Dip | Launched in 1976 and a real favourite of many kids of the 80s, this product is never going to win any health awards, but it is fun. It comes in a paper packet with three sections: two contain flavoured sherbet (essentially sugar) and one a "Swizzel Stick" that can be used to dip into said sherbet. |
| Great British Puds | Quite a new addition to the Swizzels sweet offering, these come in four flavours: Apple Pie & Custard, Rhubarb Crumble, Lemon Meringue and Sticky Toffee Pudding. They are one of the least bad health-wise with only 66g of sugar per 100g. |
| Love Hearts | These are truly iconic sweets that have captured the imagination of sweet-lovers, and indeed lovers in general, through the generations. First introduced back in 1954, with the simple message "I LOVE YOU", they have contained various messages over the years including: "BE MINE", "HOT LIPS", "KISS ME", and, strangely, "JUST SAY NO". |
| Parma Violets | Originally marketed as breath fresheners when launched in 1946, Parma Violets were regularly sold in pubs. It soon became apparent they were better suited to sweet shops though. |
| Fizzers | The original "compressed fizzy sweet", Fizzers marked a big breakthrough for Swizzels when they were launched in the 1930s. Until the Second World War, these were packed by hand by some particularly dextrous workers. |
| Double Lollies | This double-flavoured sherbet lolly was launched in 1954 and is still a favourite addition to party bags today. |
| Rainbow Drops | Another of the early inventions of Swizzels, in the 1930s Rainbow Drops were sold loose and scooped into bags to be sold for a shilling. |
| Fruity Pops | Essentially set sugar with some citric acid, colour and flavouring, these hard lollies have been used by many a parent to keep their kids quiet on long car journeys after the 87th game of I Spy… apparently… we obviously don't advocate such things. |
| Candy Whistles | Since their launch in 1977, many parents have bought these for their kids thinking they would be a fun treat… and then never bought them again having been driven to near insanity by the high-pitched noise they emit. |
| Love Hearts Candy Lipsticks | A less annoying alternative to Candy Whistles, though liable to result in kids' faces getting pretty darn sticky. |
Which Swizzels Sweets Are Not Vegan?
Despite Swizzels making a very good number of their sweets vegan, they still have some that contain gelatine, and hence are neither vegan nor vegetarian.
Drumstick Lollies – Unlike the Drumstick Chews, Chew Bar and Choos, the Drumstick lollies contain gelatine, so should be avoided by vegans and vegetarians.
Squashies – Available in various flavours, including Drumsticks, Bubblegum and Rhubarb & Custard, these also contain gelatine.
Variety Packs/Assortments – Various Swizzels assortment bags or tubs are released every so often, especially around Halloween, but always check the ingredients as some contain non-vegan ingredients, such as condensed milk (for example, the Chew Crew bags) and/or gelatine (for example, the Sweet Shop Favourites Tub).
Fun Gums – Coming in some flavours that don't exactly scream out their vegan credentials – such as Pigs' Mugs, Milk Bottles, and Fried Eggs – these are unlikely to appeal to many vegans anyway, which is just as well because they contain gelatine.
Butterscotch – No prizes for guessing what the non-vegan ingredient is in the Butterscotch sweets made by Swizzels. Yep, gelatine. Not really, it's butter.
Note that it is possible that Swizzels will convert more of their sweets to vegan-friendly recipes in due course, but it's worth checking their site for details of new products launches if you are a fan of their sugary treats.
Swizzels Sweets: A Brief History
As mentioned earlier in the article, Swizzels began life way back in 1928. It was then that brothers, Alfred and Maurice Matlow, launched Matlow Bros. Ltd and began making jelly sweets in their compact London factory. They began to collaborate with another sweet maker in 1933, David Dee, with whom they shared factory space and then launched Swizzels Ltd.
During the London Blitz, Swizzels decided to head north to Derbyshire to get out of the firing line, where they have remained ever since. Over the years Swizzels (called Swizzels Matlow Ltd since 1975) have released various sweets with the following being some of the more notable offerings:
| Sweet | Year Released |
| --- | --- |
| Parma Violets | 1946 |
| Love Hearts | 1954 |
| Refreshers | 1955 |
| Double Dip | 1976 |
| Choos | 2017 |
With a recent focus towards vegan-friendly sweets (though they still retain some non-vegan lines), Swizzels are fast becoming one of the go-to confectionary makers for sweet-toothed vegans.
Vegan-Friendly Confectionary: Could They Do More?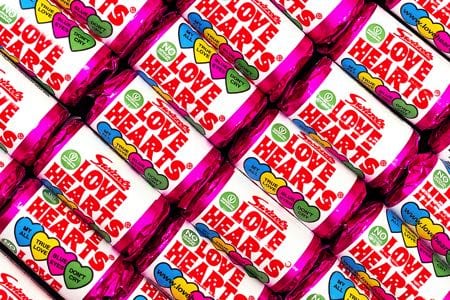 We have to say we are very pleased that Swizzels have made so many of their sweets suitable for (most) vegans. It would be fantastic, though, if they could just take the final steps towards being a fully vegan-friendly company by making all their sweets suitable for vegans. We understand the potential business argument for them not doing that, but we also feel that becoming a truly vegan brand might well do them a lot of favours from a financial point of view as there are a good proportion of vegans who try to purchase products only from companies who do not use animal-derived ingredients in any of their offerings.
Then, of course, there's the sometimes thorny issue of palm oil being used in their sweets. Again, they would suggest there is a strong business case for continuing to use palm oil when some of the alternatives might have higher (monetary) costs. That is a big deal when the margins on confectionary are not as great as with some products. However, ditching the palm oil and going 100% vegan would really help them with the ever-growing vegan and/or ecologically minded demographics.