Whether spelled doughnut or donut, and whether it is ring-shaped (or a torus to be more specific) or whole and filled, there is no doubt that this confection of sweet fried dough is loved by adults and children alike all over the world. But are these sweet treats available to those following a plant-based diet or are they to be forever out of reach? In other words: are doughnuts vegan?
The good news is that some doughnuts are vegan, but the bad news is that a whole lot of them are not, with animal-derived ingredients often sneaking into the dough, the filling or the topping, or sometimes all three.
In this article, we'll explain what makes some doughnuts unsuitable for vegans and the main animal products to watch out for. We will also pay particular attention to Krispy Kreme doughnuts based on their popularity. Lastly, we'll give you the information you need to make your own vegan doughnuts, if you are so inclined, as making your own often the best way to make absolutely certain your favourite snack or treat is vegan.
First though, let's kick things off by giving details of the top vegan-friendly doughnuts available in the UK at the time of writing. As ever, this list is subject to change and given the way the green tide is rising we expect plenty of additions to this list in the coming months and years.
Best Vegan-Friendly Doughnuts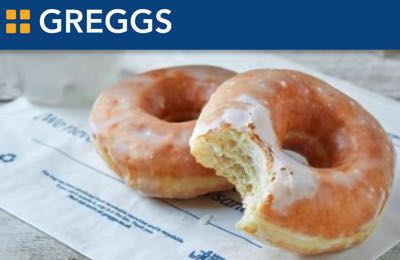 At the time of writing, it can actually be quite difficult to get your hands on good quality, fine-tasting vegan-friendly doughnuts. There are a few options of accidentally vegan doughnuts in the freezer sections of some supermarkets, but these are often filled with all sorts of additives.
Supermarkets that contain onsite bakeries sometimes create vegan-friendly doughnuts, while some local bakers also produce doughnuts that are suitable for vegans too of course, but these will need to be investigated on a case-by-case basis. We are essentially left with specialist producers, and of course, that newfound best friend of vegans: Greggs!
Doughnut Name or Flavour
Company
Notes
Glazed Ring Doughnut
Greggs
A fairly standard ring doughnut that has a thin layer of fondant icing on top. Marked as vegan friendly on the Greggs website, as a dessert option to one of their vegan sausage rolls or new vegan steak bakes, this really fits the bill.
All Flavours
The Doughnut Family
Established in March 2017 in Scotland, the Doughnut Family produces a wide range of high quality and extremely tasty vegan-friendly doughnuts.

Flavours include such delights as Piña Colada, Almond Mermaid and Unicorn Rainbow. If you don't live in Scotland, you can occasionally get these vegan treats through theVeganKind Supermarket who, at the time of writing, get a delivery every Wednesday.

Jam & Custard Doughnuts
Co-op
Whilst a little basic compared to the delights offered elsewhere, the own-brand jam-filled doughnuts from Co-op supermarket are vegan friendly, great value compared to the more premium options, and very sweet.
Various Flavours
Doughnut Time
With a growing number of shops in London, Doughnut Time have introduced a number of handmade vegan doughnut flavours including: Fairy Godmother (topped with hundreds and thousands), Pump Up The Jam (filled with plum jam and topped with cinnamon sugar), Ice Ice Bae Bae (topped with vegan cookie pieces among other things) and the imaginatively named David Hassel-Biscoff.

Note that these doughnuts are made in the same kitchen as non-vegan doughnuts so there is a chance of cross contamination with animal products (though they say the chance is "near-impossible").

Various Flavours
Crosstown Doughnuts
Another London-based doughnut company with multiple shops, Crosstown Doughnuts launched as a market stall in 2014 and have grown steadily since.

They offer a range of vegan doughnuts, using chia seeds and coconut butter (among other things) in place of the traditional, non-vegan ingredients. Vegan doughtnut flavours include Vegan Maple Bacon & Banana, Winter Fruit Crumble, Matcha Tea, and Sea Salt Caramel Banana Cream.

Various Flavours
Doughnotts
Based in the East Midlands (hence the 'Notts' in the name), the vegan flavours on offer are perhaps not quite as elaborate as those available from the London alternatives, but they sure are nice to eat. Their cookie crumbling-topped Mud Pie flavour is a particular favourite, while their Cherry Bakewell also hits the spot nicely.
What Stops Doughnuts Being Vegan?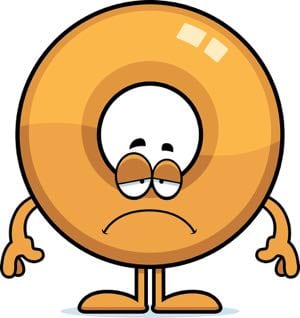 In the UK doughnuts can be found being sold at funfairs, from stalls on seaside promenades, in bakeries and, increasingly in recent years, in supermarkets and petrol stations (with the Krispy Kreme brand becoming particularly popular in various enticing flavours).
Depending of the type of doughnut you are seeking, there are potentially three main constituents of this sweet snack: the dough (which is used for all); the filling (where applicable); and the topping(s) (again, where applicable). We'll take a look at each of these in turn to see what could destroy any vegan credentials.
Is Doughnut Dough Vegan?
As you might assume from the variety of vegan-friendly doughnut makers mentioned above, it is perfectly possible to make dough for doughnuts without the need for any animal products. The main culprits in terms of animal-derived ingredients in non-vegan doughnut dough are those which often pop up in various baked goods: milk, butter and eggs.
Supermarket-sold doughnuts will typically include a host of emulsifiers and other additives, which can sometimes be non-vegan, while palm oil crops up a fair bit, which is an issue for some vegans despite technically being plant based.
Note that the dough for doughnuts often includes yeast, but as we discuss in our Is Yeast Vegan? article, yeast is a member of the fungus kingdom rather than the animal kingdom, so this is not a problem for vegans.
Are Doughnut Fillings Vegan?
There are a wide range of possible fillings in doughnuts these days, but the most common two are jam (which is usually vegan) and custard (which usually isn't vegan). There are exceptions for each of those, with jam occasionally containing gelatine, and vegan custard that is made without the use of eggs, milk or cream.
There could be any number of other fillings for doughnuts these days, from chocolate (which may or may not be vegan) to cream (which can be vegan if a non-dairy option is used, but usually isn't) to apples (which are clearly vegan unless something else has been added) to just about anything else you can think of. In short though, check the ingredients carefully or ask the baker/maker in question if in a bakery. Because they are potential allergens, milk and milk-derived products, and eggs will be written in bold type on ingredients lists in the UK, which at least makes then easy to spot when scanning doughnut packaging.
Are Doughnut Toppings Vegan?
As with fillings, doughnuts can be topped with just about anything (even unicorns, based on one flavour mentioned above!). Some kind of icing is often used as a topping, particularly for the more basic doughnut options. Icing can be made from just sugar and water, in which case it would generally be vegan friendly (though there is a chance even this wouldn't be, as we detail in our Is Sugar Vegan? article).
The same applies to doughnuts that are simply dusted with sugar. Note that some icing is made with the use of butter or even gelatine, so again it is all about checking the ingredients to be on the same side or asking the manufacturer if doubt remains.
Chocolate is another popular topping for doughnuts, and clearly if milk chocolate is used, it is unlikely to be okay for vegans. If it is dark chocolate, there is a reasonable chance of it being fine for those on a plant-based diet, and we go into more detail about what to watch out for in our Is Chocolate Vegan? article.
So, based on that information, as long as you are able to find a non-chocolate, non-cream, non-custard doughnut, there is a very good chance it will be vegan – and even some of those that do include some/all of those fillings or toppings might still be vegan. That said, checking the ingredients is essential because so many include milk and/or eggs (and their derivatives).
Are Krispy Kreme Doughnuts Vegan?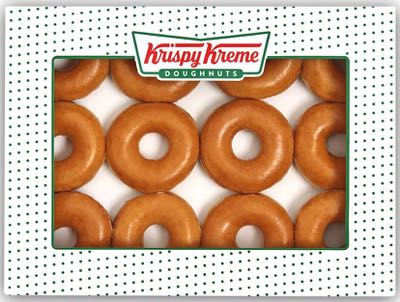 In the opinion of many a doughnut lover there are doughnuts and then there are Krispy Kreme Doughnuts. Widely considered the pinnacle of what a doughnut can be in terms of taste, Krispy Kreme Doughnuts are the go-to treat of bosses seeking to ingratiate themselves to their underlings in any office environment. Alas, this technique isn't going to cut it with vegans, because Krispy Kreme Doughnuts are not vegan.
The problem with Krispy Kremes, as with many doughnuts, is the inclusion of both eggs and milk, neither of which fit into a vegan diet. The manufacturer states that all their doughnuts are fine for ovo-lacto vegetarians. But that's as far as they go. At the time of writing, there are no special edition vegan-friendly Krispy Kreme Doughnuts, but we live in hope.
How To Make Vegan-Friendly Doughnuts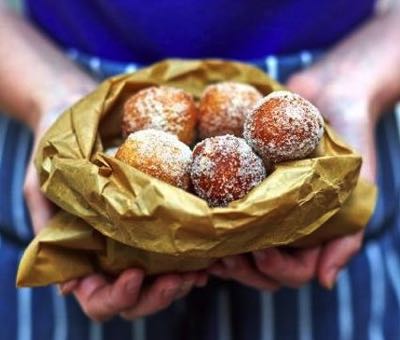 The typical recipe for making the dough for doughnuts involves the following ingredients: flour, sugar, yeast, eggs, milk, butter, vegetable oil and a little salt. It is not a massive diversion to replace the eggs, milk and butter with vegan-friendly alternatives, and – as we have experienced from the vegan doughnuts mentioned earlier – the results are equally nice to eat.
If you are seeking a fairly basic vegan doughnut recipe that doesn't require any particular culinary skill but produces very good results, you could do worse than opting for this mini vegan doughnut recipe from Jamie Oliver. Using dairy-free margarine, soya milk and sunflower oil, with a bit of baking powder and golden caster sugar, you can produce a fine batch of mini vegan doughnuts in under an hour.
Of course, once you have had a go at making the doughnuts, you can adapt the recipe to include the flavours you like. You could even try filling them (though clearly starting with toppings is easier!). Try melting down your favourite vegan chocolate as a simple and satisfying topping option or just add some berries if you're feeling ever so slightly virtuous!
Doughnut Conclusions
Doughnuts are not at all healthy, being high in fat and sugar and largely devoid of any real nutrients, but there is no doubt they are darn nice to eat. And, thankfully, there is no reason vegans have to forego the occasional doughnut treat, whether they track down the few vegan-friendly doughnut options available to buy in the UK or they simply make their own.
Though for now Krispy Kreme doughnuts are off the menu for vegans, we are hopeful they will follow in the footsteps of Greggs who are showing the world that producing vegan options really is a win-win for businesses and consumers.