Poppadoms are a hugely popular way to start an Indian (or for that matter Pakistani or Bangladeshi) meal in the UK. They are traditionally eaten in all those countries, as well as Sri Lanka and Nepal too. Wherever you eat them, and whether you call them poppadoms, papadums, papad or any other similar name or spelling, the important question is: are poppadoms vegan?
The good news is that, yes, poppadoms are vegan. Almost all of them, anyway. If that's all you want to know then we're glad to have been of service. Otherwise, read on to find out if all poppadoms are vegan, what they're made from, and a bit about the sauces, dips & chutneys that go along with them.
Why Might a Poppadom Not Be Vegan?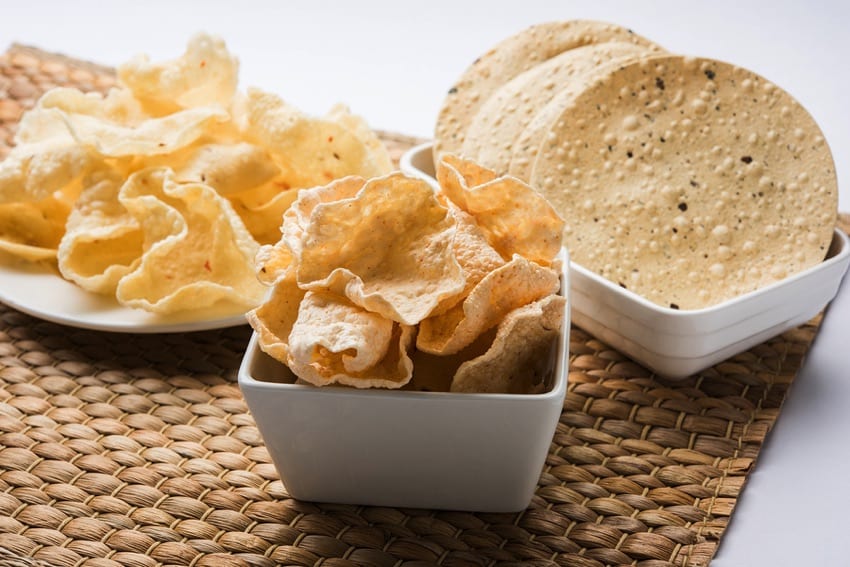 India has the highest percentage of vegetarians in the world. It is estimated that 38% of their huge population of around 1.4bn is vegetarian and whilst many of those consume dairy and eggs, plant-based eating is a way of life for hundreds of millions of Indians. This is down to a mix of religion, culture and financial necessity but it also makes Indian cuisine a great fit for vegans (just look out for ghee!).
As we shall examine in more detail shortly, traditionally poppadoms are a very simple item. Essentially a lightly fermented, dried-then-fried paste made from legumes, it should come as no surprise that the vast majority of poppadoms will be vegan. Can we say that every poppadom you will ever encounter is vegan friendly and you can stuff your face with these crispy delights without a second thought? Sadly, no.
Fat & Ghee
If you make them yourself you can obviously ensure they are vegan but as with any item bought commercially there are various things to be aware of. Whilst not all poppadoms are fried, if the one you are about to eat has been cooked that way, it might be worth checking what fat has been used. It almost certainly won't be an animal fat but the same oil might have been used to cook non-vegan foods, which most ethical vegans would not be happy with. Alternatively, dairy-based ghee might be used in some restaurants.
Additives & E Numbers
Another consideration is the standard caveat with any processed, packaged food. If you buy poppadoms from a shop or supermarket make sure you check the label. It is unlikely they won't be vegan but few are clearly labelled, with many suggesting they are fine for vegetarians despite the fact they are actually just as fine for vegans. As far as we are aware, Patak's are one of the few major brands that make things reassuringly simple by stating they are suitable for vegans.
Unless they are labelled as being vegan friendly, you should check the packaging and ingredients for any strange non-vegan additives that may have been used. Most traditional poppadoms are quite simple on this front but poppadom-style crisps and related snacks tend to have more complex lists of additives and E numbers.
Cross Contamination
Last of all there may be the risk of cross contamination, with many large food companies producing a wide range of products. When vegan and non-vegan items are manufactured in the same factories, perhaps even using the same machinery, there is always a danger of cross contamination taking place.
All that said, however, poppadoms are something that you should be able to eat without too many concerns. Unless you are eating in a vegan restaurant it is probably wise to check how they have been cooked but if that doesn't concern you then order as many as you like!
What Are Poppadoms?
As we've touched on this to some degree already most poppadoms start life as legumes. They are usually made from a simple dough of flour and water, sometimes with the addition of a little oil and extra flavourings such as cumin, coriander or sesame seeds, chilli powder, or pepper. The dough is most commonly made from chickpea or black gram flour, though other legumes or even potato or rice flour can be used (or a mixture).
Traditionally, the dough undergoes light fermentation adding depth of flavour and is then rolled into thin discs and dried. These are usually deep fried but can be shallow fried, cooked with a dry heat or, though we don't expect to see this on the streets of Mumbai, even microwaved!
Microwave Poppadoms
This latter idea might sound a little out there but we've seen the video to prove it works. What's more, having ourselves made crisps in the microwave, we know just how well it can create crunch through dehydration. Check out microwave poppadoms!
Are Poppadom Dips Vegan Friendly?
Everyone has their own idea of what quartet of dips makes up their ideal poppadom pickle tray but luckily for you we have the definitive answer (by which we mean we're going to tell you the pickles we like!). Call them dips, sauces, chutneys or pickles, the holy quartet of poppadom dunking are:
Mango Chutney – Probably the most popular poppadom pickle out there; Adds a nice dose of sweetness
Lime Pickle – This ultra-sour poppadom condiment often has a real kick to it and is the perfect foil for the mango
Mint & Yoghurt – Made with vegan yoghurt, this adds freshness and richness at the same time and cools things down if they get too hot
Onion Salad – The onion gives bite, whilst the salad is another cooling and fresh element
In truth, there are many other great condiments that we love with our poppadoms. A tamarind sauce is another great, tangy option, whilst a chilli sauce is also excellent. A coriander dip or one made with mint and coriander is also excellent, whilst tangy, spicy, sweetened onions also hit the spot. We could go on…and on. But, are all of these vegan?
Well, in general almost all non-yoghurt accompaniments should be vegan. If you want to be ultra-cautious about the sugar used in many of the chutneys and pickles that's fine, but really the only concern for many vegans will be the raitas, which could contain yoghurt.
Making your own vegan mint and yoghurt dip at home is really easy. However, if you are eating out, then this is probably the one dip you'll have to avoid. As for the rest, tuck in… who needs main meals anyway?