A familiar site at children's parties for more than 30 years, Fox's Party Rings are a colourful biscuit with a hole in the middle and have icing on one side. These sweet treats always go down well with the kids (and plenty of adults), but the question we will answer in this article is: are Party Rings vegan? And, we have some good news for all you biscuit lovers out there: there are no non-vegan ingredients in these biscuits, so – on the surface at least – Party Rings are vegan.
Of course, things in the Is It Vegan? section of our site are rarely simple, and in this article, we'll explain why some people might consider Party Rings to be off the menu for those following a strict plant-based lifestyle. We'll also delve into the various (and many!) ingredients that go into these colourful biscuits, and look at the other Party Rings products through a vegan lens.
What Might Stop Party Rings Begin Vegan?
We delve into the vegan credentials of each of the ingredients in the next section of the article, but rest assured, none of them are obviously non-vegan in that they do not comes from animal sources.
Palm Oil
There is one ingredient that is sure to catch the attention of many vegans though: palm oil. This rather contentious substance comes from plants, so in theory, it should be vegan. But because of the potential damage to biodiverse rainforests and the habitats of various animals caused by palm oil producers, many vegans believe that it has to be taken off the vegan menu. Many non-vegans also avoid palm oil due to the environmental issues too. Where you sit on that particular issue is down to you, of course.
Cross Contamination
As we discuss in our article on Vegan Biscuits however, simply ascertaining that all the ingredients in a given product are vegan friendly is not always enough. Many biscuits are produced in factories that handle milk and other products derived from animals, and as such, as is the case with Oreos, some very strict vegans might consider Party Rings to be out of bounds.
Indeed some vegans might even only buy biscuits and other products from companies who only produce explicitly vegan products as they might not want to give money to firms that use animals products at all. For us though, and most vegans judging by the various websites, groups and forums, Party Rings are certainly accepted as vegan by most.
One difference between Party Rings and Oreos, however, is that the makers of Oreos actually state on their website that "Oreo have milk as cross contact and therefore they are not suitable for vegans". They also carry the warning (to those with milk allergies rather than to vegans) that they "may contain milk". Party Rings, however, do not carry this warning, and instead suggest they "may contain nuts". This gives us confidence that Fox's manufacture Party Rings in a way that ensures they do not suffer cross-contamination or cross-contact with milk products.
Ingredients of Party Rings

A few years ago, Party Rings would have been unsuitable for vegans and even vegetarians as they included gelatine (made from collagen from various animals parts). But, thankfully, Fox's changed the recipe back in 2015 and gelatine has not been included since. But what ingredients are in Fox's Party Rings?
| Ingredients | Explanation |
| --- | --- |
| Wheat Flour (Wheat Flour, Calcium Carbonate, Iron, Thiamin, Niacin) | Wheat comes from plants and is vegan friendly; whilst Thiamin (vitamin B1) can come from animal sources, the Vegetarian Society accreditation of Party Rings suggest that is not the case here. |
| Sugar | As we discuss in our Is Sugar Vegan? article, some sugar manufacturers use (or have used) bone char (burned animal bones!) during the refinement process, but this is not common these days and it is very unlikely to have been the case with Fox's. |
| Palm Oil | As mentioned above, the inclusion of palm oil is likely to cause some vegans to avoid Party Rings. |
| Glucose Syrup | As with sugar above. |
| Salt | Salt, a compound made from chlorine and sodium, is vegan. |
| Ammonium Bicarbonate, Sodium Bicarbonate, Disodium Diphosphate | All inorganic compounds are produced by various chemical processes. There is nothing to suggest these would be non-vegan. |
| Partially Inverted Refiners Syrup | Essentially Golden Syrup, or light treacle, this is a bi-product of the sugar refinement process, so – as with sugar – unless bone char was used, it will be vegan friendly. |
| Anthocyanin Extract | A natural food colouring that can be extracted from various plants or fruits, including black soybean, blueberries, raspberries or black rice. Vegan. |
| Safflower Extract | Extract of the safflower (surprise, surprise!), which is a plant that resembles a thistle and is vegan. |
| Spirulina Extract | As we discuss in our article about spirulina, it is a type of cyanobacteria and is vegan friendly. |
| Radish Concentrate | Radishes are plants. |
| Carrot Concentrate | As are carrots. |
| Apple Concentrate | And, believe it or not, apples. |
| Hydrolysed Wheat Gluten | Wheat gluten comes from wheat, which is, yes, a plant. |
| Flavouring | This is a rather vague ingredient to say the least, but if it were made of non-dairy animal ingredients the Vegetarian Society would not have given the product their blessing, and if it had been made from diary, the label would have to say the product contained milk, so we're confident this "flavouring" is vegan friendly. |
| Soya Lecithin | While lecithin can be produced from animal sources, soya lecithin is, as the name suggests, made from soya/soy and hence is vegan. |
| Citric Acid | Citric acid comes from citrus fruits, such as lemons and limes, so is vegan. |
| Tri Sodium Citrate | Made from citric acid, so vegan friendly. |
| Glycerine | Glycerine (aka glycerine or glycerol), can be made from plants or animals, but the same applies here as it does to the flavouring mentioned above so we're confident plant sources were used. |
| Invert Sugar Syrup | As with sugar above. |
| Trehalose | A type of sugar with two molecules of glucose, generally extracted from starch which is acquired from plants, hence this is vegan. |
Note: The ingredients listed are correct at the time of writing and it is possible the manufacturer could change them, so always double check on the label before you buy them.
Are Party Rings Actually Vegan?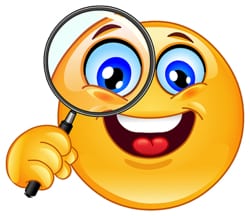 We are taking into account the following information when assessing the vegan credentials of Party Rings:
Party Rings contain no animal-derived ingredients
As far as we can tell, no animal products were used in the manufacture of either Party Rings or any of their ingredients
Given that Fox's do not feel the need to include a "may contain milk" warning on the packaging, we assess the risk of cross-contamination to be very low (e.g. compared to Oreos)
To the best of our knowledge, Party Rings have not been tested on animals (unless you count a marauding bunch of five year old kids at a Frozen party to be "animals"!)
Party Rings are approved by the Vegetarian Society (though not the Vegan Society)
Party Rings contain palm oil
Based on those snippets of information, many people are happy to consider Party Rings as vegan friendly, with that caveat that both the inclusion of palm oil and the possibility of cross-contamination with milk products might cause some vegans to avoid them.
Are Party Rings Healthier Than Other Biscuits?
Fox's make quite a lot of the fact that they use only natural colours that are derived from fruits and vegetables, that they don't use any artificial flavours or preservatives and that they have the seal of approval from the Vegetarian Society (but not, at the time of writing, from the Vegan Society).
But are these biscuits any healthier than other options in the same genre? How do they compare to other good value biscuits that do the job at a kids party for children who don't like carrot and cucumber sticks?
Biscuit
Energy (kcal)
Fat
Sugar (g)
Fibre (g)
Per 100g
Per Biscuit
Per 100g
Per Biscuit
Per 100g
Per Biscuit
Per 100g
Per Biscuit
Fox's Party Rings*
381
24
12
0.8
26
1.7
2.0
<0.5
Oreos
474
52
19
2.1
38
4.2
2.7
0.3
Bourbons (Essential Waitrose)*
487
68
21.4
3.0
25.2
3.5
2.8
<0.5
Custard Creams (Tesco)
490
59
20.5
2.5
28.3
3.4
1.1
0.1
Jammie Dodgers
438
78
13.9
2.5
30.6
5.5
1.7
0.3
Hobnobs (Original)
472
72
20.2
3.1
22.9
3.5
6.5
1.0
*indicates the biscuit is vegan
So, it seems that whilst Party Rings are not exactly healthy, they are certainly less unhealthy than most biscuits out there… as long as the kids at the party don't eat 20 rings each of course!
Party Rings: Conclusions
In conclusion, we have examined the ingredients of these popular biscuits, and though there are some questions to be answered over the flavouring used, and indeed that the glycerine is from plant sources and the sugar (and sugar bi-products) used have not utilised bone char during their production, we are confident all the ingredients are plant-based. The one problem on the ingredients front is palm oil, and that is something about which vegans will have to make up their own mind.
The other possible issue of cross-contamination is not something we are as concerned about as we would be with something like Oreos. With Fox's not explicitly stating their Party Rings are at risk of cross-contamination with milk (or other animal) products, we are satisfied any such risk is minimal. Those with severe milk allergies might be wise to seek extra reassurances from the manufacturer, but for most vegans (palm oil aside), Party Rings are certainly on the party menu!