Sweet, sticky and possessing a distinctive almost woody flavour and aroma, maple syrup has been used as a sweetener and cooking ingredient for centuries. There is no disputing how sublimely delicious many people find this viscous substance, but many vegans will be asking the question: is maple syrup vegan? And, the definitive answer will please many a sweet-toothed vegan: yes, maple syrup is vegan… as long as it is 100% pure and has not had any additional ingredients added that might be non-vegan.
The reason we can assert with such confidence that maple syrup is suitable for those following a plant-based lifestyle is that maple syrup comes directly from trees, so it is about as plant-based as you can get! In this article, we will explain what maple syrup is, how it is produced and what you should look out for when buying maple syrup.
What Is Maple Syrup?
Maple syrup is a sugary liquid that varies in colour and taste but which has a distinctive flavour that is recognisable and very appealing to many people. It is produced from the xylem sap of various species of maple trees, with the three most common varieties being:
Sugar Maple (Acer saccharum)
Red Maple (Acer rubrum)
Black Maple (Acer nigrum)
The leaves of maple trees absorb light energy from the sun during the summer months and convert it (by photosynthesis) to glucose. Prior to winter, the trees send much of their glucose down from the branches in their canopy to their trunk and roots to see them through from late autumn to spring; because they shed their leaves they cannot perform photosynthesis during this time so they need a store of energy for growth and maintenance (for instance repairing damage that might be caused by branches breaking in windy conditions or fighting of possible attacks from parasites), and also so they can regrow leaves the following spring. It is during the early spring, when the maples begin to send the sap back up towards the branches, that some of the sap can be "tapped" – or syphoned off – to produce maple syrup.
Maple Tapping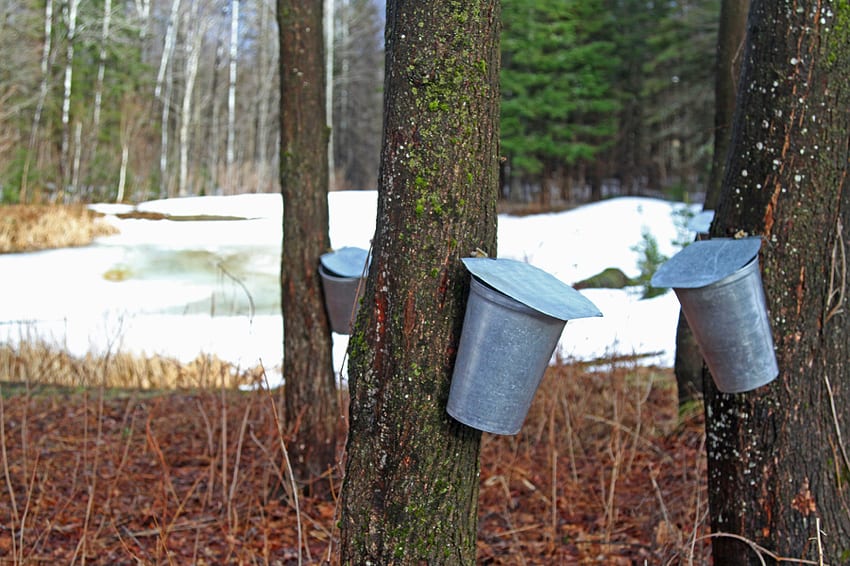 The exact timing of maple-tapping season can vary as it is weather dependent, but it usually begins after a few consecutive days during which the daytime temperature is above zero degrees Celsius (the freezing point of water) but the night-time temperature is below zero. Holes are created in the trunks of the maples and the sap which leaks out is collected and concentrated through heating (as this evaporates some of the water). Each mature tree can produce in the region of 20 to 60 litres of sap per season, though this will vary based on the size and age of the tree and the weather conditions during the previous summer.
The sap is colourless when it emerges from the tree, and its volume will be 20 to 50 times that of the maple syrup that will ultimately be produced from it (depending on the syrup's concentration). The sap is boiled in order to evaporate enough water to reach the desired concentration and sugar content. The syrup is then graded based on its colour and strength, with Canada having a slightly different system to the United States, and even that in the US differing slightly between states.
Grade A Maple Syrup
For instance, the Government of Canada maple syrup regulations state various conditions that must be met for a particular maple syrup to be classified as "Canada Grade A Maple Syrup".
It also defines maple syrup as: "the syrup obtained exclusively by the concentration of maple sap or by the dilution or solution of a maple product, other than maple sap, in potable water". Hence, in the eyes of Canadians, if any additional ingredients are added to maple syrup, it is no longer maple syrup and cannot be described as such.
Grade A maple syrup is split into four subcategories, all of which are equally pure and of the same quality, but which differ in terms of their colour and flavour, as follows:
Golden Colour with Delicate Taste
Amber Colour with Rich Taste
Dark Colour with Robust Taste
Very Dark Colour with Strong Taste
The above categories are also followed by some maple syrup-producing states in the United States, such as Vermont. The colour and taste differs depending on how soon into the maple-tapping season the sap used to produce it was obtained. The early season sap produces the lighter, milder syrup, with the colour darkening and the taste becoming stronger as the season progresses.
Which Countries Produce the Most Maple Syrup?
Canada and the United States are the main producers of maple syrup, with the Canadian province of Quebec accounting for around 70% of the world's maple syrup in any given year. Quebec produces in the region of eight million gallons (over 30 million litres).
This compares to around 900,000 gallons from Vermont, 400,000 from Ontario, 300,000 each from the US states of New York and Maine and a similar quantity from Canada's New Brunswick. Various other US and Canadian states produce smaller quantities, though all these figures can vary quite a lot based on climatic variations in the different areas in any given year.
Could Anything Make Maple Syrup Non-Vegan?
There have been reports that some maple syrup producers use animal fat during the defoaming process when making maple syrup. We have not found evidence of this in the main maple syrup brands sold in the UK, but any that is specifically marked as vegan would not have used this procedure.
Dairy
Vegetable oil can be used for defoaming and with maple syrup being the preferred honey substitute among vegans, it would be unlikely manufacturers would risk missing out on that slice of the market by choosing to use animal fats during this stage of production. You might want to be cautious if there is an allergy warning on a label such as 'may contain traces of milk' or similar as this might indicate some dairy-based defoaming agent may have been used, but this is not something we have encountered.
So, in almost all cases, as 100% pure maple syrup simply comes from the sap of trees it is perfectly vegan friendly. But there are many "maple style" syrups, pancake syrups and similar sauces that have additional ingredients that could be non-vegan.
Sugar
As we discuss in our article about the vegan credentials of sugar, some sugar producers use bone char (burned, crushed animal bones) in the refinement process. It is therefore possible that sugar or sugar derivatives that have been added to some maple syrup-like products might have used bone char at some point in their processing. This is not as common as it used to be, but it is better to only purchase such products if they are marked as vegan friendly or if you contact the manufacturer to confirm no bone char has been used.
Colourings & Flavourings
Other things that might have been added to products that look like maple syrup (but rarely taste like them) include certain food colourings and flavourings that may be have been produced from animals (such as castoreum, which comes from beavers!). You might also want to look out for the addition of honey in some maple-style ice cream sauces and similar products.
Stick to 100% Maple Syrup from Canada
The best way of avoiding all that though is simply to ensure you purchase 100% pure maple syrup, and ideally a product that has originated in Canada, as it appears their rules about what can constitute pure maple syrup are slightly more stringent than those observed by some states of the US.
Main Uses of Maple Syrup for Vegans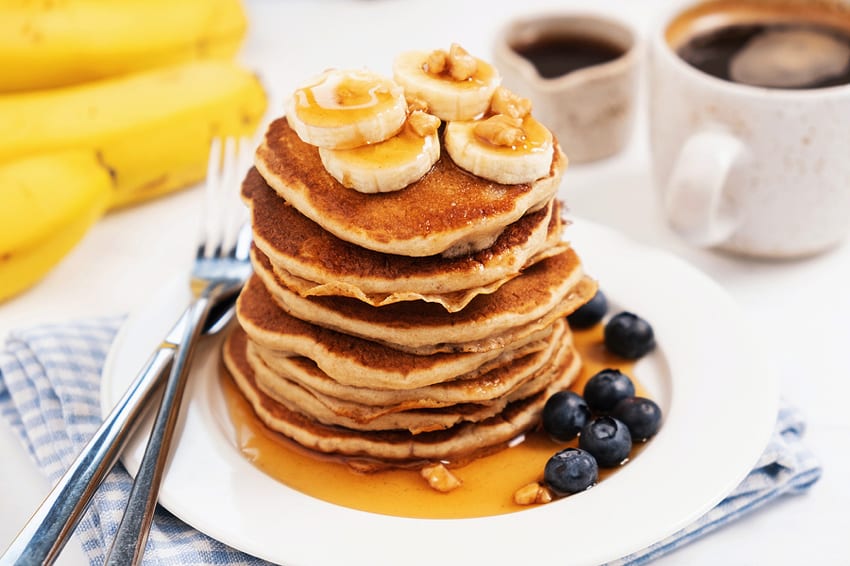 Many vegans use maple syrup as a direct substitute for honey, which is not vegan, whether as a cooking ingredient or to drizzle over your favourite vegan cereals or vegan-friendly pancakes. It can also be used in baking as a substitute for sugar and to add flavour, with some of the darker varieties often preferred in such instances for their deeper flavour.
While meat eaters might use maple syrup as a marinade, vegans can also use it in that way, but obviously for vegetables rather than steaks! For instance, roasting carrots and parsnips that have been drizzled with dark maple syrup and sprinkled with some orange zest and finely chopped fresh ginger can produce really positive results. It can also enhance the flavour of jackfruit if you're making a vegan version of pulled "pork".
For a simple, tasty and fairly nutritious dessert, just add your favourite vegan-friendly yoghurt to a bowl, sprinkle on a handful of mixed nuts and a few seeds, then drizzle over some maple syrup. Pure maple syrup is a lot more expensive than sauces or syrups that attempt to imitate them, but if you are seeking the true maple syrup flavour it really is worth splashing out occasionally. Having said that, there is a very good value maple syrup option available at Aldi at the time of writing (see table below). If you are seeking a vegan-friendly honey or sugar substitute that is both natural and a bit cheaper than maple syrup, then agave nectar is a decent option.
Is Maple Syrup Good for You?
It would be a bit of a push to suggest that something that has a sugar content of more than 60% of its volume is good for you, but it's certainly not quite as bad for you as some alternatives. When used as a substitute for sugar (which is, unsurprisingly, 100% sugar!), it certainly stands up well.
Given that refined table sugar is entirely devoid of nutrients beyond energy and is made up of calories alone, there is not much out there that cannot gain a nutritional edge over it. But there are one or two useful nutrients contained within maple syrup. For instance, 100g of maple syrup would typically contain reasonable quantities of riboflavin (vitamin B2) and manganese, with a little calcium and zinc too.
When compared to honey, maple syrup contains significantly fewer calories (typically around 330 kcal per 100g of honey compared to 250 kcal per 100g of maple syrup), and maple syrup also has a slightly lower glycaemic index than honey. And, of course, no bees were harmed in its production!
Top Maple Syrup Options for Vegans
There are loads of good quality maple syrup options available in UK supermarkets, other shops and online from suppliers, including some decent-value supermarket own-brand options. Here are some of the maple syrup brands we are sure are vegan friendly.
| Brand | Price | Available From |
| --- | --- | --- |
| Buckwud Organic Maple Syrup | £6.00 (250g) | Tesco, Waitrose, Holland & Barrett and others |
| Billington's Maple Syrup | £6.99 (260g) | Waitrose, Sainsbury's, Morrisons and others |
| Specially Selected Canadian Maple Syrup | £3.49 (250ml) | Aldi |
| Pure Maple | £12.00 (330g) | Direct from the Pure Maple site, Harrods, various farm shops and independent food stores |
| Tesco Finest Maple Syrup | £5.50 (330g) | Tesco |
| Tesco Maple Syrup | £4.00 (250g) | Tesco |
| Duchy Organic Maple Syrup No. 1 Medium | £6.45 (330g) | Waitrose |
| Duchy Organic Maple Syrup No. 2 Amber | £5.50 (330g) | Waitrose |
| Sainsbury's Maple Syrup | £4.00 (275g) | Sainsbury's |
| Morrisons The Best Pure Maple Syrup | £3.50 (189ml) | Morrisons |